Sports > Outdoors
Rich Landers: Lucky hunter proud to be one of the fewer
April 21, 2018 Updated Mon., April 23, 2018 at 10:20 a.m.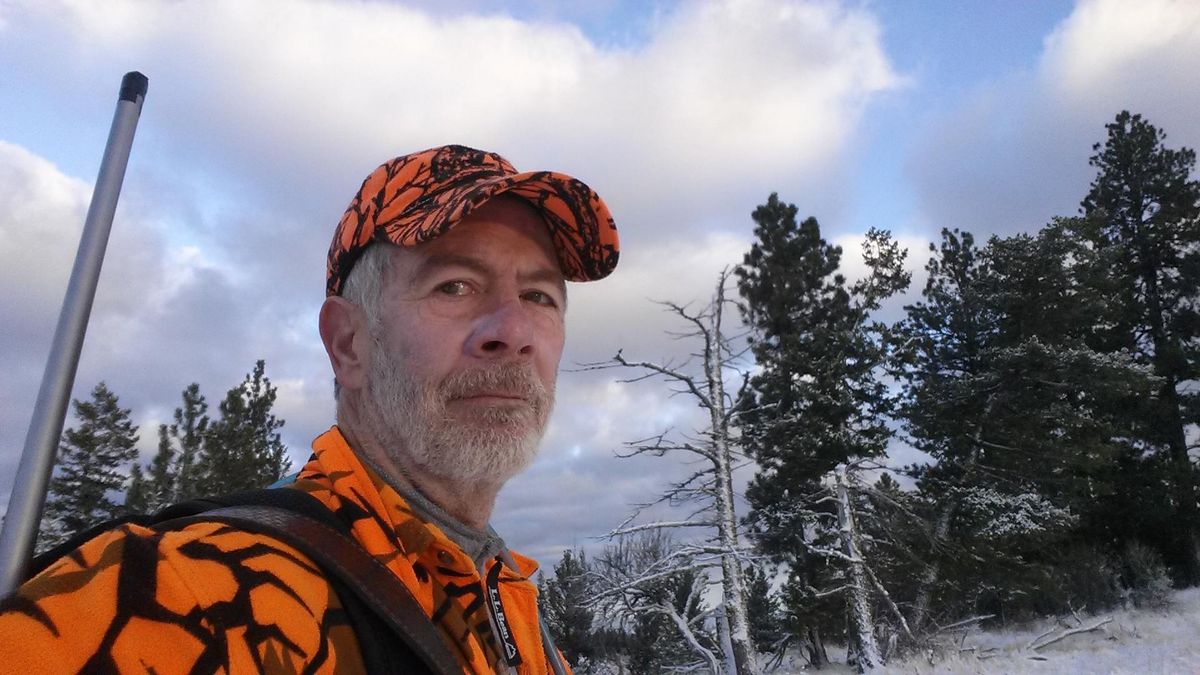 Rich Landers during a 2015 elk hunt. (Rich Landers / The Spokesman-Review)
I was born into hunting, blessed with a father who never missed a season and rarely missed a shot.
It's not an exaggeration to say hunting was part of our religion. My dad and other hunters convinced the parish priest to offer a 4 a.m. Sunday mass on the opening day of deer season to avoid preaching to a lot of empty pews.
We lived in central Montana with abundant game, oodles of public land, and we had links to farmers and ranchers who generously allowed access to hunt their property. I had it made.
More than half a century after tagging my first buck, being a successful hunter is much more difficult, not only where I grew up, but here in Eastern Washington and nearly everywhere else. Game numbers are generally down; regulations and license fees have increased; more prime private property is sewed up in hunting leases; public lands – at least those with easy access – tend to be overhunted.
Upland bird, deer and elk populations have been impacted, primarily by land development and modern farming practices such as removing fence rows, straightening creeks, expanding and cleaning up fields and otherwise reducing native habitat.
Throw in the occasional extreme winter or a bout of disease such as blue tongue and the "surplus" game that's available for hunter harvest each fall dwindles to slim pickins in some areas.
No wonder hunter numbers are declining. Just as skier visits take a hit when resorts are short on snow, hunting has suffered from shortages of game. But there's more to it than that.
Without being born into a family of hunters, getting into the sport is daunting even after the substantial investment in gear and weapons.
Hunters have advocated and support state and federal restrictions that govern recreation and harvest to avoid depleting game populations. Washington's hunters must digest a complicated 120-page regulations pamphlet that changes each year.
Hunting skills need honing and a hunter education course must be completed before one is eligible to buy the required licenses.
Lottery drawings ration special permits for limited hunts because demand far exceeds supply. Washington hunters average more than 18 years of applications before they can expect to draw coveted tags for hunting moose or branch-antlered elk. Last year, 41,221 hunters applied for the 172 moose tags.
After all of that, one must find a place to hunt. Public land provides that opportunity for everyone, but finding game is a larger challenge.
Buying a hunting license does not come with a guarantee of success. Only 9.3 percent of Washington's 59,000 elk hunters filled their tags last year.
The number of elk in Washington's portion of the Blue Mountains is about 40 percent less than the population of 6,500 estimated in the late 1970s. State Fish and Wildlife Department managers say they have to keep the numbers down from historic highs to prevent elk from damaging crop fields.
Ringneck pheasants, which have always ridden the coattails of agriculture, plummeted in numbers as farming has intensified. In 1981, more than 110,000 pheasant hunters killed some 500,000 birds in Washington. The trend to de-weed the corners of circle irrigation crops in the Columbia Basin was one of several significant setbacks to pheasant habitat.
By 1995, Washington pheasant hunters had declined to 29,000 and the harvest fell to 70,000 roosters.
Before Pheasants Forever was founded in 1982, most hunters never imagined there might not be pheasants forever. That sportsmen's conservation group and others focus heavily on supporting national Farm Bill programs that give landowners incentives to idle some fields and plant them with vegetation that serves as year-round wildlife habitat.
Wild turkeys provide one of the easiest entry-level hunting experiences in Washington. The lunker birds are readily available on public lands, commercial timberlands and private property. And it's a blast to hunker in camouflage and try to call a hot tom into shooting range during the spring gobbler season.
My wife noted the other day that a friend had marveled at her lack of knowledge about the price of beef.
"I haven't bought a pound of burger in the 36 years since we've been married," she said.
It can't be that way for everyone. No wildlife species roams Washington in such abundance that we all could subsist on free-range wild game. Our family is thankful the fish, cattle and poultry farms satisfy the appetite of the masses for animal protein.
But the masses should support sportsmen's goals of sustaining wildlife species. A small but passionate corps of dedicated sportsmen through their licenses, taxes, fees and fundraisers are the financial backbone of wildlife management. Nonhunters need to find ways to contribute, such as buying wildlife vehicle license plates.
My dad died at the age of 89 with a Montana antelope license on his dresser. From the age of 6, I never missed a season with him. I learned outdoor skills while hunting as well as respect for private land, the meaning of carrying capacity, the habits of deer and other critters and the beauty of being out there when the sun rises.
I feel sorry for people who don't have that bond with nature and family.
Local journalism is essential.
Give directly to The Spokesman-Review's Northwest Passages community forums series -- which helps to offset the costs of several reporter and editor positions at the newspaper -- by using the easy options below. Gifts processed in this system are not tax deductible, but are predominately used to help meet the local financial requirements needed to receive national matching-grant funds.
Subscribe to the sports newsletter
Get the day's top sports headlines and breaking news delivered to your inbox by subscribing here.
---