Sports > WSU football
Trey Tinsley and Anthony Gordon showcase arms as Crimson beats Gray 34-24 in Washington State spring game
April 21, 2018 Updated Sat., April 21, 2018 at 9:15 p.m.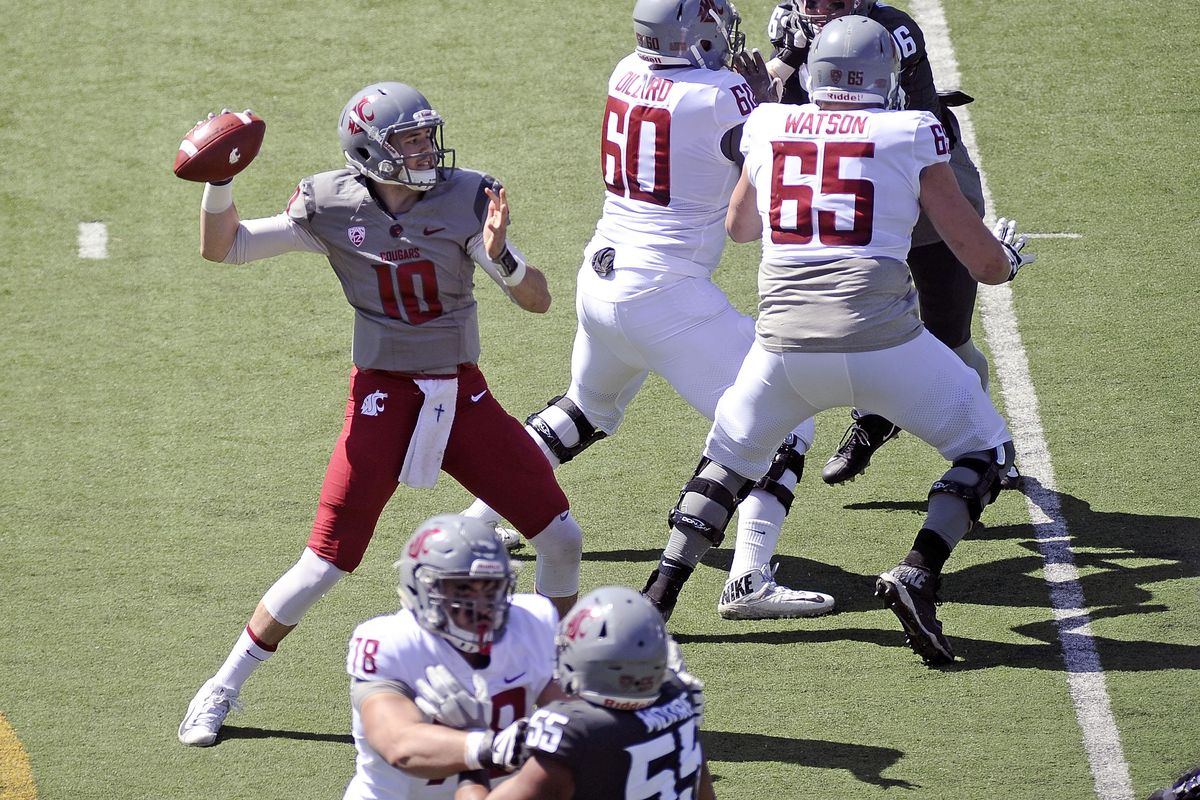 Washington State quarterback Trey Tinsley sits in the pocket to deliver a pass during the Crimson and Gray Game on Saturday at Joe Albi Stadium. (James Snook / For The SR)
Six players took snaps Saturday afternoon at Joe Albi Stadium, but when Mike Leach was asked which of his quarterbacks had the most impressive Crimson and Gray game, the multiple-choice question was raised under the premise that the Cougars' coach would probably choose A) Trey Tinsley or B) Anthony Gordon.
Leach bypassed both and went to his third read: A and B.
"I thought Tinsley and Gordon," Leach said.
Either the WSU boss isn't ready to tip his hand or the Cougars' quarterback competition is as close it looks on the surface.
Tinsley and Gordon, the redshirt juniors vying to replace Luke Falk as the Cougars' starter, were both productive – not one more than the other, necessarily – during the annual scrimmage. According to WSU, nearly 6,000 attendees saw both QBs move their offenses efficiently, and at times effortlessly, on a breezy spring day in Spokane.
Although Tinsley's "Crimson" team beat Gordon's "Gray" team by a 34-24 margin, the spring game didn't produce a victor from the competition Cougars fans seem to care most about right now.
Tinsley and Gordon both came out of the scrimmage just before halftime, when the Crimson led 20-17.
Tinsley drove his offense into the end zone three times, finishing 19 of 24 through the air with three touchdown passes. Gordon got the Gray team into the end zone twice and completed 15 of 21 passes for 174 yards and one touchdown.
Combined, they completed 74 percent of their passes and not one of the 45 balls was intercepted.
"They just didn't try to do too much, just made routine plays," Leach said. "I thought the receivers did a good job, I thought the line protected pretty good and just made routine plays. I thought the defense played well, too."
Awarded the first series of the scrimmage, Tinsley nickel and dimed the Crimson team downfield, moving forward on all but three of its 11 plays before throwing to Renard Bell on an out route for a 5-yard touchdown. Kyle Sweet, a factor for Tinsley's offense all game, was on the receiving end of four of Tinsley's six completions during the drive.
Gordon's offense used a similar methodical march to score its first touchdown. He completed 5 of 8 passes on the drive, which also lasted 11 plays, and handed off to freshman early enrollee running back Max Borghi on the goal line for a 2-yard score.
Then it was Tinsley's turn. He manufactured a five-play, 77-yard touchdown drive and advanced the offense 62 yards on one play when he hit Sweet in stride on a four verticals scheme that took the Crimson team down to the 8-yard line. An 8-yard connection with Spokane native Rodrick Fisher put Tinsley's squad up 13-7.
"I caught the ball, looked up and saw that he was moving to space," Tinsley said. "I thought that Kyle had a great day, had a bunch of catches, and I just saw him and was able to get it up and over the linebackers. He made a great catch and great run."
That catch put Sweet over the 100-yard barrier in the first quarter and the senior slot receiver finished with eight receptions for 138 yards in his final spring game. Dezmon Patmon was the next most productive receiver: seven catches, 91 yards, one touchdown.
The QBs entertained through the remainder of the half.
When Gordon completed 4 of 4 passes on his final drive and threw a high 23-yard touchdown pass to Patmon – cornerback Marcus Strong incurred a pass interference call as he lost a jump ball to the 6-4 Patmon – Tinsley responded by completing 7 of 7 passes, hitting Sweet three more times and Easop Winston twice, to get the Crimson team back on the board.
"I mean, I was definitely on the Crimson team and I was rooting for our guys and (Gordon) was on the Gray team rooting for his guys," Tinsley said. "It was fun. I was looking at the plays coach was calling and I could just see (Gordon) back there and he was making some great decisions and making some great throws."
Four more QBs got chances when Tinsley and Gordon exited the game. True freshman Cammon Cooper finished 12 of 18 for 120 yards and one TD; redshirt freshman walk-on John Bledsoe was 7 of 9 for 40 yards with his father Drew in attendance; Connor Neville was 3 of 7 for 67 yards and a TD; and Casey Brink was 3 of 5 for 20 yards.
Bledsoe threw the game's only interception, a misplaced ball that fell to cornerback Armani Marsh, a Spokane native and Gonzaga Prep graduate.
"I thought most of the drives, they took a lot of plays and we kept the ball in front of us," first-year defensive coordinator Tracy Claeys said. "When you're doing all zone coverages, that's a pretty important deal to do. Obviously, we had a chance to make one or two more stops, but we're getting better and better on offense, too. They're extremely difficult."
Safety Skyler Thomas posted the most defensive stops with seven tackles. Six other Cougars were credited with five.
Local journalism is essential.
Give directly to The Spokesman-Review's Northwest Passages community forums series -- which helps to offset the costs of several reporter and editor positions at the newspaper -- by using the easy options below. Gifts processed in this system are not tax deductible, but are predominately used to help meet the local financial requirements needed to receive national matching-grant funds.
Subscribe to the Cougs newsletter
Get the latest Cougs headlines delivered to your inbox as they happen.
---