News > Spokane
Commissioners reject plan to keep county treasurer's office open Friday afternoons
Wed., April 25, 2018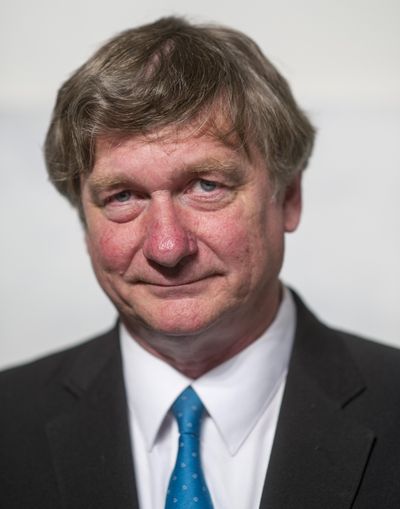 Spokane County commissioners rejected a request to extend Friday operating hours to 4 p.m. for the county treasurer's office, which was consolidated in January to share a lobby with the assessor's and auditor's offices to streamline customer service.
Spokane County Treasurer Rob Chase, who is running for county commissioner, said hours were shortened to 1 p.m. as a result of the treasurer's office relocation.
Chase requested via email to commissioners the treasurer's office should remain open until 4 p.m. to meet the needs of the public, real estate agents and taxing districts.
At an April 9 meeting, commissioners voted 2 to 1 to table his request, with Josh Kerns opposing the motion.
"I am disappointed that the Commissioners failed to act on my request to maintain our business hours, which I believe to be in the best interest of the public," Chase said in a statement. "We've been doing this for a few years and it has become very popular. Three hours on Friday are particularly important during tax rush season, but certainly helps people year-round."
County Commissioner Al French said a master plan for realigning county departments to improve accessibility at the county building has existed for more than seven years.
"We've systematically been trying to make the county campus accessible. Part of that is to walk into one location, get your business done and leave."
French said commissioners several years ago passed a resolution that sets operating hours for all three offices for 8 a.m. to 1 p.m. Fridays.
"Part of this was a result of the recession and county revenues being not what they used to be. We also did it for building and planning and other departments," he said. "The treasurer's office has been in violation of the resolution."
Extending hours costs the county and taxpayers, French said.
Chase said the last two Fridays in April are particularly busy for the treasurer's office with customers coming in to pay taxes, and he wants the flexibility to keep a set of doors unlocked, which costs nothing and serves the public.
Spokane County Auditor Vicki Dalton said there was miscommunication between departments that occurred because of an exception for all offices to extend hours to 4 p.m. on the Friday before tax rush.
Dalton said though the auditor's office closes at 1 – a result of budget cuts – there's a significant backlog that needs to be completed for motor vehicle licensing and recording.
"A lot of our transactions take time," she said. "The (treasurer's office) transactions are pretty quick."
Dalton said the county saw another round of job cuts this year and until staffing levels improve, reduced hours are the only way to stay caught up.
"Right now, we still need additional positions in order to service our walk-in customers," she said.
French said the departments need to work collaboratively to find a solution that could then be brought back to the commissioners.
Local journalism is essential.
Give directly to The Spokesman-Review's Northwest Passages community forums series -- which helps to offset the costs of several reporter and editor positions at the newspaper -- by using the easy options below. Gifts processed in this system are not tax deductible, but are predominately used to help meet the local financial requirements needed to receive national matching-grant funds.
Subscribe to the Coronavirus newsletter
Get the day's latest Coronavirus news delivered to your inbox by subscribing to our newsletter.
---