News > ID Government
Idaho Rep. Labrador opens door to overturning Medicaid expansion initiative if voters pass it
April 26, 2018 Updated Thu., April 26, 2018 at 10:08 p.m.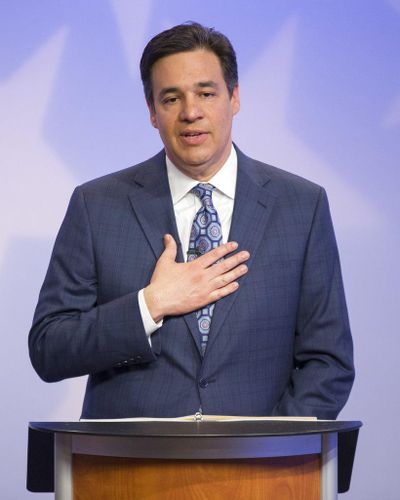 BOISE – Idaho Rep. Raul Labrador said Thursday that if the state's voters both elect him governor and pass the initiative to expand Medicaid in Idaho, he'd consider working to overturn the voter-passed initiative.
In Idaho, a voter-passed initiative has the same status as a law passed by the Legislature – lawmakers and the governor can change or overturn it or replace it with something else if they choose, though that rarely happens. They most notably did that when the Legislature overturned the voter-passed term limits initiative in 2002, overriding then-Gov. Dirk Kempthorne's veto.
"We'll have to cross that bridge when we get to it," Labrador said. "I thought they made a mistake with the term limits initiative, but this one we will have to look at the language. … I would look at all the options."
During a debate televised statewide on Idaho Public Television on Monday night, Lt. Gov. Brad Little, who is running against Labrador for the GOP nomination for governor and also has opposed Medicaid expansion, offered a different answer to the same question.
"I will adhere to the will of the voters," Little said. "I will work with the Legislature. I checked two days ago about what their forecasted fiscal impact of that is. We think it's about $39 million, so there's going to be an impact to it. … As we get closer, we're going to have to get our arms around it. The Legislature will appropriate the money and the governor will have to figure out how to make it work. But if it's the will of the people, it'll be state law."
Little said he preferred Gov. Butch Otter's dual-waiver proposal this year to cover about half of the gap population, but it didn't pass. The House twice refused to vote on that proposal after it cleared a House committee.
Backers of the Medicaid expansion initiative announced this week that they are within 1,000 signatures of the 56,192 signatures they need to place the measure on the November ballot. The deadline to turn in the signatures is Monday.
The initiative would provide coverage for up to 62,000 Idahoans who now fall into a coverage gap, making too little to qualify for Medicaid but not enough to qualify for subsidized health insurance through the state insurance exchange.
If Idaho expanded Medicaid under the Affordable Care Act, the federal government would cover 90 percent of the cost, tapping federal tax funds into which Idahoans already pay.
Tommy Ahlquist, the third leading candidate in the GOP primary race for governor, also was asked during the debate what he'd do if the initiative passes, after he said he opposes Medicaid expansion.
"We need to reform Medicaid," he said, saying the current federal-state program has "so much waste and abuse," Ahlquist said. "If they pass it, I will fight for changes to health care in Idaho. We can lead the nation on this. We're small, we're nimble."
Labrador, when asked Thursday about the possibility of voters passing the Medicaid expansion initiative, first said, "I'm going to ensure that they don't, because I think that they need to be informed about what Medicaid expansion would do for the state. If you look at every single state that has expanded Medicaid, they're spending more money than they expected to spend … and that's taking away money from all the other needs."
The Kaiser Family Foundation published a study on the impacts of Medicaid expansion on March 28. It found positive economic impacts for the states that expanded Medicaid, despite enrollment growth initially exceeding projections. The foundation found that state spending didn't exceed expectations, and cost savings resulted from reductions in uncompensated care costs.
Emily Strizich, co-founder of Reclaim Idaho, the group pushing the Medicaid expansion initiative, said, "Candidates who admit that they plan to ignore the will of the people should not be elected to represent the citizens of Idaho."
She said the states that have expanded Medicaid have saved money, including Montana, which saved $30 million in the first 18 months alone.
"The data does not support Mr. Labrador's claim that states that have accepted Medicaid expansion funds have suffered financially," Strizich said. "Accepting Medicaid expansion funds is both fiscally and morally responsible."
Idaho voters passed the term limits initiative in 1994 with nearly 60 percent support and affirmed it in three subsequent ballot measures: A 1996 initiative, and an initiative and an advisory vote in 1998. After the Legislature repealed the law in 2002 – with Little among the senators voting 27-8 in favor of the repeal bill – a referendum was placed on the 2002 ballot to affirm the Legislature's move. Its language was so confusing, though, that "no" meant "yes." The measure passed by the narrowest of margins, 50.2 percent to 49.8 percent.
The ballot title was "Referendum reinstating term limits for elected state, county, municipal and school district officials through ballot access restrictions." But the actual question was, "Shall the legislation repealing term limits for elected state, county, municipal and school district officials be approved?" A "yes" vote meant the repeal legislation was approved – and Idaho no longer had term limits for elected officials.
"I think a lot of voters were very much misled on it," said political historian Randy Stapilus, a former longtime Idaho journalist and the author of books including "Governing Idaho: Politics, People and Power," co-written with BSU political scientist emeritus Jim Weatherby.
"This is interesting," Stapilus said, "in that you have a candidate who is advising the voters in advance of the election that if I don't like what you choose, I may just throw your will overboard because I don't like it, I disapprove of it personally – and that's good enough."
The Legislature's repeal of the voter-passed term limits initiative was highly unpopular, Stapilus said.
"Term limits was a popular proposal at that time. It got a pretty strong vote," Stapilus said. "The voters of the state clearly were in favor of it – the legislators were emphatically not."
Yet, he said, there was no specific blowback on the legislators who supported the move – no recall election push, for example.
"I wonder if possibly Raul Labrador is bearing that in mind, that voters in Idaho are really not holding their legislators or other public officials very accountable in that regard, for carrying out the voters' own will," Stapilus said. "I haven't seen much evidence that they are doing that, that they are holding elected officials accountable in that way."
Local journalism is essential.
Give directly to The Spokesman-Review's Northwest Passages community forums series -- which helps to offset the costs of several reporter and editor positions at the newspaper -- by using the easy options below. Gifts processed in this system are not tax deductible, but are predominately used to help meet the local financial requirements needed to receive national matching-grant funds.
Subscribe now to get breaking news alerts in your email inbox
Get breaking news delivered to your inbox as it happens.
---