Milan Acquaah announces transfer from Washington State, becomes fourth guard to leave program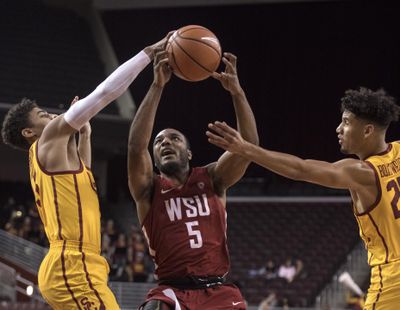 PULLMAN – Washington State's returning backcourt thinned out some more Friday morning.
Milan Acquaah, a redshirt freshman guard who started nine games for WSU last season and appeared in 30 of 31 games, has announced plans to transfer.
Acquaah joins starting point guard Malachi Flynn, little-used reserve guard Jamar Ergas and walk-on guard TJ Mickelson as the fourth member of WSU's backcourt to leave the program this offseason.
If sharpshooting junior forward Robert Franks opts to hire an agent and fully enter the NBA Draft, the Cougars will have lost six non-seniors from the 2017-18 roster. According to sources, redshirt junior KJ Langston, who didn't play for the Cougars much of the season because of an indefinite suspension, isn't expected to return to the program this fall.
In a tweet drafted by the WSU coach, Kent said "I fully support Milan Acquaah's decision to transfer. We are thankful for all he's done for the program and wish him the best!"
Kent has already compensated for a few of those departures – particularly the ones in the backcourt – by signing a pair of junior college guards, Jervae Robinson and Marvin Cannon, who'll be eligible to play for the Cougars this fall.
The 2018 recruiting class also includes high school forward CJ Elleby, JC forward Isaiah Wade and Aljaz 'Jaz' Kunc, who most recently played at Impact Basketball Academy in Florida.
During Acquaah's redshirt year in 2016-17, Kent repeatedly praised the Cathedral High (Los Angeles) product as one of WSU's top practice players – calling him "unguardable" during the team's intersquad scrimmages – and tabbed him as someone who could make a sizeable impact for the Cougars in 2017-18. The 6-3, 185-pound guard logged 17.5 minutes per game, mostly off the bench, and averaged 4.9 points per game. He finished third on the team with 58 assists (1.9 apg).
Acquaah posted a season- and career-best 13 points in a loss to UCLA at Pauley Pavilion and scored in double digits in four other games (Texas Southern, Stanford twice, Oregon). The Bakersfield, California, native was one of WSU's best penetrators, but shot just 27-of-50 (45 percent) from the free throw line and managed to sink only 15 of his 57 3-point attempts.
Acquaah graduated from Cathedral High and spent one year at La Salle High, but he began his prep career at Chino Hills High, where he played alongside former UCLA and current Los Angeles Lakers point guard Lonzo Ball. Acquaah and Ball became friends at a young age and met when Acquaah's father Tracy and Ball's father LaVar brought their sons to practice at a gym in Los Angeles. Upon learning the gym was locked, LaVar and Lonzo invited Acquaah to shoot on the basket in the backyard of their Chino Hills home. The two have been close friends ever since.
Acquaah vacationed with the Ball family in Hawaii last summer, as documented in the Facebook reality TV show "Ball in the Family," and is mentioned by Lonzo Ball in his hip hop album "Born 2 Ball."
A former three-star recruit according to 247Sports.com, Acquaah didn't list any other offers out of high school and has not indicated where he'll transfer.
---