Sports > Idaho football
Offense rules the day as several Vandals shine in Idaho's Silver and Gold game
UPDATED: Fri., April 27, 2018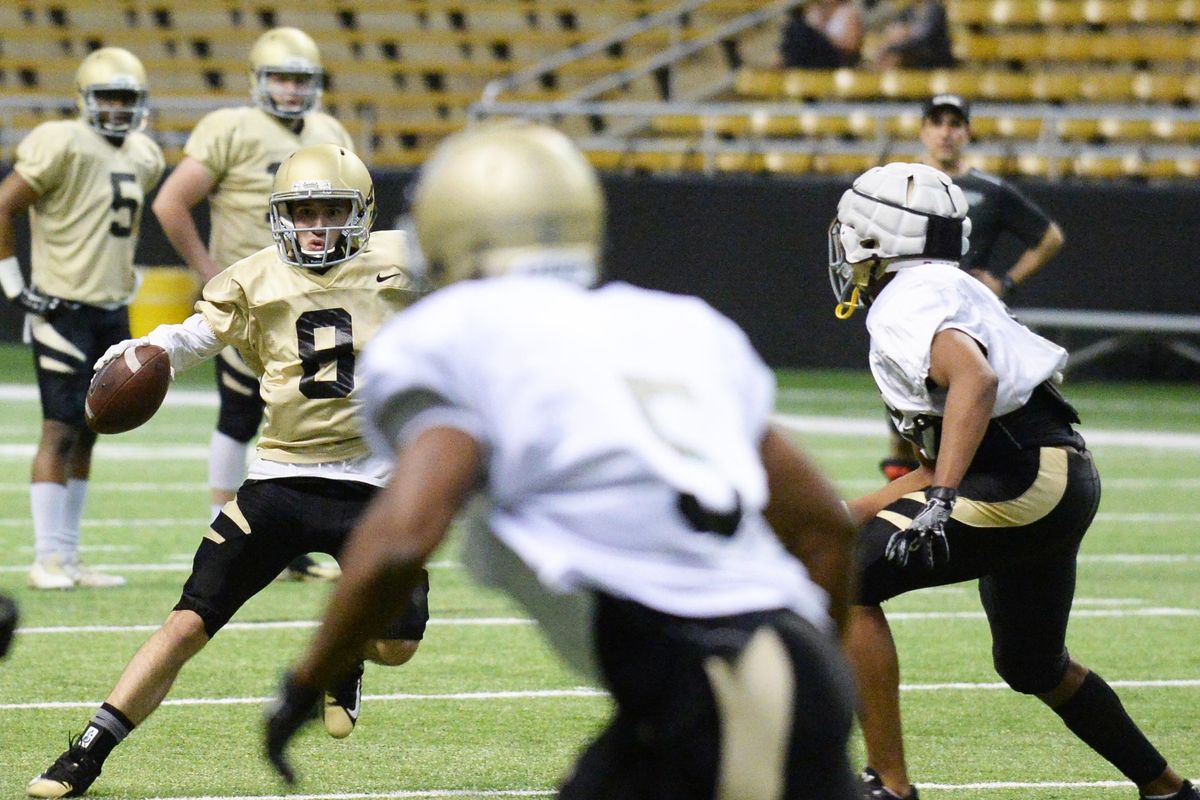 Junior quarterback Mason Petrino makes a run during Friday's Silver and Gold game. (Cody Cottier / For The Spokesman-Review)
MOSCOW, Idaho – A seven-play opening drive that began with a 20-yard pass from Mason Petrino to Kaden Ellis and ended with Petrino racing around right end from two yards out for a touchdown was a striking way for Idaho to open its spring game Friday.
For the Vandals, it was hopefully a prelude to what their offense will look like this upcoming season with a new quarterback replacing four-year starter Matt Linehan.
The game gave Idaho coach Paul Petrino an opportunity to test how much workload Elliss can handle as a two-way player (his limit, apparently, has not yet been reached). It allowed Petrino to run some option similar to what he expects to see from an unnamed Big Sky opponent and to get that on tape to study, and it gave Mason Petrino and Colton Richardson experience running the Vandals offense.
But the most ominous aspect of the Silver and Gold game was seeing Dylan Thigpen, Idaho's most consistent running back this spring, exit the field on crutches at the close of the first quarter. Paul Petrino said he did not know how seriously Thigpen was injured.
The Silver and Gold game was mostly ones versus twos with the offensive line and some receivers and defensive backs playing for both teams. Mason Petrino and Richardson split reps at quarterback with the Gold first team. Dylan Lemle ran the Silver second team.
Mason Petrino completed 22 of 28 passes for 208 yards and two touchdowns. Richardson connected on 13 of 22 attempts for 256 yards and one score, and Lemle completed 8 of 14 throws for 120 yards and a touchdown. There were no interceptions.
The ones owned the scoreboard, 49-19. But the Silvers had their moments. They got on the board when Richardson's pass to Harrison Ashby was fumbled. Tyrese Dedmon, a sophomore defensive back, scooped and scored from about 20 yards out.
"I read the quarterback's eyes. I saw he threw a quick hitch. I was thinking 'effort, effort, run to the ball.' I saw it pop out out, and I saw green grass in front of me," Dedmon said.
It was one of two fumbles he recovered.
Going against what is expected to be a tough first-team Idaho defense, Lemle, on third down at midfield, in the first half found Brandon Luckett running free at the 10-yard line and put a pass right on his hands that was dropped.
Instead of being deflated, Lemle, a redshirt freshman, came back on the next play and threw a first down to Brandon Luckett. Four plays later, he stepped up in the pocket to elude a rush and hit Cutrell Haywood with a perfectly thrown 30-yard scoring pass in the corner of the end zone.
Paul Petrino grinned and acknowledged, however, that since the quarterbacks could not be tackled he let that play run longer than it would have if it was live.
"That was probably a sack," he said.
But he pointed out the Vandals accomplished a major spring goal of getting all three quarterbacks better. He particularly noted Richardson's ability to run the quick passing game, and Mason Petrino's ability to throw on the move.
Elliss, who also started at linebacker with the first-team defense, caught five passes for 141 yards and the opening series touchdown from Mason Petrino.
"He's unstoppable on both sides of the ball now," Paul Petrino said. "You can't block him, and you can't cover him."
On offense Elliss lined up as a tight end, in the slot, split wide and as a running back in a pistol set.
"You kind of go over something once with him, walk through it one time, and he knows it. He's such a quick learner."
After his busy day, Elliss said "I've got to get in better shape. I'm going to have to do some track workouts this summer."
In Thigpen's absence Roshaun Johnson ran for 124 yards on 33 carries and three touchdowns. "My workload shot up," he said. When Thigpen and senior Isaiah Saunders, who missed much of spring practice with an ankle injury, return next fall, Johnson may still get carries, based on his production in Friday's game.
"I'm trying my best, doing my job," he said.
Jack Bamis, a redshirt junior from Spokane, led the Silver offense on the ground with 63 yards and a touchdown on 22 carries.
The Vandals concluded spring workouts by delivering to Paul Petrino an overall favorable impression of where they are as a team.
"I think we're going to be a physical team," he said. "Guys really were warriors today."
Local journalism is essential.
Give directly to The Spokesman-Review's Northwest Passages community forums series -- which helps to offset the costs of several reporter and editor positions at the newspaper -- by using the easy options below. Gifts processed in this system are not tax deductible, but are predominately used to help meet the local financial requirements needed to receive national matching-grant funds.
Subscribe to the sports newsletter
Get the day's top sports headlines and breaking news delivered to your inbox by subscribing here.
---