A&E > Stage
Societal expectations challenged in 'Misalliance,' opening Friday at Spokane Civic Theatre
April 27, 2018 Updated Fri., April 27, 2018 at 10:32 a.m.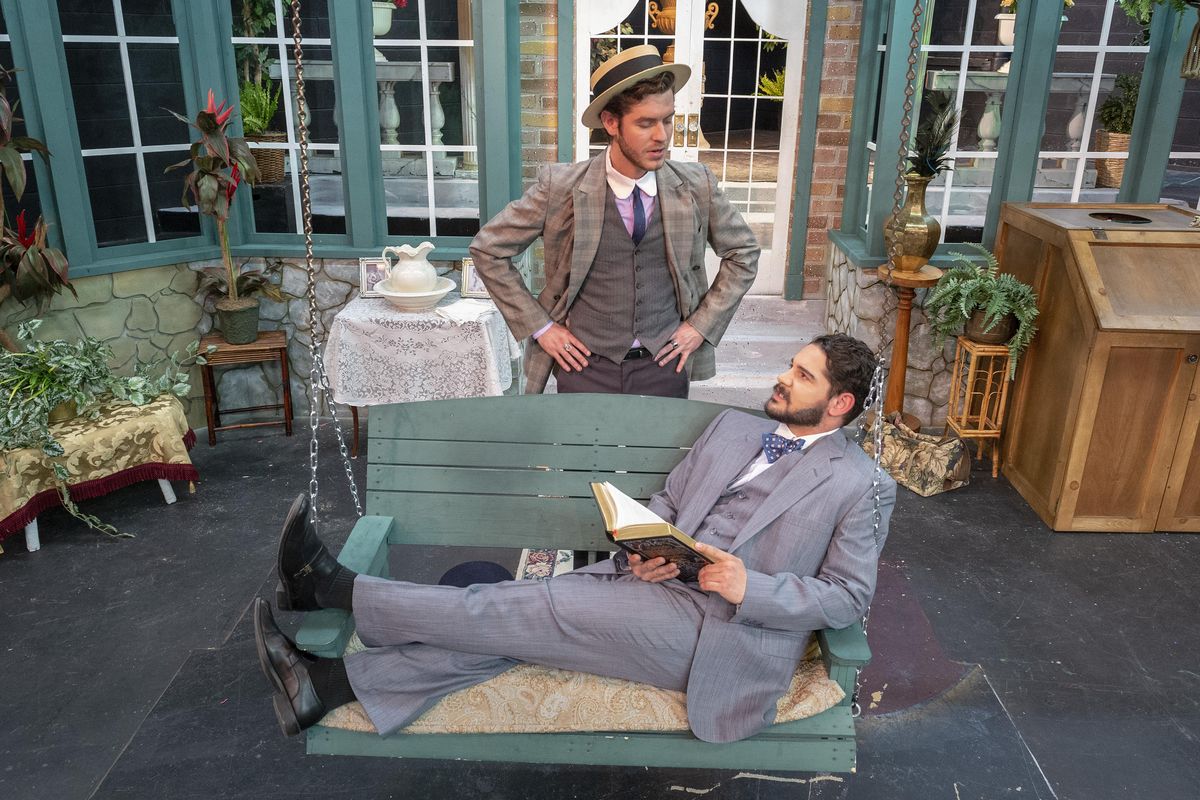 Actor Joshua Baig (on swing), playing Johnny Tarelton, and Dennis Burgess, playing Bunny Summerhays, perform a scene from Spokane Civic Studio Theatre's production of "Misalliance," which runs from Friday through May 20. (Colin Mulvany / The Spokesman-Review)
A lot can happen in one afternoon, as Irish playwright George Bernard Shaw proves in "Misalliance," which he subtitled "A Debate in One Sitting."
"Misalliance" takes place at the home of John Tarelton (Ron Ford), his wife (Jone Campbell Bryan) and their children Johnny (Joshua Baig) and Hypatia (Sarah Plumb), who is unsatisfied with her engagement to Bentley Summerhays (Dennis Julian Burgess) and longs for adventure.
The group, which also includes Bentley's father Lord Summerhays (Kris Kittelson), spend the afternoon discussing the energy it takes for one to pursue a romantic interest, the unattainable ideal woman and society's expectations for men and women.
But when some uninvited guests drop in and shake things up, the group's thoughts on courtship and independence are put to the test.
"Misalliance" opens Friday and runs through May 20 at Spokane Civic Theatre.
"Misalliance" also stars Dennis Pham (Gunner), Eliot Drushella (Joey Percival) and Dana Sammond (Lena Szczepanowska).
Marlowe was interested in tackling a Shaw piece because he was well-aware of the playwright's reputation as the 19th century William Shakespeare.
"His use of language and the issues he deals with are pretty profound …," he said. "His mission was really to raise social awareness of social issues such as the idea of socialism, the idea of women's rights, workers' rights, the idea of the right to live your life as you want to live it, free from the ridiculous societal restraint that Victorian and Edwardian society placed upon itself. He wanted to throw all of that stuff out the window."
Marlowe pared the script down so the show wouldn't be more than three hours long, but the theme of many conversations, intelligence versus character, remain intact.
Romantic unions aside, Marlowe also sees the title referring to the sometimes discordant relationship between parent and child.
"It's a misalliance because they can't see through each other's eyes…" he said. "It's quite a conversation about how do we deal with our children and the relationship of parent and child."
And though "Misalliance" was written and takes place more than 100 years ago, Marlowe said because the play came during a time when realism in theater was on the rise, the issues it raises are still relevant to today's audiences.
"I hesitate to say that it's heady and intellectual, because everybody can relate to this," he said. "Everybody can understand what the characters are saying because these are real people in real situations. Even though it takes place in 1909 in what we call the Edwardian or Titanic era, these are still issues we deal with today."
Local journalism is essential.
Give directly to The Spokesman-Review's Northwest Passages community forums series -- which helps to offset the costs of several reporter and editor positions at the newspaper -- by using the easy options below. Gifts processed in this system are not tax deductible, but are predominately used to help meet the local financial requirements needed to receive national matching-grant funds.
Subscribe to the Spokane7 email newsletter
Get the day's top entertainment headlines delivered to your inbox every morning.
---