News > ID Government
Idahoans face big decisions in governor's race on May 15
Sun., April 29, 2018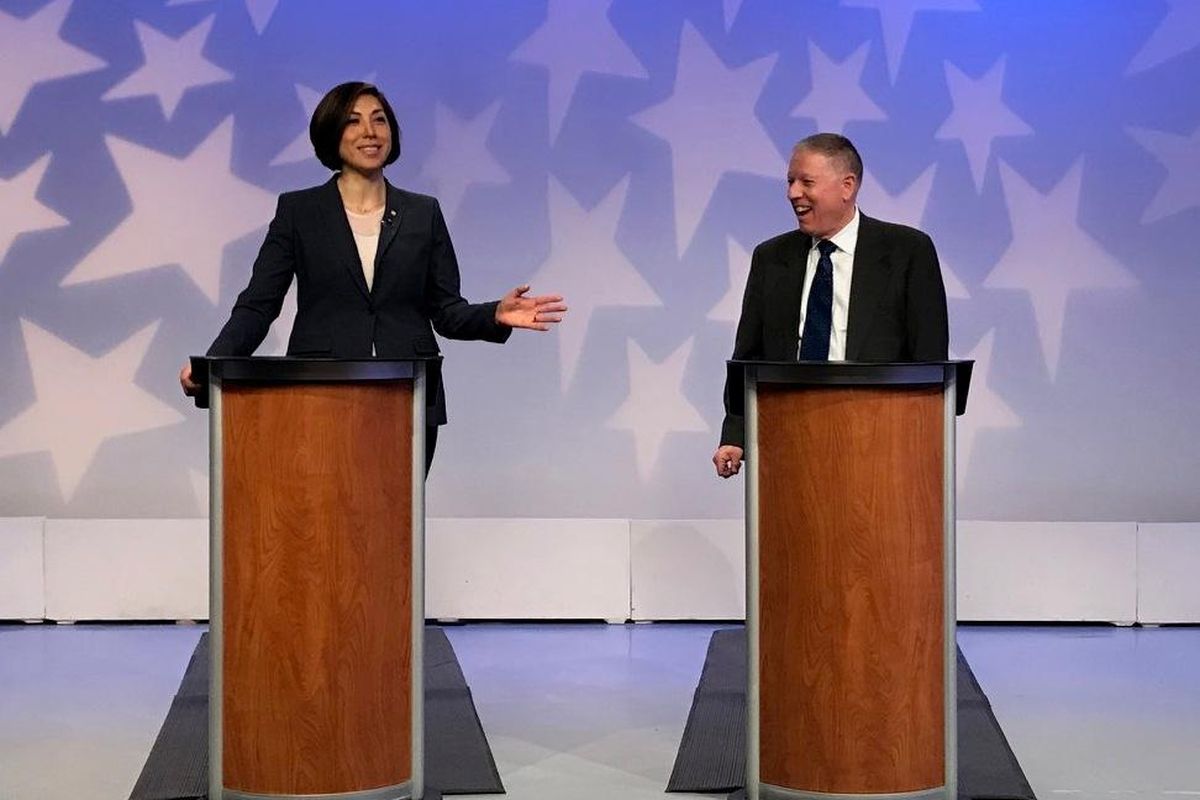 Paulette Jordan, left, and A.J. Balukoff, right, laugh together just before the start of a statewide debate that was broadcast live on Idaho Public Television on April 22, 2018. The two are facing off in the Democratic primary for governor on May 15. (Betsy Z. Russell / The Spokesman-Review)
The stakes are huge – an open seat for governor of Idaho for the first time in 12 years.
The competition is hot in both parties, with seven Republicans and three Democrats on the ballot, including big names who are duking it out for their party's nominations.
And the five front-runners – three Republicans and two Democrats – offer very different choices for Idahoans who will cast ballots on May 15.
There's Brad Little, the current lieutenant governor and former state senator who's been endorsed by outgoing three-term GOP Gov. Butch Otter. He's a rancher, the scion of one of Idaho's most storied ranching families, whose low-key manner shows his Emmett roots and whose deep, detailed knowledge of Idaho's state government reflects a history of engagement that stretches back to attending his first national GOP convention at age 14 – where he sat next to Ronald Reagan. He also served as an intern for the Legislature's joint budget committee as a college junior.
"Interning in the joint committee, you learn the nuts and bolts of government pretty fast," Little recalls with a smile.
There's Tommy Ahlquist, the emergency room doctor-turned successful developer who's transformed the downtown Boise skyline and fairly bursts with his enthusiasm to do the same for the state government. "I cannot wait to get my nose under the circus tent," says the first-time candidate. He's spending millions of his own money, doing extensive, marathon tours of the state that include meeting with mayors, business owners, school superintendents and more. He's all over the airwaves, and he's passionate about his message that an outsider and business leader can improve Idaho's government. Ahlquist says over the past eight months, his team has developed business plans for each of Idaho's 68 state agencies.
"No one will ever question two things about me – one, how hard I will work; and two, I will get stuff done," Ahlquist declares.
There's Raul Labrador, fourth-term GOP congressman and co-founder of the House Freedom Caucus, who's surprisingly trailed far behind the other two in fundraising and campaign presence, but is well-known in Idaho – particularly in the 1st Congressional District, which runs from West Boise to the Canadian border. An outspoken conservative who's sponsored legislation to crack down on illegal immigrants and to protect businesses that refuse to serve gays, Labrador often levels harsh criticism not only at Democrats, but also at those in his own party he deems insufficiently ideologically pure. "For too long, you've had the same people that have been making the decisions in Idaho," he says, "the same group of lobbyists and special-interest groups that spend a ton of money on these primaries, and they spend a ton of money on general elections, because they want business as usual to continue."
Labrador says he's "uniquely qualified to be the next governor of Idaho" because of his experience and the relationships he's built at the state and federal level. "I am on a personal, first-name basis with many of the people that are running the federal government right now," he says. "I helped Donald Trump get elected, I know him well – as you know, he interviewed me for one of the cabinet positions. I know Mike Pence, he's a personal friend. … I know Ryan Zinke on a personal basis, I have his phone number, I can pick up the phone and give him a call."
There's A.J. Balukoff, the successful businessman who's served 21 years on the Boise School Board, helping oversee the most successful schools in the state, and built a record as a civic volunteer and advocate for education and public lands access. Balukoff ran against Otter four years ago as the Democratic nominee, garnering just under 39 percent of the vote.
Republicans have held the Idaho governor's office for the past 24 years; they also control big supermajorities in both houses of the Legislature. "One-party rule has been a bad deal for Idaho," Balukoff says. "I know we can do better. … I've dedicated my life to bringing folks together to solve the problems that face us."
And there's Paulette Jordan, a second-term state representative and former Coeur d'Alene Tribal Council member who if elected would be the first Native American governor of any state, as well as the first female governor of Idaho. Jordan's running to the left of Balukoff, seeking to tap into the energy of progressives mobilized by opposition to Trump, concern over gun violence in schools, and support for women candidates in the wake of the #MeToo movement. She's also backing the legalization of marijuana.
"I stem from a long line of leaders, a legacy that stems for thousands of years in this land," Jordan says. "The fact is that Idaho officials have been playing to special interests for far too long, for decades in fact. And unfortunately Idaho's Democrats have been running scared, but it's about time that we change that."
"You have the whole spectrum represented," said College of Idaho political scientist Jasper LiCalzi. "No one can, I think, come forward and say 'Yeah, they're all the same.' " He added, "Everybody should have somebody they could like – and not like."
While the two Democrats have largely run a civil campaign – they agree on many issues, including expanding Medicaid and increasing education funding – the three Republicans have clashed repeatedly and are ripping into each other in television ads as liars, liberals, tax-raisers and snakes – though all three are conservative Republicans.
"The problem with this campaign is that they have spent $3 million attacking my character, attacking who I am, and they have no shame, they have absolutely no shame," Labrador declared during a statewide, televised debate last week.
All three Republicans favor big tax cuts, even after the $200 million in income tax cuts lawmakers approved this year. With federal tax changes, that change amounted to a net tax cut for Idahoans of $125 million.
Labrador has a billion-dollar tax cut plan. He wants to cut state corporate and individual income tax rates to 5 percent and lower the sales tax from 6 percent to 5 percent. He calls it "my 555 plan."
But during last week's debate, Labrador said he doesn't want to cut the size of state government by $1 billion – which would slash Idaho's state budget by nearly a third. When reporter Kevin Richert of Idaho Education News asked him about the price tag during the debate, Labrador said, "I don't think you're listening – no, I don't think you are. Because I never said about cutting government by a billion dollars. … What I said is that we have $3 billion in tax loopholes. Some of those benefit the state, most of them do not benefit the state. You can actually do a tax shift – that's what tax reform is."
Labrador maintained he'd eliminate enough "loopholes" to cover the $1 billion cost of his tax-cut plan, but he declined to name any specific breaks he'd target. "I'm not going to get into that negotiation with the media," he said on Thursday. "I need to engage in that negotiation with the Legislature. … They're all on the list, everything is on the list."
Both Ahlquist and Little also have proposed additional tax cuts, though Labrador's plan is more aggressive. All three also favor eliminating Idaho's 6 percent sales tax on groceries, which would cut another $79 million a year from the state's tax revenue.
Little said he believes the cost will be less than the official state estimates show, as a dozen Idaho border towns see retailers return to their side of the state line, rather than operate in the neighboring states to avoid sales taxes on groceries. "You take all those cities and move back some of the retail that's moved over, that's a big number," he said.
Ahlquist said Idaho's income tax makes it difficult to recruit businesses to Idaho.
"I'm a businessman, I've created companies and thousands of jobs, and in that role I know how to move an economy," he said.
All three favor improvements in career-technical education. Ahlquist wants to reduce the "layer upon layer of regulation" that he said local school district superintendents tell him they face. Little wants to improve starting pay for teachers and give districts options, with state funding, for how to address early-learning issues. Labrador wants to dump Idaho's Common Core education standards, which set base levels for what students should learn in each grade, and replace them with different ones.
All three oppose the Affordable Care Act, also called Obamacare. Ahlquist, who practiced medicine as an emergency-room physician in Idaho for almost 20 years, says the entire health care system needs to be revamped so care is provided at cost, rather than for inflated fees.
Alone among the three, Labrador says he'll ask every state agency director to resign and reapply for their position – even though if he wins, he'd be succeeding a three-term Republican administration.
"For Republicans in this primary, this is kind of like the trifecta," said Northwest Nazarene University political scientist Steve Shaw. "You've got these three candidates – A congressman, a lieutenant governor, a business person." All, he said, "Clearly want the job very badly," and the result has been a primary campaign that's been contentious and combative. "There's no way if you're halfway thinking about politics, there's no way you can avoid encountering this primary season, especially on the Republican side."
"Normally in the primary if you get one in four voters turn out, you're doing well," Shaw said. But, he said, "It's a highly unusual primary, and I hope people are paying attention."
Other candidates on the May primary ballot include Peter Dill, an attorney, organic farmer and first-time candidate who filed to run on the Democratic ticket on the final day of the filing period; Steve Pankey, a Republican who's spending a quarter-million dollars of his own money on advertising to promote views including that 1950s communist-baiter Joe McCarthy was right; perennial candidates Harley Brown, who says God called him to be president of the United States so he's practicing by running for lower offices, Lisa Marie, who raises concerns about chemicals and child well-being; and Dalton Ben Cannady, a Boise resident who's been incommunicado since filing his candidacy.
Local journalism is essential.
Give directly to The Spokesman-Review's Northwest Passages community forums series -- which helps to offset the costs of several reporter and editor positions at the newspaper -- by using the easy options below. Gifts processed in this system are not tax deductible, but are predominately used to help meet the local financial requirements needed to receive national matching-grant funds.
Subscribe now to get breaking news alerts in your email inbox
Get breaking news delivered to your inbox as it happens.
---