News > Education
School districts, teachers in Washington prepare for summer of salary talks
Sun., April 29, 2018 When the Legislature added almost $1 billion to the pot for school employee salaries, they made life easier in some respects for school districts, and harder in others.
They all but guaranteed long bargaining sessions this summer, whether a district's contracts with its teachers and other employee unions is due to expire or not. The whole system for paying school staff changed.
West Valley School District Superintendent Gene Sementi likens it to putting together an NFL roster with minimum starting pay for players and an overall salary cap, and some room for negotiations within those boundaries.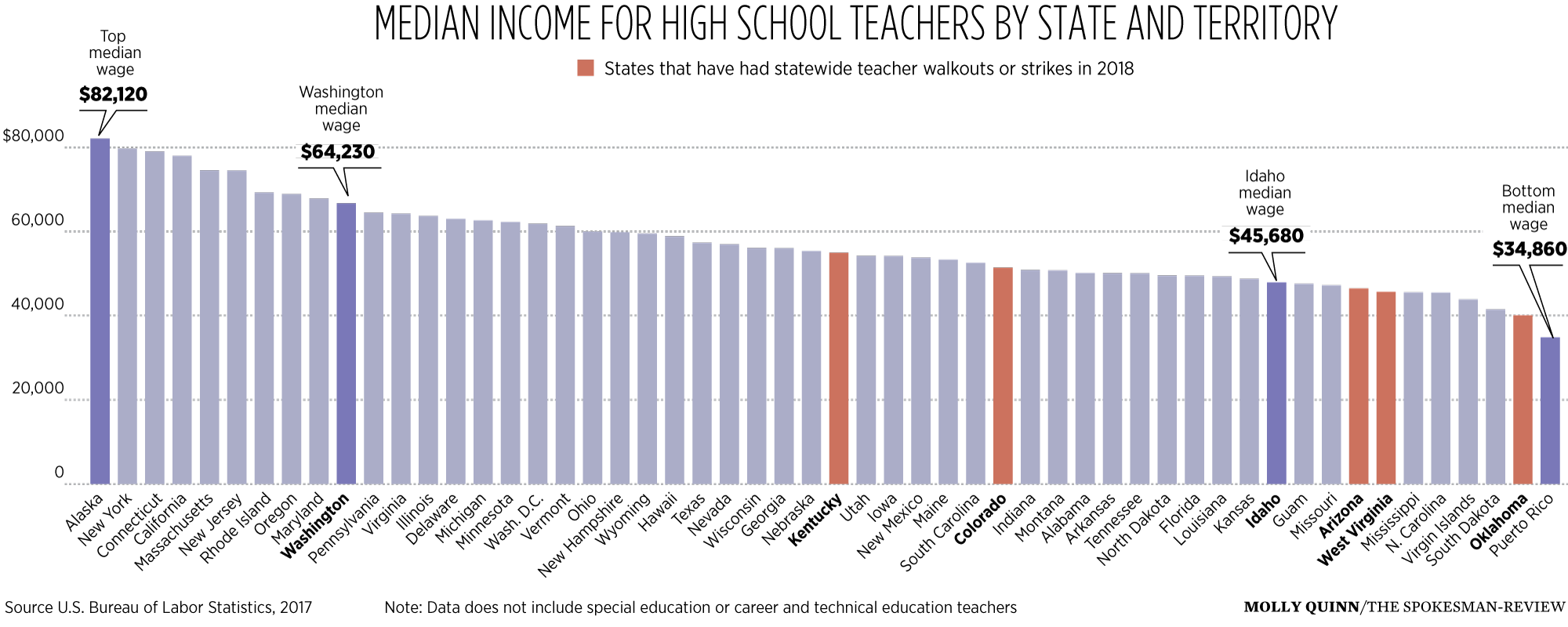 "It's kind of like the Seahawks. You have to make decisions about where you spend your money," said Sementi, whose district has contracts expiring at the end of August. "The whole thing's kind of up in the air."
The McCleary fix, as it was called based on the state Supreme Court ruling that mandated more state support of schools, did away with the model system almost all districts have used for decades as the basis for their salaries. While the amount of money coming in from the state is going up, the amount most districts can raise and spend through their own levies is going down, and what they can spend that money on was limited.
The Washington Education Association, the union that represents teachers and some other school employees, is telling members it's time to negotiate big raises. In a video sent to members, the statewide organization urges them to fight for a 15 percent raise for teachers and a 37 percent raise for support staff.
But the state organization doesn't negotiate contracts, district units do. Local labor leaders said they're still analyzing what the changes in state and local funding mean for their districts.
Union leaders and school administrators in the Spokane area agreed it's too early to predict the outcome of this summer's talks. Like most labor negotiations, management is trying to tamp down expectations while the unions are trying to bolster it.
"It puts out a good explanation about how much money there is to be bargained," Katy Henry, president of the Spokane Education Association, said of the WEA video.
The SEA is still analyzing numbers and has not yet settled on a figure for what it will request for teachers and the other staff it represents, Henry said. But union officials "feel it's really clear" that the nearly $1 billion the Legislature added to the budget is for salaries, she said.
Some district administrators are worrying that the call for 15 percent and 37 percent are setting unrealistic expectations.
"It's not nearly as much money as people are being led to believe," said Wayne Leonard, assistant superintendent for business services for the Mead School District, which will be negotiating a full contract this summer. Although the district isn't sure yet how much money it will be getting under the new state formulas, it knows it will have about $11 million less from its property tax collections.
"It's early in the process," Linda McDermott, chief financial officer for Spokane Public Schools, said. "It's definitely a big change for us. We have to be real thoughtful."
Spokane Public Schools are in the second year of a three-year contract, but the district expects to open up the contract for salary talks. Henry said that request will come in early May, with bargaining likely to start in late May or early June.
After following the multi-year legislative saga of efforts to comply with a court mandate to adequately pay for education, the public might best remember a key figure from the 2018 session: $1 billion for salaries. Although that number is correct with rounding – the actual number is $959 million – there are other aspects of legislative action that come into play.
The Legislature set a new pay scale for starting teachers at slightly over $40,000 – with adjustments upward for inflation and some regions in the state – and a cap of $90,000 per year which can also be adjusted.
While adding state money, the Legislature limited a district's ability to supplement the paychecks of teachers and other school employees out of the money from local levies. Under the court mandate, the state must pay for "basic education." A district can only use its levy money for activities that are not basic education, which could include tutoring, mentoring, giving up a planning period to take a class or overseeing extracurricular activities.
"One of the big discussions is going to be what is an enhancement beyond basic education," Leonard, the Mead assistant superintendent, said. Mead, like the Spokane district, gets a 6 percent "regionalization" increase over the base in the 2018-19 school year, with an expectation it will drop by 1 percent annually in succeeding years.
"We want to continue to pay well," Leonard said. "We also want to continue to be financially prudent" and not create a salary schedule that can't be maintained in later years.
Toby Doolittle, president of the Mead Education Association, agreed that discussions over enhancements, or what's called enrichment in the law, will be a key part of negotiations. The union, however, may take a broader view of what that covers.
"There are many things that educators do on a daily basis that far exceed the basics of the job," Doolittle said.
The union also contends the Legislature isn't likely to cut funding in future years, he said. "This is not 'Here's a little money, now go away and don't come back.' This is now the standard moving forward."
This year's salary talks won't be the end of complicated contract discussions for local unions and school districts. Starting in January 2020, school employees will be covered by a new statewide benefit package, including health care coverage, with different costs and requirements than many districts currently offer.
A new state board is still developing that benefit package, which is expected to be the subject of a new round of talks next year.
Local journalism is essential.
Give directly to The Spokesman-Review's Northwest Passages community forums series -- which helps to offset the costs of several reporter and editor positions at the newspaper -- by using the easy options below. Gifts processed in this system are not tax deductible, but are predominately used to help meet the local financial requirements needed to receive national matching-grant funds.
Subscribe now to get breaking news alerts in your email inbox
Get breaking news delivered to your inbox as it happens.
---