News > Spokane
Residents, Bergman family express frustration at housing plan on former Bergman Tree Farm in Spokane Valley
UPDATED: Mon., April 30, 2018 A former popular Spokane Valley Christmas tree farm could soon be developed into multiple town homes and duplexes, a proposal that has nearby residents concerned it could change the character of their neighborhood.
Plans for the Bergman's Tree Farm filed in Spokane County by engineering firm Whipple Consulting Engineers on behalf of Dennis Crapo, owner of Diamond Rock Construction, Inc., call for more than 78 town homes and duplexes on seven acres with 175 to 200 parking spaces.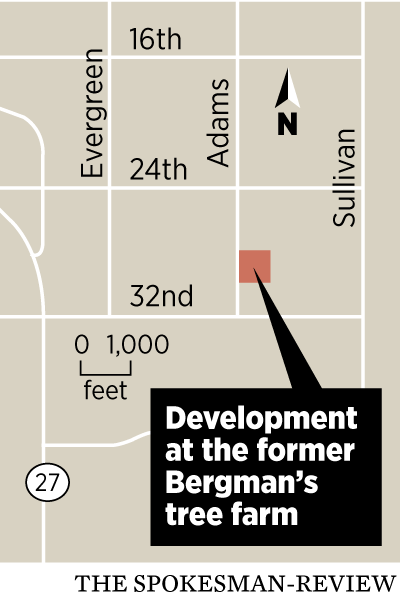 At least one member of the Bergman family says they were misled and now regret selling the land to the developer.
More than 100 residents attended a traffic study meeting held by Whipple Consulting Engineers Tuesday evening at CenterPlace Regional Event Center and expressed frustration and opposition to the project, many of them saying it could reduce property values and increase traffic along Adams Road.
"It's going to be a mess," said one resident.
Resident James Hollingsworth said while he's not opposed to development in general, he's not in favor of the project because the proposed density doesn't match the Spokane County zoning requirements.
The land is zoned as low density residential, allowing for a maximum of six housing units per acre, according to Spokane County zoning regulations.
However, Crapo is requesting a planned unit development and if he includes proposed amenities such as sidewalk improvements, open space, a mix of housing types and trails, then the project will qualify for bonus density, said Tammy Jones, principal planner for Spokane County.
Whipple said the development will be comprised entirely of rental homes, with 20 percent dedicated to Housing and Urban Development housing.
The HUD proposal – in combination with amenities – allows for five acres of bonus density and seven additional units.
"Personally, I could understand if someone put half-acre lots down there similar to what's already here, but these are row houses and this (project) is high density," Hollingsworth said. "Truly, we're going from a rural area to a high-density development."
Bergman's Tree Farm was established by Don and Nelda Bergman, who purchased the 30-acre vegetable farm at 28th Avenue and Adams Road in 1969.
More than a decade later, the family planted tree saplings on 20 acres of land and converted it into a tree farm.
By the mid 1980s, Bergman's Tree Farm became a staple of Spokane Valley.
However, after Bergman – a former master sergeant in the Washington State Army National Guard – died in 2016 from cancer, his five children were faced with the difficult decision to cease operations of the tree farm and sell the land.
"With dad's passing, there wasn't any way to keep this up," Doug Bergman told The Spokesman-Review last year. "It's sad."
The five Bergman siblings sold the land to Crapo for $915,000 in 2017, according to records from the Spokane County assessor's office.
Dede Bergman – who attended the traffic study – said the family has taken "a lot of heat for selling the property," but they thought any future development would be low density because the county told them that zoning couldn't be changed.
"We were told it could be nothing but (low density)," she said at the meeting. "There was never anything said about a PUD ever. And now it's coming up?"
Bergman told The Spokesman-Review that Crapo also failed to mention that the project would be high density with multiple duplexes, triplexes and fourplexes.
"Had we known, we never would have sold it to him," she said.
Resident Jenny Benson – who is selling her home located across the street from the proposed development – said she's concerned the project will lower property values.
She's had two people back out of offers when they found out the project would be built nearby.
"We aren't in a multifamily neighborhood," she said. "I knew it was going to be developed, but I thought they were going to put in houses on larger lots."
Hollingsworth said the neighborhood is stunned by the proposed development.
"They just never thought this type of development would come to our neighborhood," he said. "Nobody likes it. We understand there is a need for housing, but this is something else entirely. It's a surprise to me how this zoning got passed."
Whipple said he empathizes with the residents, but developers typically refrain from building one to two homes on large tracts because it's not financially feasible.
"I'm not going to lie to you and say this isn't going to change your neighborhood," Whipple told the residents.
Hollingsworth said at the meeting he was insulted that the developer didn't attend the traffic study because residents would be willing to meet with him to discuss options.
"You can talk about regulations, but if this goes through the way you are proposing, it destroys the way of life for everyone who lives here," he said to Whipple.
The hearing examiner will decide whether the bonus density requirements are consistent with the zoning code and that the development meets the county's standard, Jones said.
Whipple Consulting Engineers plans to conduct a traffic study and hold a second community meeting in three to four weeks.
Local journalism is essential.
Give directly to The Spokesman-Review's Northwest Passages community forums series -- which helps to offset the costs of several reporter and editor positions at the newspaper -- by using the easy options below. Gifts processed in this system are not tax deductible, but are predominately used to help meet the local financial requirements needed to receive national matching-grant funds.
Subscribe to the Coronavirus newsletter
Get the day's latest Coronavirus news delivered to your inbox by subscribing to our newsletter.
---