A&E > Music
Coeur d'Alene's Black Happy in top form for reunion shows
Aug. 2, 2018 Updated Thu., Aug. 2, 2018 at 5:35 p.m.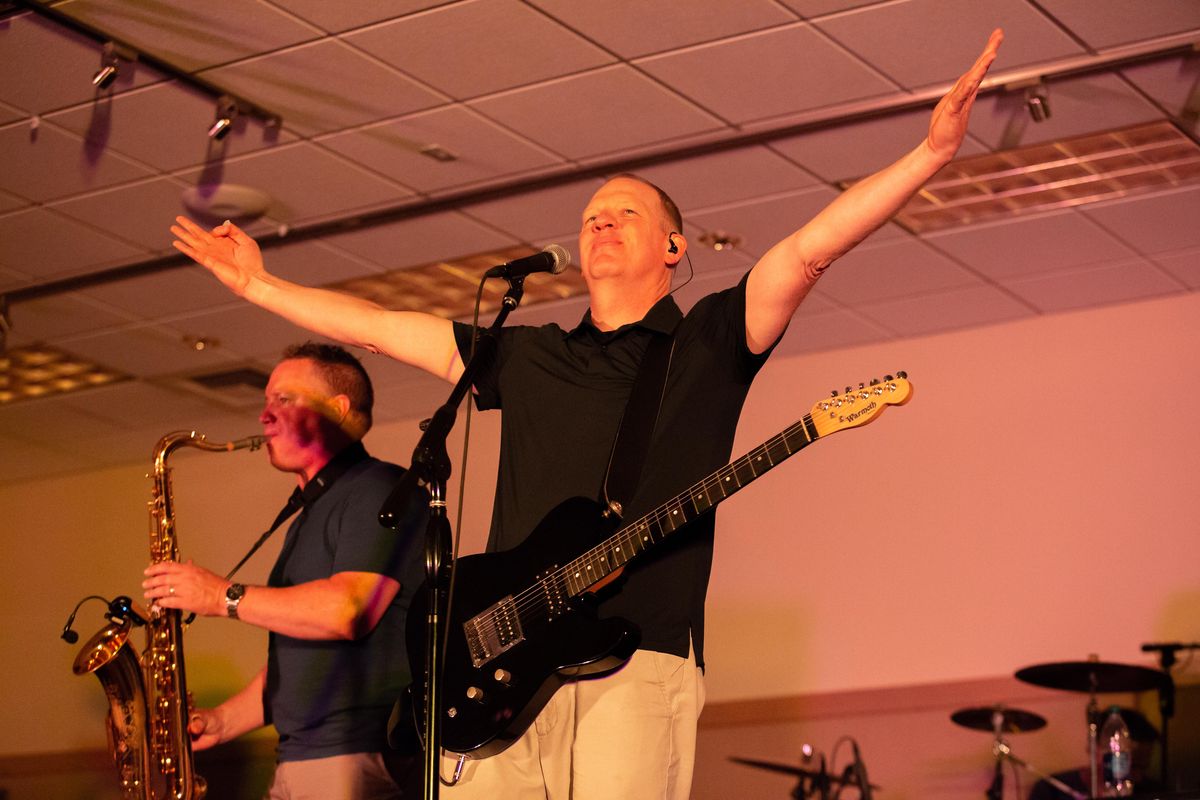 Lead singer Paul Hemenway performs with Black Happy during a show at a Coeur d'Alene Best Western on Aug. 1, 2018. The eight-piece band was a huge hit in the 1990s, playing rock and metal with a horn section. (Libby Kamrowski / The Spokesman-Review)
"We're Black Happy, and we're going to play some songs for you."
Singer/guitarist Paul Hemenway didn't need to introduce himself or the seven other members of Coeur d'Alene's Black Happy on Wednesday; the band was playing a "warm-up gig" for family and friends, after all.
But even still, it couldn't have hurt. This show marked the first time the band had performed together since a string of reunion shows in 2010.
This show was in preparation for a quartet of sold-out reunion shows the band will play in Spokane, Friday and Saturday at the Knitting Factory, and Seattle, Aug. 10 at the Crocodile and Aug. 11 at the Showbox.
These shows come after the release of the band's first two albums, "Friendly Dog Salad" and "Peghead," on vinyl via Latent Print Records.
Before there was Black Happy, there was a heavy metal band called Sacrament, which formed at North Idaho College.
The band added a horn section to one song as a joke but soon found it got the crowd moving at shows.
So they added horns to another song and realized fans dug that one too.
As the saying goes, the rest is history.
Now performing as Black Happy, the funk-rock eight-piece – Jim Bruce (drums), Jay Carkhuff (trombone), Daryl Elmore (saxophone), Mike Hasseries (trombone), Mark Hemenway (bass), Paul Hemenway (vocals/guitar), Greg Hjort (guitar/vocals) and Scott Jessick (drums) – released a 7-inch single through Yo! Menzer Wax.
After signing to Pacific Inland Records, Black Happy released its debut album, the Brian Crane-produced "Friendly Dog Salad," in 1991.
Looking back on this period, Hasseries remembers the tiny rehearsal spaces (read: basements) the band worked in.
Crane too recalls how cramped his studio seemed when Black Happy was recording.
"It was packed with people," he said after the family and friends show. "Greg's guitar was in the bathroom. Mark's bass was in the kitchen. The drums were in the living room."
Two years later, now signed to Macola Record Group, Black Happy recorded its sophomore album "Peghead" with producer Neil Kernon (Queensrÿche, Peter Gabriel, Hall and Oates) in Seattle.
Black Happy toured extensively around the Pacific Northwest, but just one year after releasing "Peghead," the band broke up.
From Hasseries' perspective, logistics got in the way.
"The simple answer is 'Put eight guys in a band together for five years and see if it lasts,' " he said. "At our age, I think it worked well for five years."
Hjort also recalls members wanting to push the band's sound in different directions.
Black Happy's final album, "The Last Polka," was released after the band broke up in 1995.
Though members of the band continued to perform in some capacity or another after the band broke up, it wasn't until seeing a fan-created Facebook page called "Black Happy Needs to Reunite" that they started thinking about getting back together.
Before they knew it, they had five reunion shows scheduled in 2010 in Spokane and Seattle, three of which sold out.
Hasseries and Hjort said getting back into the swing of things for those shows was a big mountain to climb after 15 years apart, but they credit the band's chemistry for helping everything come together.
"Very, very powerful connection the eight of us have," Hasseries said. "We get on stage together, and it clicks."
The band had a blast at those reunion shows, but once again logistics got in the way of anything more frequent happening with Black Happy.
Now eight years later, all eight musicians have managed to carve out some time for Black Happy, spurred by an offer from Latent Print Records' Pete Greenberg, a longtime friend and fan of the band, to release "Friendly Dog Salad" and "Peghead" on vinyl.
They've been practicing individually for about six months and convened in a private auditorium in Coeur d'Alene on Saturday to start rehearsing together.
"It just clicked," Hjort said. "It didn't feel like 25 years. It made me feel like that much time hadn't passed."
The family and friends show was in the conference room of the Best Western Plus Coeur d'Alene Inn, but neither the band nor the audience seemed to mind the atypical location.
Fans Jason Huston and Jayna Ashlock-Huston got tickets to the show by contributing to the Indiegogo campaign the band launched to fund the vinyl release.
Both agree that Black Happy's music has stood the test of time.
"They're the only Spokane band that could take 10 years off and sell out shows," Huston said before the show.
"And have to add shows," Ashlock-Huston added.
John and Susan Downes, Bruce's in-laws, have many a Black Happy show under their belts.
They didn't go to any shows until Bruce and their daughter started dating, but they were impressed by what they heard.
"It was lively, lots of energy, and everyone was having a lot of fun, especially the guys in the band," Susan said.
"I like that each set gives each band member the opportunity to be showcased, which gives fans the chance to get familiar with the band," John said.
Once onstage, after Hemenway shared some of the band's history, Black Happy launched into "Raging Black Mouse," the song Hemenway said was the first to feature the Black Happy sound.
"Three-Day Weekend," "F Word" and, of course, "Chicken in a Biscuit" also made the set.
The show was supposed to end with a cover of David Bowie's "Suffragette City," but after playing it, the band had other plans.
"The set list says we're done with songs, but we're having fun," Hemenway said, launching into the first of three extra songs, including the audience requested "Black Radio."
After leaving the stage, Hjort, Hasseries and Carkhuff, who at one point ran around the audience while playing tambourine, all felt ready for the reunion shows.
"It was a little rough at first…," Hjort said. "Near the end, it was like 'OK, this is where it used to be.' "
"I felt better about some of these rehearsals now than I did shows when we were still together," Carkhuff said. "I feel stronger and more rehearsed."
Crane, who produced "Friendly Dog Salad," was overjoyed with the show.
"They played it perfectly," he said. "I had tears in my eyes at times."
The band hasn't made any definitive plans for after these reunion shows, but Hjort and Hasseries hope, logistics aside, Black Happy will be around more frequently.
"I'm hoping these shows will be the catalyst for us to get in the studio and release some (new songs)," Hjort said the day before the show.
"We put all this effort into getting back up to performance level, and it would be sad to not go a little farther with that," Hasseries added.
No matter what happens though, the bond between all eight musicians, and members of the Black Happy tribe, is alive and well.
"What's cool about us being here is… this is where we decided to call it quits," Hemenway said near the end of the show. "It was a huge victory for us to get together in 2010 and to be here today. Whatever weirdness there was in the past is gone. We're brothers again."
Local journalism is essential.
Give directly to The Spokesman-Review's Northwest Passages community forums series -- which helps to offset the costs of several reporter and editor positions at the newspaper -- by using the easy options below. Gifts processed in this system are not tax deductible, but are predominately used to help meet the local financial requirements needed to receive national matching-grant funds.
Subscribe to the Spokane7 email newsletter
Get the day's top entertainment headlines delivered to your inbox every morning.
---