A&E > Stage
Vytal Movement embraces art in a variety of forms
Thu., Aug. 2, 2018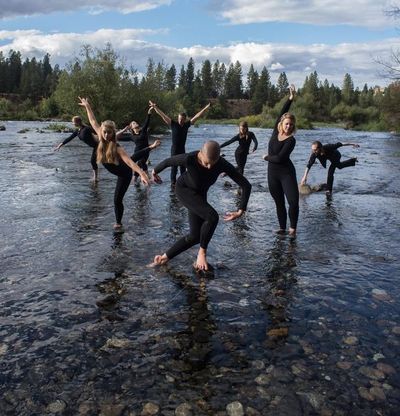 Vytal Movement Dance Company may be a relatively new player on the Spokane art scene, but it's already making its mark.
Vytal Movement, founded in 2016 and Spokane's only professional modern dance company, is filming a virtual reality project and preparing for "Immersion: Dance Among Paint," a gallery opening at Saranac Art Projects this weekend.
The event will feature original paintings by Vytal Movement dancer Grace Barnes, a dance film created in conjunction with artists in residence at Laboratory and a dance-inspired installation work by Suzanne Ostersmith, chairwoman of the Gonzaga dance department.
VMDC will perform excerpts from their recent dance concert "Confluence: Dances Inspired by the Spokane River," formed into solos and duets to fit the small space of the gallery at Saranac.
"The movement is all inspired by the river, so there's some places where it's softer and more slowly moving, some places where it's more intense, but all loosely water-based," said Lexie Powell, who has been dancing with the company since it was founded two years ago.
The dances aren't the only aquatic-themed aspect of the opening. Many of the paintings by Barnes feature water, along with the film and work by Ostersmith.
Taking dance off the traditional stage and into a space such as the Saranac gallery provides audiences with new possibilities for viewing and experiencing the performance.
"You can surround the dance, which is kind of fun. You can walk around as the dancer dances," company founder Vincas Greene said. "You can immerse yourself in it in different ways."
The virtual reality project also plays with the concept of audience by putting the viewer directly into the dance. They will experience company members at a personal range as dancers leap over their heads and look into their eyes.
"Having that interpersonal experience, not just a live performance, is super incredible just to feel energy with that face-to-face, one-on-one feeling of being inside of a dance, which is, I think, going to allow people to have a much more personal experience with the dance and dancer," Greene said.
The virtual reality video takes the viewer on a journey through many familiar scenes throughout Spokane, ultimately leading them out of the city, which is where the dance scene takes place.
"There's a lot of focus on making eye contact and when it's a real person sitting there that's kind of intimidating," said dancer Melanie Rose Huff.
"It's definitely a different mindset because you're closer and you're trying to think about 'Well, how would this feel as the person?' if you're interacting with them," Powell said.
The company is working on the virtual reality video with Juan Mas, who has directed some episodes of "Z Nation" and organizes the 50 Hour Slam. Greene anticipates the project will be finished within the next year. After that, the company will enter the film in various dance and virtual reality film competitions.
Bringing dance off the stage is something that Greene hopes will become a staple for the company. He has plans in the works to bring dance showings to Riverfront Park and a dance education program to local schools.
Other projects in the works are a new piece with local composer Sy Hovik, a peformance with the Spokane String Quartet and a collaboration with Bellingham Repertory Dance.
Vytal Movement is also working with the Merce Cunningham Trust for this year's celebration of Cunningham, a post-modern dance pioneer and Washington native who would have been 100 this year.
"All these big dance names come from Washington state; Washington state just lets them slip away," said Greene, citing names like Trisha Brown, Merce Cunningham, and Mark Morris. Greene hopes that his company's presence will entice Washington-born dancers to return home to dance professionally, and that the community in turn will embrace dance.
"I want an ownership by the city of Spokane, that they feel that this is their dance company, that the dancers who are here in Spokane are their dancers, in a way," Greene said.
Greene is a Cheney native whose dance career includes traveling to teach in China and apprenticing with the world renowned Mark Morris Dance Group, before he returned home to the Inland Northwest.
"To me, dancing is part of life. I have come back to Spokane and I want to live here and I want to be part of the community here and I want a thriving, growing, creative dance community here, which would be good for myself, the dancers, the city, the state," he said.
Local journalism is essential.
Give directly to The Spokesman-Review's Northwest Passages community forums series -- which helps to offset the costs of several reporter and editor positions at the newspaper -- by using the easy options below. Gifts processed in this system are not tax deductible, but are predominately used to help meet the local financial requirements needed to receive national matching-grant funds.
Subscribe to the Spokane7 email newsletter
Get the day's top entertainment headlines delivered to your inbox every morning.
---