News > Business
Feds probing firm tied to risky online commerce
UPDATED: Fri., Aug. 3, 2018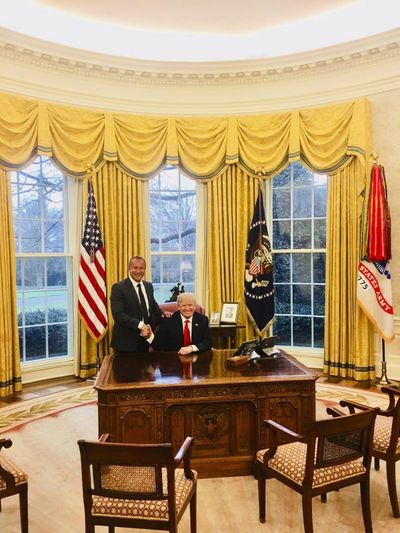 NEW YORK – Federal authorities looking into the illegal sale of prescription drugs online are probing the business practices of payment processor Allied Wallet, according to a person with direct knowledge of the case. Allied Wallet's CEO has donated millions of dollars to both political parties in recent years.
The Associated Press reported Thursday that Ahmad "Andy" Khawaja's company has helped pornographers, shady debt collectors and offshore gamblers access the international banking system, often by using dummy corporations formed abroad and fake websites to disguise the underlying business.
The AP obtained thousands of internal records that showed the company did so while Khawaja, Allied Wallet and top executives contributed at least $6 million to Democratic and Republican candidates and groups. The donations earned Khawaja access to Hillary Clinton during the presidential campaign and a post-election Oval Office visit with Donald Trump.
Now, criminal investigators from the U.S. Food and Drug Administration who scrutinize online pharmacies are examining records related to Khawaja's Los Angeles-based company, according to a grand jury subpoena reviewed by the AP.
Investigators are delving into how Allied Wallet helps clients disguise transactions that might otherwise be rejected by banks, according to the person with direct knowledge, who spoke on condition of anonymity due to the sensitivity of the matter.
In a statement provided by a company publicist, Khawaja denied that the company was under investigation or had processed transactions for online pharmacies, adding "any suggestion otherwise is 100 percent false."
On its website, Allied Wallet lists "Pharmacy: Controlled Substances" as a prohibited item that it will not service.
In March 2017, according to the subpoena reviewed by the AP, investigators asked Allied Wallet to hand over documents related to one of its customers, a UK-incorporated limited liability company called Beauty Skinn Ltd. Internal company emails obtained by the AP show Visa had found months earlier that Beauty Skinn was hosting an illegal online pharmacy called kamagrauk.com.
The now-defunct site, which featured a blond woman in a nurse's uniform suggestively holding a stethoscope, offered "FDA approved" erectile dysfunction drugs with no mention of the required prescriptions, according to an archived web page.
Beauty Skinn was one of six dummy companies brought to Allied Wallet in November 2016 by a trusted middleman named Tom Wells, who introduced the company in an email to Khawaja titled "INTERESTING NEW MERCHANT OPPORTUNITY (HUGE)," the records obtained by the AP show.
Wells said he was reaching out on behalf of a billion-dollar business from Australia looking for "a group (that would be you and me) for processing that understands the game."
Among the new high-dollar e-commerce websites associated with the shell companies Wells brought to Allied Wallet was biologicalstore.com, which purported to be a Seychelles-based organic gardening supplier with the seemingly implausible business model of selling live tomato plants to customers in a different hemisphere, according to archived webpages.
Visa flagged Biological Store Ltd. for processing illegal pharmacy transactions via a separate website, according to records reviewed by AP.
Wells, who takes a percentage of the business transacted by Allied Wallet on behalf of the customers he brings in, told Khawaja that Beauty Skinn, Biological Store and the others while based in Australia, sold "products worldwide, heavy US concentration."
It is almost always illegal to import drugs from other countries into the U.S. for personal use, according to the FDA.
Allied Wallet told Visa that it hadn't authorized kamagrauk.com or the other site for processing, the records reviewed by the AP show.
Wells did not return emailed questions from the AP.
A spokeswoman for federal prosecutors in Massachusetts, the source of the grand jury subpoena reviewed by the AP, said the U.S. attorney's office does not confirm or deny investigations. And an FDA spokesman said the agency did not comment on possible criminal investigations.
Allied Wallet funnels transactions on behalf of a range of clients in industries deemed by banks to carry a certain amount of risk. But for some clients, the company did more than simply process payments, the records show.
The AP's initial story reported that Allied Wallet helped a debt collector who threatened to jail people disguise payments as home-decor purchases and also worked with one of the world's largest offshore-betting companies to process transactions in Brazilian, Mexican and Turkish currencies via a network of fake websites registered to dummy companies. An internal Allied Wallet guide to global casino regulations described online gambling in Turkey as "very, very illegal."
Such moves can violate policies and rules established by banks and credit card companies designed to keep prohibited industries out of the financial system and guarantee that anti-money laundering procedures are followed.
In October 2017, a federal judge issued a $47 million judgment against the debt collector.
Local journalism is essential.
Give directly to The Spokesman-Review's Northwest Passages community forums series -- which helps to offset the costs of several reporter and editor positions at the newspaper -- by using the easy options below. Gifts processed in this system are not tax deductible, but are predominately used to help meet the local financial requirements needed to receive national matching-grant funds.
Subscribe to the Coronavirus newsletter
Get the day's latest Coronavirus news delivered to your inbox by subscribing to our newsletter.
---