Sports > EWU football
Former Central Valley standout Beau Byus ready for final season on EWU line
Fri., Aug. 3, 2018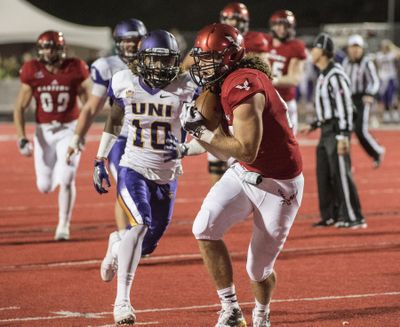 Beau Byus is entering his fifth and final season as an Eastern Washington University football season.
But there's just one catch.
No one is surprised that the lanky, gangly-yet-driven former Central Valley Bear has used his college football career as a springboard to future opportunity. A year ago he was named to the Big Sky Conference All-Academic team for the second straight season. The Eagles list him as a 2018 Academic Honors Candidate.
"I've always tried to do well in school," Byus said. "You have to be good in your classes if you want to play and my goal has always been to get my education and to graduate. Football has definitely helped me accomplish that. There are lots of opportunities for assistance with things like tutoring. It makes you stay on top of things and stay organized."
When Byus arrived at EWU he was a 6-foot-5 tight end with good skills and more heart and desire than most.
As a fifth-year senior he's the backup right tackle, weighing in at 270 pounds – light for a collegiate offensive lineman, but with enough savvy to handle the position and contribute to the team's success.
"When I was at CV I weighed, maybe, 215 pounds soaking wet," he said. "We worked hard in the weight room and I added some weight once I got here because I needed to be bigger to play college football. I got up to 240 pounds."
For a tight end, that was good.
"I was a tight end my first two years here," he explained. "The staff just thought I would be a better fit on the offensive line. I went in and had a couple plays against UC Davis in my first game at tackle. After that the playing time started rolling in.
"And then I got moved back to tight end because we were short there. For a while, I was switching back and forth. Now I'm full-time at tackle and I love the people in my position group."
Tight ends do a good deal of blocking, and Byus was no stranger to the demands of blocking heavier defensive linemen. But to play tackle he's needed to add size to that frame.
"We did it a little bit differently," he said. "We worked really hard on my upper body and did a lot of presses. And I had to change my diet. My biggest challenge was my diet. It felt like I was constantly eating."
Keeping that extra weight on, he said, is a temporary thing.
"I definitely plan on losing a good deal of it," he said. "I don't hate the weight so much as I hate having to stuff myself to keep it on."
And then there's that catch.
The highlight of Byus' career came in September 2016.
The Eagles trailed Northern Iowa by three points with 43 seconds left in the game and Byus lined up for a potential tying field goal.
"Coach (Beau Baldwin) called for the fake," Byus said. "We had the fake planned. I was on the sideline and I hadn't played at all."
"The fake" called for Byus to get the ball, hopefully in open space down field.
"That was my first target in a college football game," he laughed. "I probably think about it more than I should, but I remember everything about it. It felt like the ball was in the air forever. Riley Henderson threw the ball and he put a lot of air under it and the whole thing played out in slow motion."
Byus made the catch, ran into the end zone and celebrated the winning touchdown.
"I didn't know what to do," he laughed. "I remember looking around to make sure there were no flags."
That one catch figures to stand as Byus' only mark as an Eastern Washington receiver. And he's OK with that.
The chance to get on the field more and the opportunity to contribute in each game has Byus excited about his final season, even if it means blocking only.
"It's been a long time since we've been on the field," he said. "I'm excited for game days. I love being on the field with my teammates."
Byus insists he's looking forward one day at a time this year. One practice at a time.
The Sept. 1 opener at home against Central Washington will get here on its own. Same with that Sept. 15 trip to Pullman for a rematch with Washington State.
"Martin Stadium is a pretty cool place to play," he said. "It's a little strange to not have a game with Montana this year. That game got replaced when Idaho came back to the league and I guess that will be good game for us (at home Oct. 27). There's a rivalry there."
And he's not ready to think about that final home game against UC Davis on Nov. 10.
"Playing my last game is still kind of surreal to me," he said. "I'm not ready to think about that yet, but it will be great to have my family and friends all there for that game."
Local journalism is essential.
Give directly to The Spokesman-Review's Northwest Passages community forums series -- which helps to offset the costs of several reporter and editor positions at the newspaper -- by using the easy options below. Gifts processed in this system are not tax deductible, but are predominately used to help meet the local financial requirements needed to receive national matching-grant funds.
Subscribe to the sports newsletter
Get the day's top sports headlines and breaking news delivered to your inbox by subscribing here.
---