News > World
Russia: 18 killed in Siberian oil worker helicopter crash
UPDATED: Sat., Aug. 4, 2018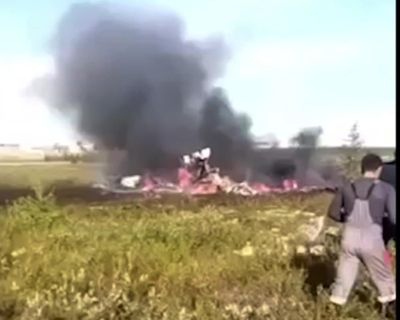 MOSCOW – A Russian helicopter crashed shortly after takeoff Saturday in Siberia, killing all 18 people aboard, mostly oil workers, authorities said.
The Interstate Aviation Committee, which oversees civil aviation in much of the former Soviet Union, said the Mi-8 helicopter collided with the load being carried by another helicopter. Both had taken off from the same pad in Vankor, above the Arctic Circle, some 1,600 miles northeast of Moscow.
The second helicopter was undamaged and landed safely, the committee said.
Helicopters frequently carry loads in slings that hang below the craft.
The crashed helicopter was carrying 15 passengers and three crew, according to its operator, UTair airlines. State oil company Rosneft said the passengers were employees of its subsidiary RN Vankor, and contract workers.
UTair, one of Russia's largest airlines, operates an extensive fleet of helicopters serving Siberian oil fields as well as fixed-wing flights within Russia and to international destinations, mostly in the former Soviet republics.
The helicopter that crashed was manufactured in 2010 and the pilot had nearly 6,000 hours of experience, including 2,300 as a captain, the UTair statement said.
Russian air safety has improved since the 1990s, when poor aircraft maintenance, pilot training and official oversight in the wake of the collapse of the Soviet Union resulted in a high number of crashes.
In February, a Saratov Airlines An-148 regional jet crashed about six minutes after takeoff from Moscow's Domodedovo Airport, killing all 71 people aboard. Investigators said the crew had failed to turn on a heating unit, resulting in flawed airspeed readings.
A UTair ATR 72 crashed in Siberia in 2012, killing 33 of the 43 people aboard, after failing to be de-iced before takeoff.
Local journalism is essential.
Give directly to The Spokesman-Review's Northwest Passages community forums series -- which helps to offset the costs of several reporter and editor positions at the newspaper -- by using the easy options below. Gifts processed in this system are not tax deductible, but are predominately used to help meet the local financial requirements needed to receive national matching-grant funds.
Subscribe to the Coronavirus newsletter
Get the day's latest Coronavirus news delivered to your inbox by subscribing to our newsletter.
---