Anime lovers gather for Spokane's 10th annual KuroNekoCon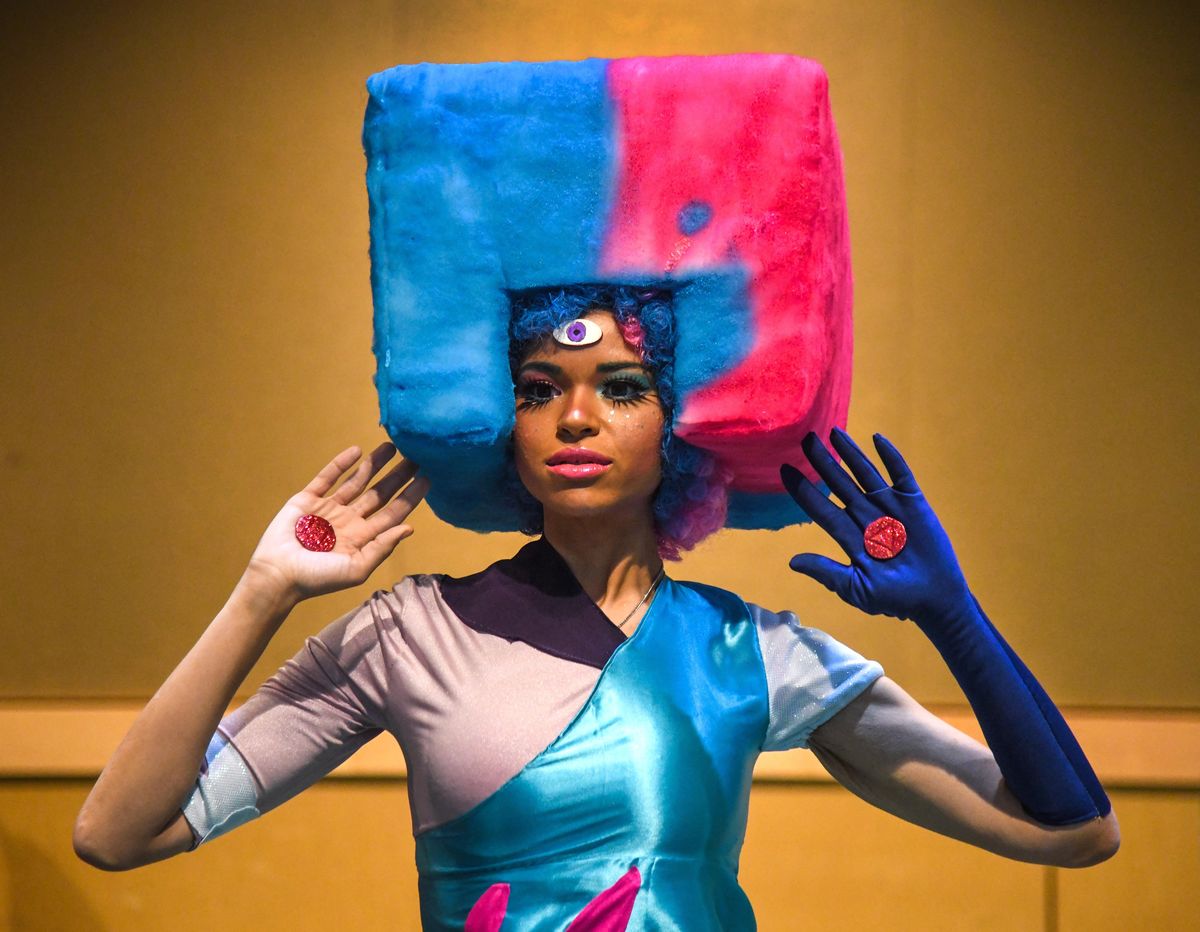 Kyra "Kai" Daniels has watched anime, read manga and played video games for years. She was first introduced to cosplay, where fans dress as favorite fictitious characters, when a friend invited her to RadCon in the Tri-Cities several years ago.
"It was like, 'Hey you can actually dress up as these characters,' " Daniels recalls. "I didn't know you could do that."
At this year's KuroNekoCon anime convention, she was "cotton candy" Garnet from "Steven Universe," one out of hundreds if not thousands of costumes seen over three days at the convention's 10th anniversary event.
Now the region's largest anime convention, KuroNekoCon started out small 10 years ago with roughly 300 people. Last year it had grown to 3,000, and though a count for the 2018 installment wasn't immediately available Sunday, attendance at the anniversary event was certainly strong.
Among the myriad costumes were many characters anime fans would be sure to recognize: No-Face from "Spirited Away," Yugi Muto from the manga and anime series "Yu-Gi-Oh!," as well as many non-anime characters like Poe from "Star Wars" and Ariel from "The Little Mermaid."
Daniels wears her Garnet cosplay like she was born for it. Adorned in pink and blue, with glitter freckles and shimmering lips, the look is outlandish in the best way possible. Yet costume is only part of the fun, Daniels said.
"One of my favorite things is getting to meet new people and make new friends," said the 26-year-old. The community is overwhelmingly positive and welcoming, she said.
"We don't have to worry about other people judging us for the things we're interested in, because we know that we all start somewhere when it comes to cosplay," Daniels said. "There's no room to judge."
That sentiment was echoed by Van Blaricom, a 27-year-old Spokane resident who came dressed as Venom from "Spider-Man." He cosplays competitively with his sister, although he originally came to KuroNekoCon as a comic artist selling his work.
He's cosplayed since late middle school, he said, and more recently has used it as inspiration to lose weight by choosing characters he wants to feel comfortable imitating.
"I went from costumes completely covering my body to where now, I'm in a skin-tight bodysuit," he said. "No shame."
The three-day convention included events like cosplay chess, where characters fought each other on a giant board controlled by two group leaders; Japanese Field Day, inspired by Japan's Health and Sports Day; guest panels; and karaoke.
The convention isn't just about pop culture, said Marketing Director Jen French. It's also educational.
Alongside the usual convention activities, KuroNekoCon hosted demonstrations from groups like Spokane Kendo and Spokane Taiko, and even the Spokane Buddhist Temple, she said. And the event is always child-friendly, with mature events labeled and IDs checked at the door.
Anime is one part of Japanese culture that has increased in popularity greatly thanks to the internet, French said, and people love embodying those characters.
"There's something really appealing about getting to see a really fancy costume," she said. "Especially when you're younger, appealing to characters that you've watched in anime or read about in manga, and getting to dress up as them, getting to be in character – it's a lot of fun."
Kids aren't the only ones who enjoy the event.
"I've seen everyone here from people that could be my grandpa to a lot of these kids who could be my kids," said 33-year-old Kat Brown. This is her second year coming to the event.
Brown has been an anime fan since her pre-teens, but only recently started cosplaying, she said. This year, she dressed as Haruji Fujioka from "Ouran High School Host Club."
"I started with Sailor Moon as most little girls did," she said. From there she moved on to other shows – some lighthearted and funny, like "Ouran," and others more serious.
Anime is for everyone, she said. There are countless genres and stories that can appeal to all sorts of people, at any age.
"A lot of people will give it flak because it's animated, it's a cartoon, but there's a lot of them that are legitimately for older people," Brown said. "I just think the stories are good, and it's got a lot of those fanciful ideas."
---