News > Military
Action over Papua New Guinea: At 96, WWII flying ace recalls time in the air
Aug. 6, 2018 Updated Wed., Aug. 15, 2018 at 5:21 p.m.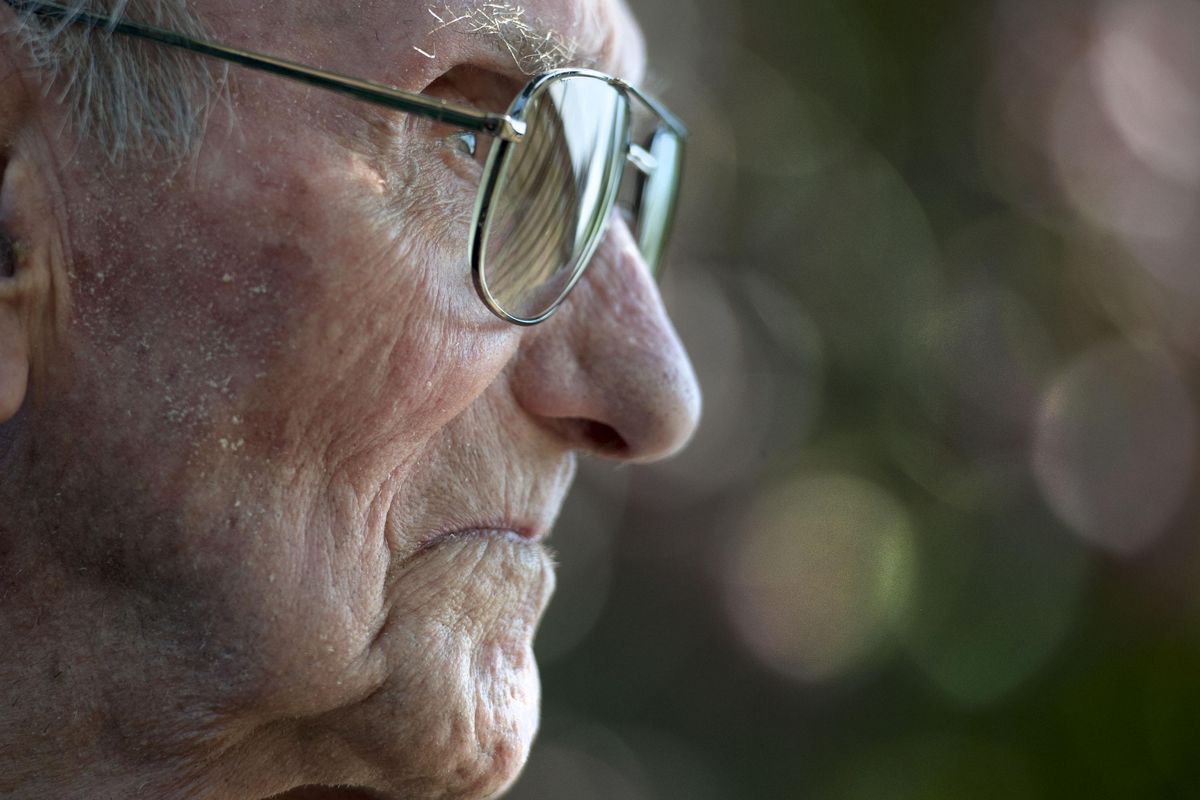 WWII fighter pilot Ralph Wandrey is photographed at Maplewood Assisted Living in Hayden on Wednesday, July 25, 2018. (Kathy Plonka / The Spokesman-Review)Buy a print of this photo
Ralph Wandrey joined the U.S. Army Air Corps at 20, about a month before the bombing of Pearl Harbor. At the time of his enlistment he was told he would start in six months. Three weeks later, he was summoned for basic training.
A decorated World War II flying ace with six confirmed kills to his record, 96-year-old Wandrey survived the war unhurt and went on to write a book about his experiences. Nearly eight decades later, he resides at an assisted living home in Hayden. His son, Kurt Wandrey, is a pastor at a local church.
Wandrey grew up in Mason City, Iowa. At 18 he received his pilot's license through a Civilian Pilot Training Program – so after he enlisted in November 1941, it didn't take long for him to pass his flight training with flying colors.
In 1942 he briefly served in the 55th Fighter Group in Olympia, where he was tasked with protecting the Boeing factory in Seattle.
Then on Christmas Eve that year, Wandrey hopped on a train and began his journey overseas.
He was stationed near Buna, Papua New Guinea, and assigned to the 9th Fighter Squadron in the 49th Fighter Group.
Ralph "Iron Pants" Wandrey, as he was nicknamed, also would fly as wingman for the "Ace of Aces," Dick Bong, who was credited with 40 kills.
On a few occasions, the two would switch places and Bong would be wingman for Wandrey, Kurt Wandrey said.
Wandrey adopted Bong's technique of flying as close as he possibly could to an enemy plane before firing, so it became virtually impossible to miss.
During his roughly 21 months in New Guinea from 1943 to 1944, Wandrey would fly 191 missions.
He earned the title of "ace," racking up six confirmed kills in skirmishes with the Japanese – one more than necessary for the title.
It's probable that he achieved another 12 kills, though they weren't confirmed.
When Bong wasn't available, Wandrey would always take the lead, alongside the squadron mascot, a white Muscovy duck named Huckleberry.
Wandrey was also responsible for teaching new pilots combat techniques.
"I trained a lot of them," he said. "I kept a lot of them from getting killed."
Few of the pilots trained by Wandrey were shot down, said Kurt Wandrey.
"As guys came over he worked with them and taught them how to survive," he said. "They had a little training, but they didn't have any combat experience."
During missions, the pilots were regularly outnumbered. In the beginning, Wandrey said, all his squadron could do was defend their airstrip.
"I lost a lot of friends," Wandrey said. But somehow, despite numerous close calls, he was never wounded.
Once, Wandrey went in for an attack before realizing none of his guns would fire.
In yet another brush with death, he recalled being fired at three times while standing next to his plane before he could take off. An Australian ally later would present him with the gun of the sniper who had shot at him.
Wandrey seemed allergic to death.
But was it skill, or luck?
"A bit of both," Wandrey said with a laugh. And, he added, "you had the superior plane."
That plane was the Lockheed P-38 Lightning. Wandrey flew both the P-38 and the Republic P-47, but he and other pilots overwhelmingly preferred the P-38s.
The plane was faster, he said, and offered better protection because of its large, 12-cylinder engines, which could block bullets better than an aluminum side if need be.
Out of his nearly 200 missions, Wandrey always brought his plane back to base. One time, he was outnumbered 19 to one by Japanese planes.
"They were very bad shots," Wandrey joked, "because I'm still alive."
Another time Wandrey flew with Charles Lindbergh when the famed pilot came to teach the squadron techniques to conserve fuel.
"Lindbergh wanted to go on a pilot mission with my dad," Kurt Wandrey said. "Dad wouldn't let him, because he said, 'I don't want to be known as the pilot that lost Charles Lindbergh in a combat mission.' "
Enemy fire wasn't the only danger Wandrey faced.
After the war ended, he would spend five years in and out of a hospital fighting tuberculosis of the kidney. Doctors were only expecting him to live a few months, but yet again luck was on his side and Wandrey was put on new, experimental drugs.
"He was a guinea pig for 'em," Kurt Wandrey said. "That's when sulfa drugs just came out. He was taking 44 pills a day."
During that time Wandrey would write a book chronicling his adventures in the war, before finally being discharged from the hospital for good.
After the war Wandrey married his wife, Verla Wandrey, now deceased, to whom he dedicated his book as "the girl who waited for me."
The two would have three children, Gary, Kurt and Connie, and later seven grandchildren and great-grandchildren.
Over the years Wandrey was awarded several medals, including the Silver Star, Distinguished Flying Cross, the Air Medal and three years ago the Congressional Gold Medal for his service in WWII.
Wandrey lived in Iowa until retiring to Cottonwood, Arizona, in his 50s. He moved to Hayden nearly two years ago, and will turn 97 in September.
Editor's note: This story was altered on August 15, 1918 to correct the number of Ralph Wandrey's grandchildren. He has nine.
Local journalism is essential.
Give directly to The Spokesman-Review's Northwest Passages community forums series -- which helps to offset the costs of several reporter and editor positions at the newspaper -- by using the easy options below. Gifts processed in this system are not tax deductible, but are predominately used to help meet the local financial requirements needed to receive national matching-grant funds.
Subscribe now to get breaking news alerts in your email inbox
Get breaking news delivered to your inbox as it happens.
---