News > Crime/Public Safety
Evacuations ordered for residents near Silver Lake fire along I-90
Aug. 6, 2018 Updated Mon., Aug. 6, 2018 at 10:35 p.m.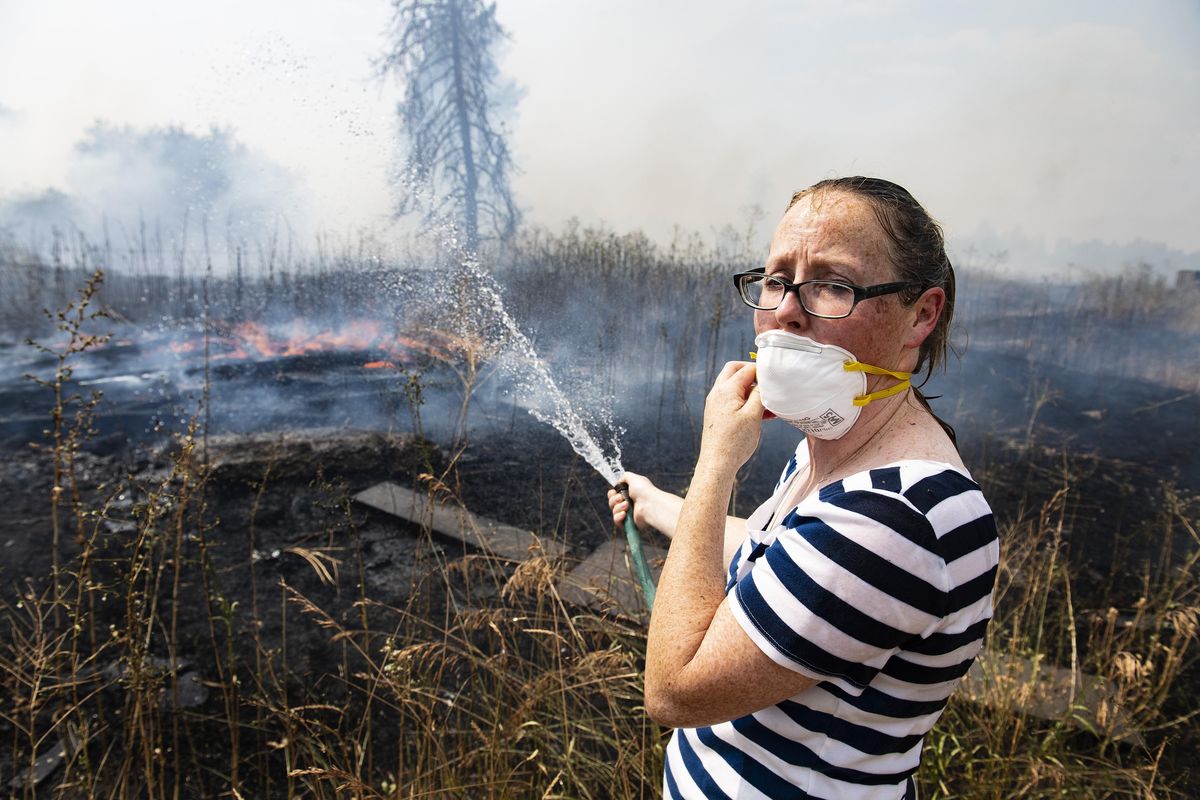 Vonae Nielson, soaked head to toe from an air water drop, uses a garden hose to put out hot spots behind her home on South Granite Lake Road, near Cheney Wash., Mon., Aug. 6, 2018, A fast-moving brush fire quickly grew to 100 acres and its smoke forced brief closures on Interstate 90 in both directions near the Cheney exit as fire officials called for the evacuations of up to 100 nearby homes. (Colin Mulvany / The Spokesman-Review)
A fast-moving brush fire quickly grew to 100 acres and its smoke disrupted traffic on Interstate 90 in both directions near the Cheney exit as fire officials called for the evacuations of up to 100 nearby homes.
Monday's Silver Lake fire had multiple starts at about 1 p.m. along the eastbound lanes of I-90 and then grew into one larger fire that immediately threatened 50 homes and put another 50 at potential risk, said Guy Gifford, spokesman from the Washington Department of Natural Resources.
At about 4:45 p.m., the Washington State Patrol said one eastbound lane of Interstate 90 had reopened.
Some 11 fire agencies responded with about 100 firefighters who battled the fire in temperatures that rose above 90 degrees. Fire bosses also pulled five engines, two bulldozers and two dozer bosses, which are crews that direct the bulldozer drivers where to go, from the 4,500-acre Angel Springs fire, which was 15 percent contained and burning in steep timber some 7 miles northeast of Davenport.
"One of our priorities is to keep this fire small," Gifford said. "That's why we had the resources re-allocated."
Four small dipper airplanes and two larger tanker planes were also called in to try to contain the Silver Lake fire, which was burning in timber and fields just south of Interstate 90 and just west of Four Lakes. The fire jumped Granite Lake road and the wind pushed the fire to the south.
Kathy Kempken, who lives near the intersection of Granite Lake and Murphy roads, said she had just come home from work when she saw trouble.
"I saw all the smoke back there and immediately called 911," Kempken said. "One house is gone. It's right in our back yard. We are standing by with the horses haltered and ready to go."
She and Randy Wing had the horse trailer door open and anxiously watched the tanker planes as they circled over their home.
"Last year, we had two fires. One came right over behind the hill. A farmer came flying down with his tractor and a disc (harrow). He cut a line. He went right through the fire. He definitely saved our place," Wing said. "I've been here 20 years but the last three years have been something."
Tony Thiele, who lives on Murphy Road just south of Kempken and Wing, said he walked outside of his home to falling ash.
"I looked up and saw all the smoke," Thiele said. "A fire fighter said the fire was nearby. He said if this field catches on fire it's going to be big."
Thiele, too, said he was told that at least one farm house had burned, but Gifford said he had not received any information about lost structures.
Earlier in the day, the fire forced the Washington State Patrol to close all eastbound lanes as of 2 p.m. and traffic was diverted to Salnave Road into Cheney. One eastbound lane was opened at about 4:45 p.m.
Cody Rohrbach, chief of Spokane County Fire District 3, said the blaze moved considerably to the east. It also grew to the west and south, he said, where firefighters were trying to hold it from spreading.
"It's tried to jump to the north side of the freeway but we're keeping it south currently," he said. "We've got a lot of resources on scene right now."
As of 2:30 p.m., mandatory evacuations were issued to residents along Granite Lake Road between Betz Road and Salnave Road.
Rohrbach said at about 3 p.m. that firefighters had reported potential structures lost, but none of them officially confirmed.
Local journalism is essential.
Give directly to The Spokesman-Review's Northwest Passages community forums series -- which helps to offset the costs of several reporter and editor positions at the newspaper -- by using the easy options below. Gifts processed in this system are not tax deductible, but are predominately used to help meet the local financial requirements needed to receive national matching-grant funds.
Subscribe now to get breaking news alerts in your email inbox
Get breaking news delivered to your inbox as it happens.
---