Sports > Seattle Seahawks
Big opportunities for young Seahawks Tedric Thompson, Tre Flowers and Jamarco Jones
UPDATED: Tue., Aug. 7, 2018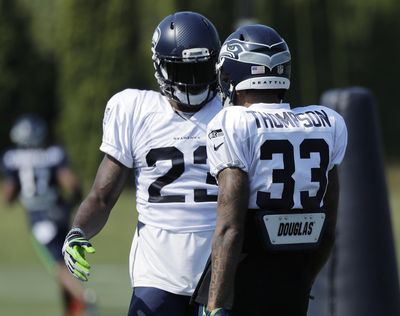 RENTON, Washington – Tuesday marked the last significant practice for the Seahawks before Thursday's preseason opener against the Colts at CenturyLink Field, and a final chance to get a sense of what we may see from an increasingly new-look Seattle team.
Here are some impressions from camp.
Big chance for Tedric Thompson
Tedric Thompson will indeed get the start at free safety for the Seahawks, teaming with Bradley McDougald at strong safety as Seattle attempts to find the best combo to move on without Kam Chancellor (for good) and Earl Thomas (for now and likely a lot longer).
Thompson, a second-year player out of Colorado who saw two defensive snaps in the regular season last year, again teamed with McDougald as Seattle's starting safety core, and that for now appears to be Seattle's preferred safety duo with veteran free agent Maurice Alexander remaining sidelined.
Seahawks head coach Pete Carroll said he wants to see Thompson play free safety free and easy without thinking too much.
"I want him to feel comfortable and supported," Carroll said. "We believe that the guy is a really good player, and we just want him to get it go and cut it loose, and not hold back, playing cautious. I thin he's got a lot of plays in him which he has shown, which has given us the confidence to support him in that manner."
Starters don't usually play more than a series or two in the first preseason game, but Carroll may let Thompson roll longer to get him more experience.
Carroll, though, also said it'll take more than one game to sort it all out.
"You never know about his opportunities," Carroll said. "It all depends on what happens in the game, and how many chances they give him. He may or may not have them. But we have seen a lot now. He has really been active. So I want this to happen so that he can feel confident and he knows what he can do, what he has shown out here. And it may not happen this week. It may take us the whole preseason to figure that out. But the main thing is to keep him strong, keep moving, keep him believing, and I think he's going to do some good things."
Maxwell's absence could create big opportunity for Tre Flowers
Veteran Byron Maxwell, who has been the starting right cornerback throughout camp, sat out with what Carroll referred to as a groin/hip flexor issue. Tre Flowers, a rookie from Oklahoma State, ran with the starters in his place alongside Shaquill Griffin on the left side, and that may be the way the Seahawks open on Thursday. At the least, Flowers figures to play a ton, as other veteran cornerbacks such as Neiko Thorpe and Trovon Reed were also again out on Tuesday and Dontae Johnson has yet to do any team drills.
"I'm excited," Carroll said of Flowers, who is making the switch from college safety. "He's got a good chance to play a lot of ball. He just needs to be out there and play and see what it's like, and see what it feels like, and come back play after play and series after series. So he'll get a lot of work."
Carroll said Flowers – whose 6-3, 203-pound frame has drawn comparisons to Richard Sherman – has taken well so far to the conversion but that "we need to see how that plays into it when he deals with the challenges that come your way at corner. I'm real impressed with him so far."
Jamarco Jones a potential option at right tackle
The Germain Ifedi intrigue continued, as the team's presumptive starting right tackle again appeared to be demoted after committing a penalty.
Ifedi, who was flagged an NFL-high 20 times last season, had been benched during Saturday's mock game after committing two penalties on one series, a false start and a hold.
Tuesday, he again appeared to be called for a false start late in practice and then on the next drive it was rookie Jamarco Jones working at right tackle with the starting offense during a two-minute drill. Ifedi then worked with the second team.
It was the most significant work Jones, a fifth-round pick out of Ohio State, has gotten at right tackle during camp.
Carroll said Jones has been "a real surprise" in how he has picked up the offense quickly, but he didn't portray Jones as yet competing with Ifedi at right tackle.
"We're looking for guys that can flip and play both sides just to see what that shows us," Carroll said. "Sometimes a guy gets inhibited when they go to the other side and all that. Just trying to see how natural he is. He's been a left-side guy a lot, so he has shown a real good savvy about the game, and he is precocious in his awareness and stuff, so we are just thinking that maybe there's a chance it will come easy for him to play on the right side as well. We'll find out."
Given the way Jones has been used the last few days it'd make sense that he'll get some time at right tackle Thursday.
As for Ifedi, Carroll didn't say that the move Tuesday was due to his penalty. But Carroll did say the team is taking whatever measures possible to try to help Ifedi clean up his game.
"We've got to put big spaces between those mistakes," Carroll said. "And it was a problem last year, no question about it, and I don't mind making it noted to him, however we need to do it. We've go to get this done. He's capable of being a terrific player, and part of it is he's got to play really sharp and clean and get rid of that stuff."
Carroll otherwise praised the work of the offensive line so far – it has largely remained the same throughout camp with Duane Brown at LT, Ethan Pocic at LG, Justin Britt at center, D.J. Fluker at RG and Ifedi at RT.
"The whole first group has done a nice job so far," he said.
Local journalism is essential.
Give directly to The Spokesman-Review's Northwest Passages community forums series -- which helps to offset the costs of several reporter and editor positions at the newspaper -- by using the easy options below. Gifts processed in this system are not tax deductible, but are predominately used to help meet the local financial requirements needed to receive national matching-grant funds.
Subscribe to the sports newsletter
Get the day's top sports headlines and breaking news delivered to your inbox by subscribing here.
---