Democrats see fresh energy in Spokane County primary; French shrugs off second-place finish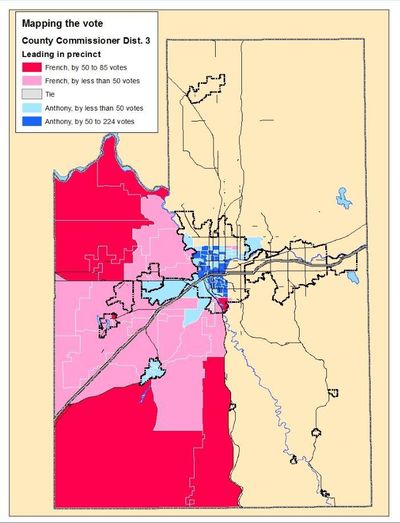 In Tuesday's primary, Democrats fared better than they have in recent years in Spokane County races. But it's unclear if it will be enough to propel more Democrats into county office.
In the county's third commissioner district, Democrat Robbi Katherine Anthony won 58 percent of the vote against incumbent Republican Al French, who is running for his third commissioner term.
In a countywide race, the party's candidate for clerk, Michael Kirk, came within 5 percentage points of incumbent Republican Timothy Fitzgerald.
In recent years, Democrats often have lagged behind Republicans by more than 10 points.
Some party leaders told The Spokesman-Review in June that the party's weakness running countywide could have been a deterrent for would-be candidates in a year that political analysts believe could be promising for Democrats.
Democrats are optimistic that renewed enthusiasm from voters will be enough to gain an advantage in the general election.
Spokane County Democratic Party Vice Chair Jac Archer said the party was pleased about voter turnout in the primary election.
"Of course this isn't the end, but we definitely proved that progressives are energized in Spokane. People are excited to have options, and areas that we worried about in the past are now possible," Archer said. "We went into the primary cautiously optimistic and it exceeded our expectations, but we aren't going to get ahead of ourselves. We hope the momentum will keep going in the next couple of months."
But it's not clear if that enthusiasm will be enough to translate into more Democratic representation in county offices. Since County Commissioner Bonnie Mager lost her re-election bid in 2010, Auditor Vicky Dalton has been the only Democrat in Spokane County office.
Commissioner District 3 includes Cheney, central Spokane and the West Plains. It leans more Democratic than the other two county commissioner districts. In the general election, however, the race will be decided countywide.
French said he wasn't surprised by the primary election results.
"The last two elections I've won, I've typically trailed (in the primary)," French said. "So this is not a new experience. From my standpoint, when we go countywide, we'll do fine."
In 2014, French trailed Mager, who was running as an Independent after her 2010 loss, and Democrat Mary Lou Johnson by a combined 63 percent of the vote. Johnson – who advanced to the general election – lost to French by 9 percentage points.
French said because Spokane County leans conservative, he tends to pick up more votes in the countywide general election.
"It's early in the voting process and typically the gap will close. I'm not sure about the outcome because when you mirror the numbers Robbi (Anthony) got with what Lisa (Brown) got, it's pretty close to the same in my district," he said. "So that tells me people voted for the Democratic ticket and not necessarily the candidate."
Anthony said voter results show her campaign has resonance and indicates Spokane County residents are ready for change.
"We were thrilled to see that level of support. It certainly did surprise us in the best of ways," she said. "For us, it's a tremendous litmus test that Spokane County is voting for hope and a better county and we're tremendously honored to be a conduit for that."
Anthony said she will continue reaching out to voters and participating in debates leading up to the general election.
"It's really about being an effective listener, reaching people, engaging with them to come up with answers and solutions based on data," she said. "For the general election that goes countywide, certainly the geography and numbers will be a bit different, but so will our strategy."
French said the general election brings more debates and forums for people to learn about each candidate, which can be an advantage.
"(The voters) will be able to see my skills and accomplishments," he said. "I have a long track record of success in the community and I think that has value."
Archer said the Democratic Party is satisfied with the number of candidates that chose to run in legislative and county races.
"We're pleased with everyone that has stepped forward and has taken on this worthy challenge," Archer said. "We need to energize our communities at local levels and the county as a whole. We will do what we can to support every candidate. We think it's really important to expand the voice of Spokane."
---