News > Family
Filling in meal gaps: Options available to help families until school starts
Fri., Aug. 10, 2018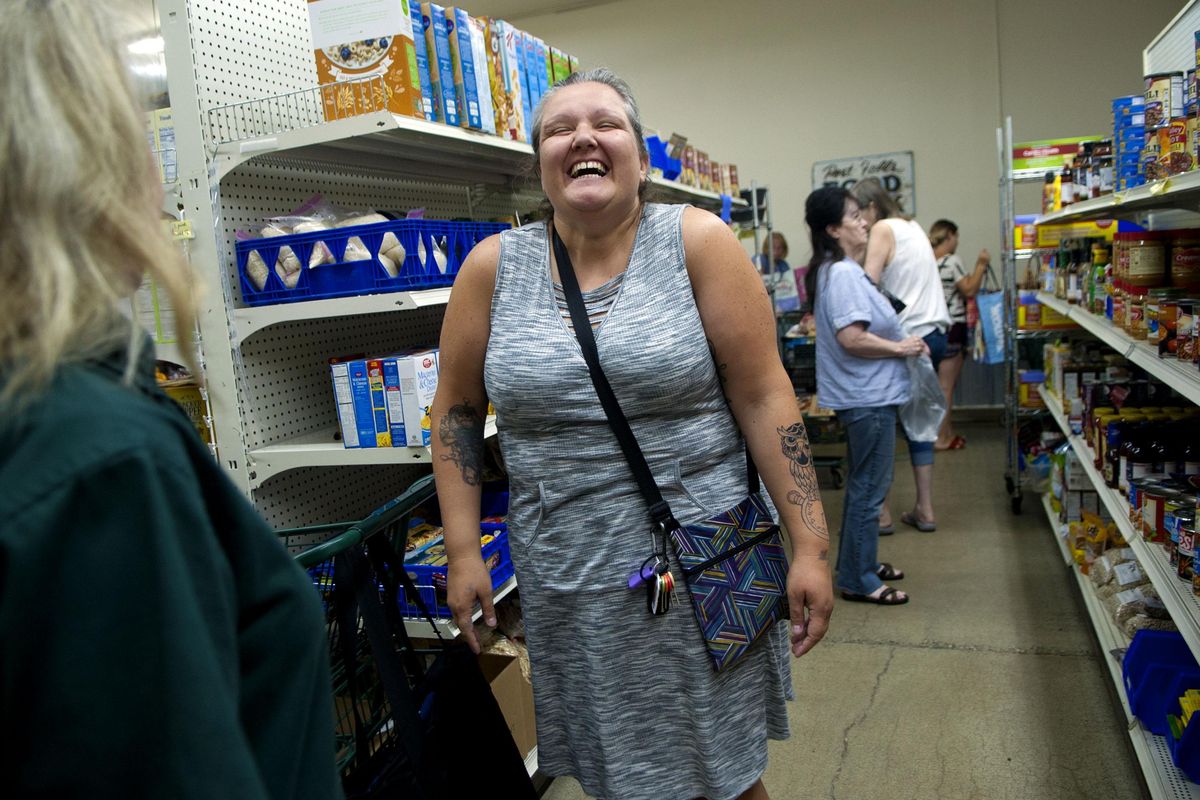 "You get to shop for yourself," said Heather Hjelmstrom as she talks about Post Falls Food Bank aka Third Avenue Market on Thursday, Aug. 9, 2018. Summer meal programs for kids end soon at school sites, but families still have options to fill food gaps before school starts back up, including at area food banks, pantries, Second Harvest mobile markets, or at Boys & Girls Clubs. (Kathy Plonka / The Spokesman-Review)Buy a print of this photo
Free summer meals for Spokane area kids in low-income neighborhoods end for the season on Aug. 17, as school employees regroup for the start of classes.
For families financially strapped, that's a gap of nearly two weeks – or longer in some school districts – to find affordable, nutritious food before children have access to free or reduced-priced meals when classes resume. But there are places to turn.
Community pinch-hitters include food banks and pantries, said Julie Humphreys, spokeswoman with Second Harvest. Also, the food bank runs mobile markets, bringing fresh foods to various locations, and no documents are required.
"We want families who are nervous these next few weeks to know they can always use their local food banks and pantries, and there are emergency food outlets like Salvation Army," Humphreys said.
Resources are listed on Second Harvest's website under "Get Food Assistance." The link is http://www.2-harvest.org/i-need-food-assistance/ to find locations and hours by a zip code.
Second Harvest stocks 250 food banks and pantries throughout Eastern Washington and North Idaho.
Its mobile markets, also listed on the website, bring a refrigerated semi-truck full of 8,000 to 10,000 pounds of fresh produce and staple groceries to distribute to anyone.
Regional truck-service markets in upcoming weeks will be held Aug. 21-31. By the end of summer, the nonprofit also plans to use a converted former STA bus to bring more mobile food delivery into tighter neighborhood spaces, Humphreys said.
This year, Spokane Public Schools saw higher numbers for its Summer Meals Program at about 42 schools, said Doug Wordell, nutrition services director. In 2017, the district served about 110,000 breakfasts and lunches as part of the federally-funded program.
Total numbers still need to be tallied after Aug. 17, but the district saw unexpected peaks.
"We're up significantly in the total lunches," Wordell said. "We were hitting high lunch counts of around 2,500 a day last year, and we were hitting about 3,200 lunches a day this summer and about 1,500 breakfasts a day.
"I'm going to guess we're going to be about 10,000 meals or more above our 110,000 meals last year."
The uptick showed need in the community, he added. Last year, the service was held at some 40 school sites based on an area's percentage of free or reduced-priced lunches. Summer breakfast counts also were up from last year.
"Families seemed to really appreciate having the program available," Wordell said.
He added that the two-week transition time is built in each year after the Summer Meals Program to give staff vacation and allow for deep-cleaning and stocking at facilities for starting school.
"We're trying to work with other community partners to find out how we can expand our program this next coming year, whether it's at parks or with community groups to provide the Summer Meals Program to more families," he said.
Additionally, many traditional food banks and pantries can offer an urgent one-time food supply for a family if enough commodities are on hand, Humphreys added.
One of those facilities is the Post Falls Food Bank, which has a grocery-store style setting for its Third Avenue Market that provides clients with choices for food selection.
Leslie Orth, that food bank's executive directer, said support is provided weekly to families who include working parents with young children, in households at or below 200 percent federal poverty level. For a family of four, that would be $50,200 a year.
But the food bank also can provide a large bag of food to families with a one-time urgent need, no questions asked, Orth said. After that, people can register for regular shopping if they are eligible.
The Third Avenue Market lets clients select food by a point value system. Points typically are higher for a pound of meat, for example, but fresh produce essentially costs families no points. Orth said that approach encourages use of higher nutritional items that families can't always afford to buy from traditional stores.
"Once school starts, we do the weekend backpack program for students with nutritious food, like one good carb, fruit and protein, starting the second week of school," Orth added.
Second Harvest partners with schools and community members to offer a Bite2Go weekend backpack supply of food for kids, who receive them discreetly from teachers or administrators noticing student hunger issues.
Just before school starts, another place for families to check is the local Boys & Girls Club.
Club locations in Spokane, Mead, Coeur d'Alene and Post Falls can provide emergency evening meals to children up to age 18, Monday through Friday, regardless of membership. While sites are briefly closed the week of Aug. 20 to transition from summer programs to the school year, area clubs can fill in meal gaps Aug. 27-31, said Olivia Gaete, Spokane-area marketing and event coordinator.
"Supper is usually between 4:30 and 5 p.m., depending on the site, during the school year," Gaete said. "During the summer, it's breakfast, lunch and dinner."
Ryan Davis, Boys & Girls Club of Kootenai County executive director, said the club actively coordinates with community partners to make sure youth have access to food.
"We partner with both school districts to provide breakfast and lunch to club members, but youth do not have to be members to partake in the meal program," he said.
Gaete added that annual membership for a child up to age 18 is $20 a year, and fee waivers available.
Regional Boys & Girls Clubs are located in Spokane at 544 E. Providence Ave.; Mead at 12509 N. Market St.; Post Falls at 200 W. Mullan Ave.; and Coeur d'Alene at 925 N. 15th St.
Local journalism is essential.
Give directly to The Spokesman-Review's Northwest Passages community forums series -- which helps to offset the costs of several reporter and editor positions at the newspaper -- by using the easy options below. Gifts processed in this system are not tax deductible, but are predominately used to help meet the local financial requirements needed to receive national matching-grant funds.
Subscribe now to get breaking news alerts in your email inbox
Get breaking news delivered to your inbox as it happens.
---