Lincoln County fire sparked by sun rays shining through broken glass (and other unusual fire starts)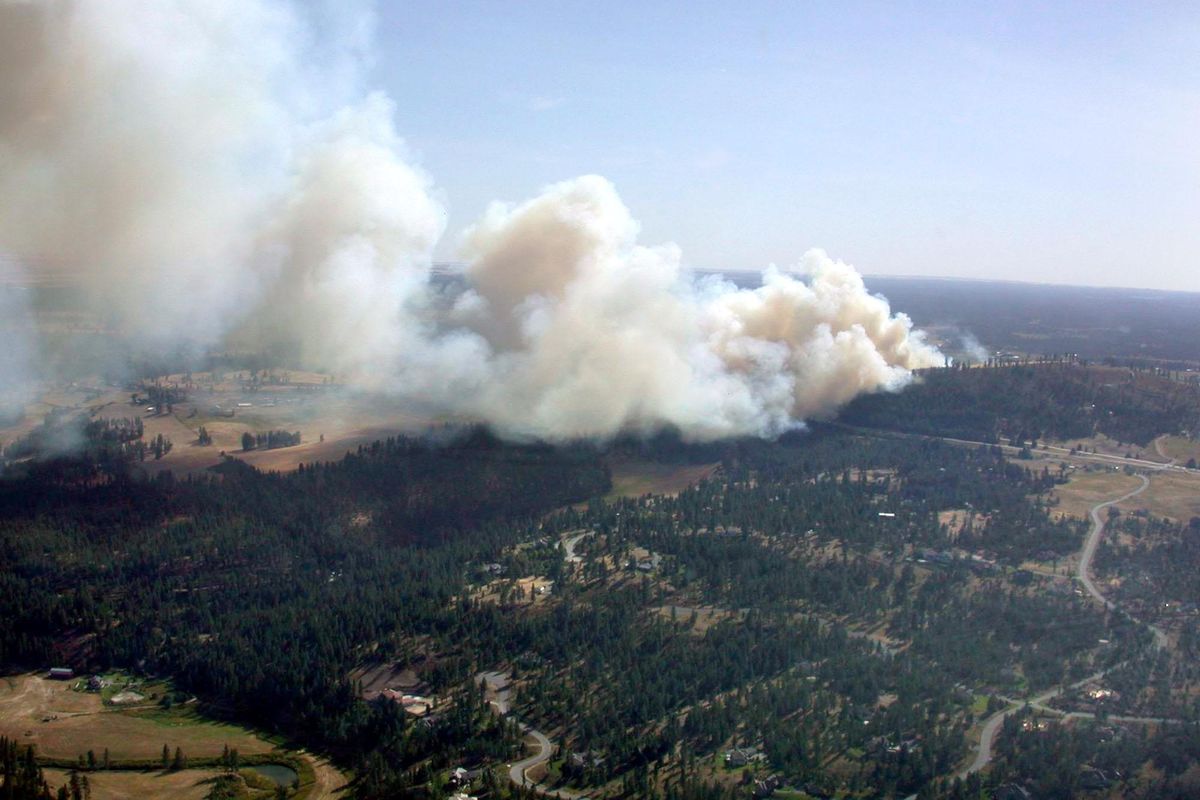 The Fisher 231 fire, which started July 31 and burned roughly 80 acres near Reardan, Washington, was apparently caused by shards of broken glass.
That's an unusual cause for fires, said Department of Natural Resources fire investigator John McDonald. But in rare circumstances, when the glass just so happens to concentrate sunlight onto flammable material, it can happen.
"It was definitely caused by a couple panes of glass from a debris pile," he said. "I was able to completely eliminate any other cause."
It's also possible that the Angel Springs fire, which started Aug. 2 roughly halfway between Davenport and Reardan, was caused by glass, though the cause has yet to be determined. Originally, the fire was blamed on machinery – specifically, a combine malfunctioning – but the event was never confirmed. Insurance assessors suggested it was caused by glass, but McDonald said he didn't find enough evidence to make a determination.
"It's going to be listed as undetermined," McDonald said. "I never actually found a smoking gun."
Aside from lightning, nature offers very few sources of ignition, making human activity the leading cause of wildfires in the United States. The usual suspects are unattended campfires, fireworks, downed power lines and the odd pyromaniac. But other sources of fire occasionally make an appearance.
Shards of glass causing a fire are unlikely, but still plausible, said Nicole Moore, an assistant professor of physics at Gonzaga University.
"When (light) hits a curved surface, that can cause the light rays to become concentrated, and that can cause a fire. That's how a magnifying glass works," she said.
Certain scenarios would make a glass shard more likely to start a fire.
"It's possible if the shards of glass were broken in the right way it could cause a fire, she said. "Especially if it were curved already like a bottle, or broken in the right places."
Guy Gifford, DNR fire prevention coordinator, said that every few years he'll come across a fire started by something unusual.
Another less common, but not unheard of, fire starter is spontaneous combustion. Such events can result from oily rags in a garage or organic matter, such as mixtures of manure with hay, piles of leaves, sawdust or even compost that heats up enough from decomposition that it catches fire.
"Once I found a pile of maple leaves (that had burned)," McDonald said. "When I dug into it, the temperature went up to 900 degrees."
For residents who might worry their garden's to-be fertilizer mix could spontaneously combust, the solution is simple, he said. Turning a compost pile occasionally should keep it from getting too hot.
Other unusual fire starters include sky lanterns – small hot air balloons usually made of paper, which are illegal in Washington – electric fences, dumping stove ashes and power cords.
As far as glass shards, "the physics are there," said John Goodman, fire investigator for Spokane Fire Department. But it's highly unlikely to cause a fire in most cases.
"Everything needs to be perfect conditions," Gifford said.
Fires are usually caused by a few common culprits, McDonald said. Campfires, children playing with fire, illegal fireworks, smoking, debris burning and use of incendiary equipment that creates sparks (such as chain saws) are all common culprits.
Near roadways, sparks from vehicles and dragging chains can be a serious problem.
"In the central part of the state, some of the major fires (in previous years) were caused by chain drag on the ground," McDonald said. So drivers hauling loads should make sure their chains are secured and well off the ground.
Perhaps surprisingly, cigarette fires, at least near roadways, are relatively uncommon.
"Cigarettes don't start as many fires as people believe," McDonald said. "They're about as rare as the glass."
Of course, that doesn't mean it's OK to dump cigarettes on the ground. They can still cause fires, Goodman said, especially when there's any sort of dry vegetation. In general, he said, summer weather calls for people to be careful.
That means eliminating fire hazards on one's own property and watching for dangers that could cause a fire in neighborhoods and communities.
"Be extra, extra cautious," he said. "Watch out for everybody."
Gary Rosman, the farmer who owns the property where the Angel Springs fire started, said he's received unfair blame after rumors spread that the fire was started by equipment.
"I'm getting torn up on social media for starting the fire," Rosman said, but "they don't know who started the fire."
McDonald said Rosman's insurance assessors suggested glass to be the cause of the fire.
There's a spot off the road by his field where people park to make calls, Rosman said. He doesn't mind that, except that sometimes they leave trash – which sometimes includes glass bottles. Those bottles, he thinks, might have caused the fire.
Now, he's thinking of limiting access to the spot.
"I'm trying to be a good neighbor out here," he said.
Editor's note: This story was changed on Friday, Aug. 10, 2018 to add additional information about the source of the Angel Springs fire.
---