News > Spokane
Boxing gym gives Daybreak teens a safe space to fight back
Mon., Aug. 13, 2018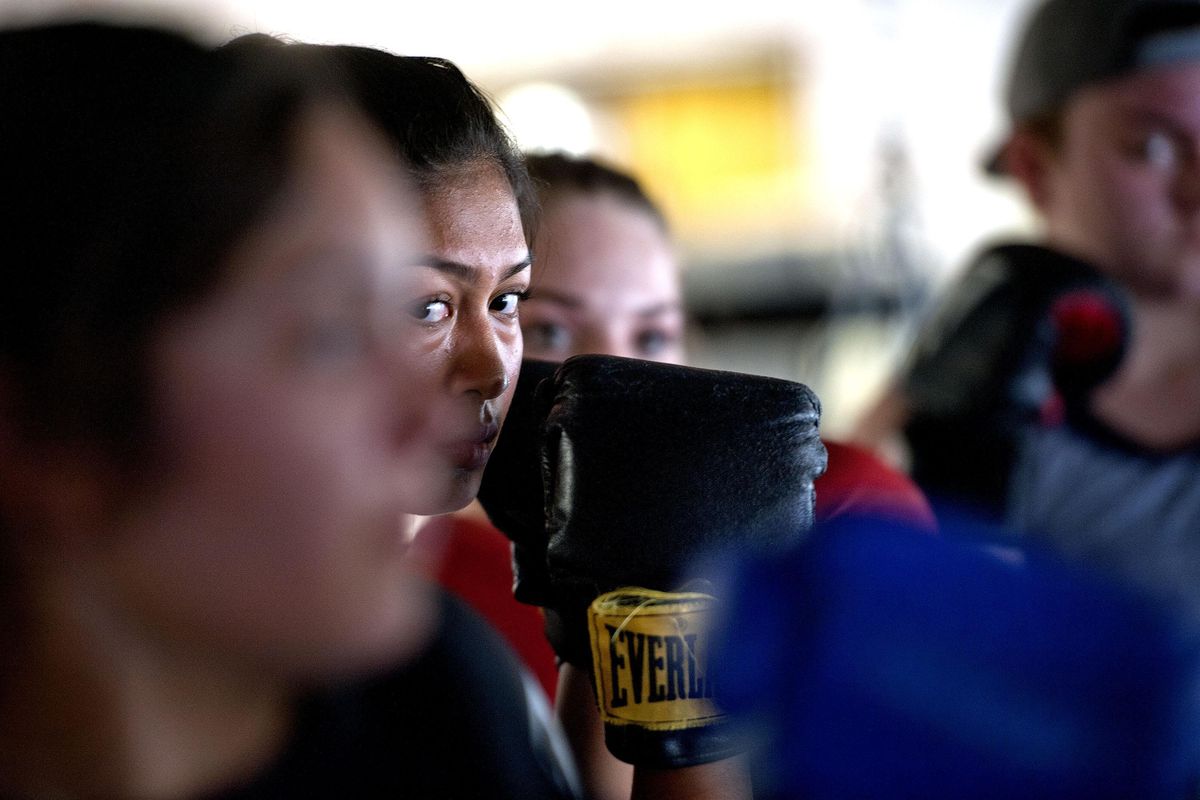 Sixteen-year-old Asia Manivanh listens to instruction during a boxing class at Spokane Boxing Club on Wednesday, August 8, 2018. Asia is currently a resident of Daybreak Youth Services, an inpatient addiction treatment center for teenage girls. The boxing program is designed to help the girls gain another outlet from drugs and alcohol. (Kathy Plonka / The Spokesman-Review)
Life has already delivered a few body blows to the teenage girls living at Daybreak Youth Services.
On a hot Wednesday afternoon at the Spokane Boxing Gym, they got a chance to fight back.
Owner Rick Welliver provided the setting and the inspiration, and the girls did the rest.
Sometimes the best way to battle your demons is to strap on a pair of gloves.
Destiny Moore arrived here 45 days ago from Olympia, sent by her probation officer in a last-ditch effort to treat her addiction to marijuana.
"I'm trying to find myself, and this feels good, to help me let my anger out and not on another person," Moore said with a smile.
Getting clean and sober is the main goal at Daybreak, a lockdown facility. The days are long and filled with meetings, and introspection only goes so far.
"Anything like this is helpful, because sometimes they feel like prisoners, they feel trapped," said Catherine Reynolds, who's in her third year as Life Enrichment Director.
"This is something that makes their hearts sing," Reynolds said after her group's fifth trip to Welliver's gym.
Previous outings included rock climbing and a trip to Project Beauty Share, which distributes cosmetics to women and families overcoming poverty and addiction.
Sure enough, the Eye of the Tiger was wearing makeup on Wednesday. Asia Manivanh, a 16-year-old from Yakima who recently relapsed on cocaine, slid her 2-inch-long fingernails into her gloves and hit the speed bag.
"I didn't think boxing would be a good coping mechanism, but doing something like this helps me with my emotions and keeps me from wanting to use," Manivanh said.
Together they climbed into the ring with Welliver, a former pro cruiserweight who likes to dispense life lessons along with boxing tips.
His first nugget: "Keep your chin up," which is poor advice inside the ring but just the right words for his audience.
Then the girls unleashed on the punch mitt Welliver held aloft. One at a time, they threw two punches, then four and finally six in a row.
After another pep talk from Welliver, they hit the bags.
Kariza Barrera made a fashion statement with her black choker, but was deadly serious in the ring.
She needs to get serious. Only age 15, she was sent to Daybreak from Yakima two months ago to break the chain of dependency and gang activities that had already swallowed up her older relatives.
"All my family had been into that, and they didn't want me to repeat it," said Barrera, who also must overcome an addiction to meth.
She hopes to return home by the end of the summer, "get back into school and art" and play her electric guitar.
Throwing a few punches "helps you take out all the anger you have in the world," Barrera said.
This was Daybreak's fifth visit to his gym, but Welliver didn't pull any verbal punches.
As the girls drank water and recovered, Welliver pulled out a small coin he received from a friend. It was a sobriety chip from Alcoholics Anonymous, representing 28 years of sober living.
For effect, Welliver held out the coin.
"This whole notion that you can't do it, that's wrong," he said. "Do you have any idea how far you can push yourselves, to get up and make that day right?"
Most of the girls nodded silently. One spoke up, praising Welliver "for the way you pushed us – the way you don't take it easy on us."
Local journalism is essential.
Give directly to The Spokesman-Review's Northwest Passages community forums series -- which helps to offset the costs of several reporter and editor positions at the newspaper -- by using the easy options below. Gifts processed in this system are not tax deductible, but are predominately used to help meet the local financial requirements needed to receive national matching-grant funds.
Subscribe now to get breaking news alerts in your email inbox
Get breaking news delivered to your inbox as it happens.
---