News > Idaho
Friends, family rally for Lewiston 'superhero'
Mon., Aug. 13, 2018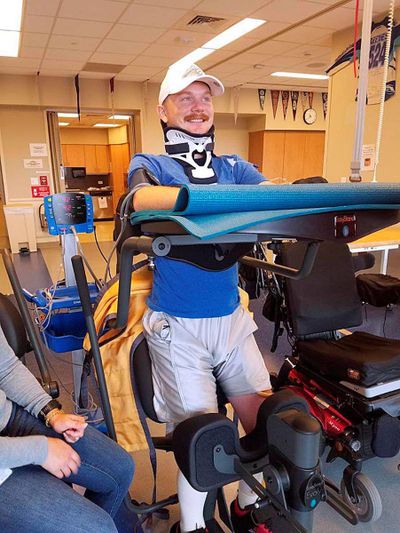 Zack Moore has always been a fan of Superman, and now he's relying on others' superhuman capacity for giving to help him and his family overcome a devastating injury.
Moore, 19, was having a playful day at Hells Gate State Park on Hidden Beach earlier this summer when a tragic accident occurred.
He was diving into the Snake River – in a place he had dived dozens of times before – when his head hit the sandbar and his neck broke. Moore sustained injuries to his spine, effectively paralyzing him from the chest down. A local physician performed emergency surgery to realign his spine, but it was clear intensive rehabilitation would be needed.
Moore was flown to Craig Hospital in Englewood, Colo., where experts in the field of spinal injuries have been running him through rehab to try to help him regain some movement, though long-term paralysis is likely. Moore's father, Josh, said last week his son recovered some movement in his forearms but that his hands refused to flex.
The arduous physical therapy hasn't put a damper on Moore's mood. Reached by phone, Moore said recovering from this type of injury can take years of physical therapy.
"The biggest thing you have to have is patience," he said. "Things can seem a little hopeless now, but it's only been a month since my injury. . My motivation has no limits. I know will eventually come back from this."
Moore acknowledged this is likely the most difficult challenge he will face. Just one year past his 18th birthday, in what should be the prime of his youth, he said he won't let despondency drag him down.
"There's nothing I can't handle," he said.
Moore has been outfitted with a standing chair in which he can practice rehab movements. It's designed to help maintain his blood pressure, while therapists work with him to move his arms. The hospital has also equipped him with a chair he can propel by breathing through a straw. Josh Moore said his son was was ripping around the halls, mobilized solely by his breath, within minutes of being put in the chair.
Zack Moore said the team of therapists and physicians has been kind, taking him outside the hospital's walls on several trips. He went to a Colorado Rockies baseball game, and a week prior, he was taken out on a sailboat.
"It's really cool they can make those kind things happen," he said. "It reassures me to know these things can be possible for me when I leave here."
He has his family members hopping back and forth to visit him. He has social media to connect him with friends. And he has a groundswell of community members putting together benefits to help his family with the costs of traveling and preparing to take him home.
Back at home, his family is trying to afford the frequent trips to Colorado to visit Moore and coordinate fundraising for his future. Josh Moore said friends, relatives and acquaintances have put together five different benefits in the coming months as well as an online fundraiser and accounts set up at Umpqua Bank and Potlatch No. 1 Federal Credit Union branches.
Moore's sister Zoe is also selling custom stickers that resemble the iconic "S" on Superman's chest to help raise money. Instead of the red-on-yellow design, the stickers feature a chrome-colored "Z" set against a black slotted grate similar to a truck grill. Zoe Moore said anyone interested in buying the $5 stickers can message her through Facebook.
Zoe Moore said her brother has loved the indomitable superhero since he was a child, and relatives have kept him adorned in Superman paraphernalia throughout his young life. She said he even earned the nickname "Zackman" to represent his fondness for the unstoppable comic book character. He is a former athlete, and his sister said he had both the strength and speed to compete in track and football.
"In seventh grade he had the 'S' shaved on the back of head so he could show he was the best and the fastest (to the people trailing him)," Zoe Moore said.
She said seeing her brother laid up has been difficult, especially given his youthfulness and athleticism. Not to mention dancing skills.
"He was a really good dancer," Zoe Moore said. "He's like the only white dude that could dance."
She visited her brother over the weekend.
"I don't think there's one person in Lewiston you could ask if they hate Zack and they'd all say no," she said. "He's the best brother there ever was."
Local journalism is essential.
Give directly to The Spokesman-Review's Northwest Passages community forums series -- which helps to offset the costs of several reporter and editor positions at the newspaper -- by using the easy options below. Gifts processed in this system are not tax deductible, but are predominately used to help meet the local financial requirements needed to receive national matching-grant funds.
Subscribe to the Coronavirus newsletter
Get the day's latest Coronavirus news delivered to your inbox by subscribing to our newsletter.
---