Sports
Grip on Sports: When the air starts to look like soup, it's time to practice indoors
Tue., Aug. 14, 2018 A GRIP ON SPORTS • If you are old enough to remember, there was a time when people were allowed to smoke cigarettes anywhere. Offices, banks, movie theaters, you name it, there was a Marlboro or Camel-created smoky haze making it tough to see. Sort of like it was yesterday on the golf course. Read on.
••••••••••
• It struck me as I looked down one of Indian Canyon's fairways, trying to determine just where my wayward drive left the fairway. In clearer times, like the spring, I could see the north side of town. Yesterday, I was lucky to be able to see the green.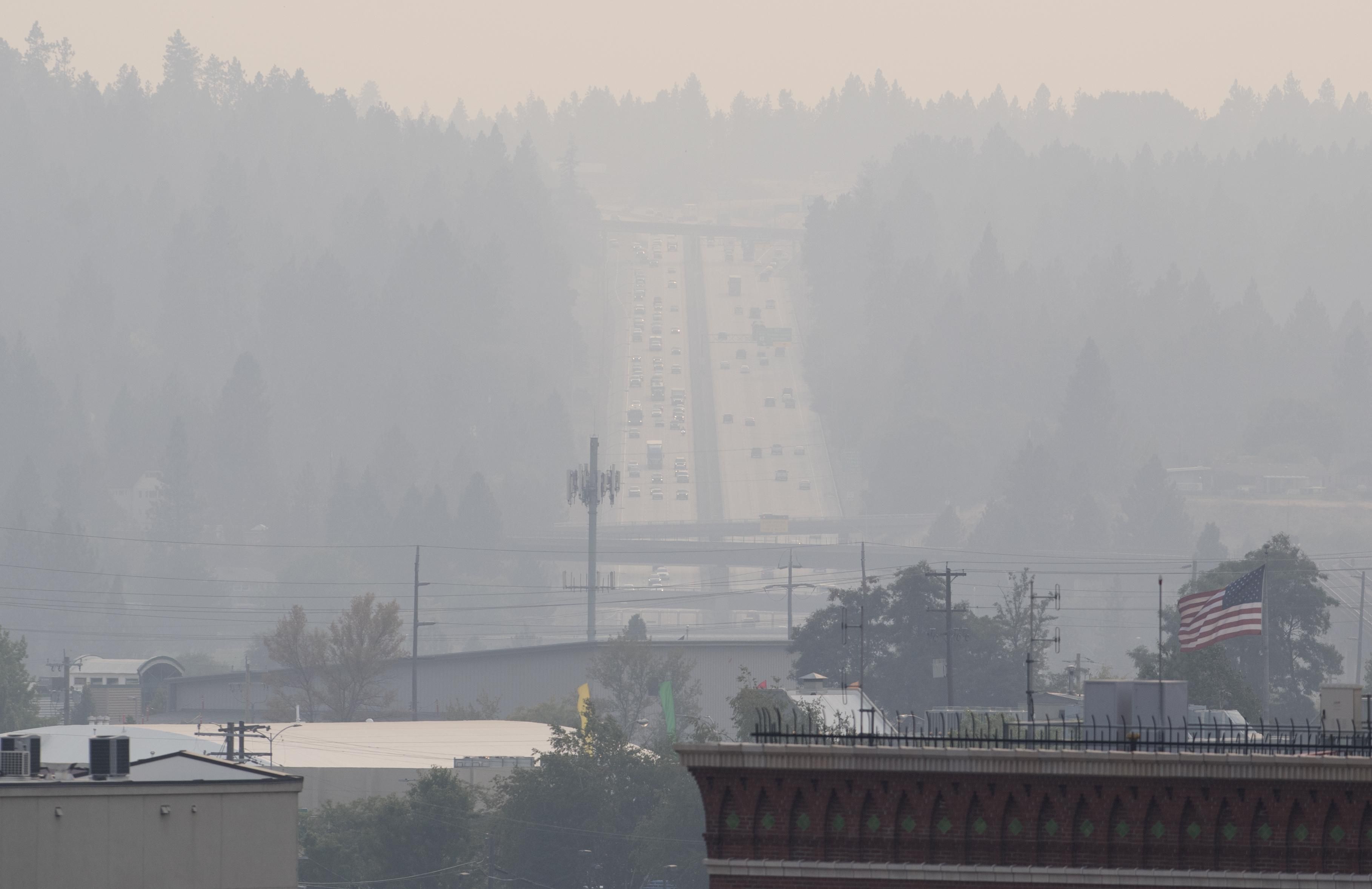 Talk about childhood memories. (I grew up in the L.A. Basin in the 1960s, when smog was considered as much a part of the area's charm as Hollywood and Sandy Koufax.)
Luckily, I didn't begin to exhibit my childhood health issues. See, back when I was young and the smog made the air look like it did yesterday in Spokane, there were many days of summertime when I would spend the late afternoon in bed, gasping for air. 
I suffered a bit from childhood asthma, made worse by the crud in the air. I would run around all day, doing young kid things, and boom, all of sudden I was struggling to breathe. Too much exercise, too many particulates, too much heat. It got me.
And made me sympathetic to those practicing football these days.
Jim Allen has a story today on Whitworth beginning their season, albeit yesterday being forced to practice indoors where the air is at least filtered. You don't want an inside linebacker gasping for air as he chases a tight end down the middle, do you? Actually, you don't want to put anyone in a position that might be detrimental to their health down the road.
(Though carmakers didn't seem to worry about it much until the feds forced them too; now the Los Angeles air is a lot better.)
It must be tough trying to plan high school football practices – they start in Washington tomorrow – not knowing if you are going to be able to practice outdoors or have to stay inside. I guess the way the trend is, you would expect to be indoors, as the air is listed as unhealthy and is expected to stay that way for a while.
What is it your grandma used to say, you can't control the weather? Or the smoke.
• The Mariners opened a three-game series in Oakland last night, knowing they had to sweep to leave town leading the wild-card race. Well, that won't happen.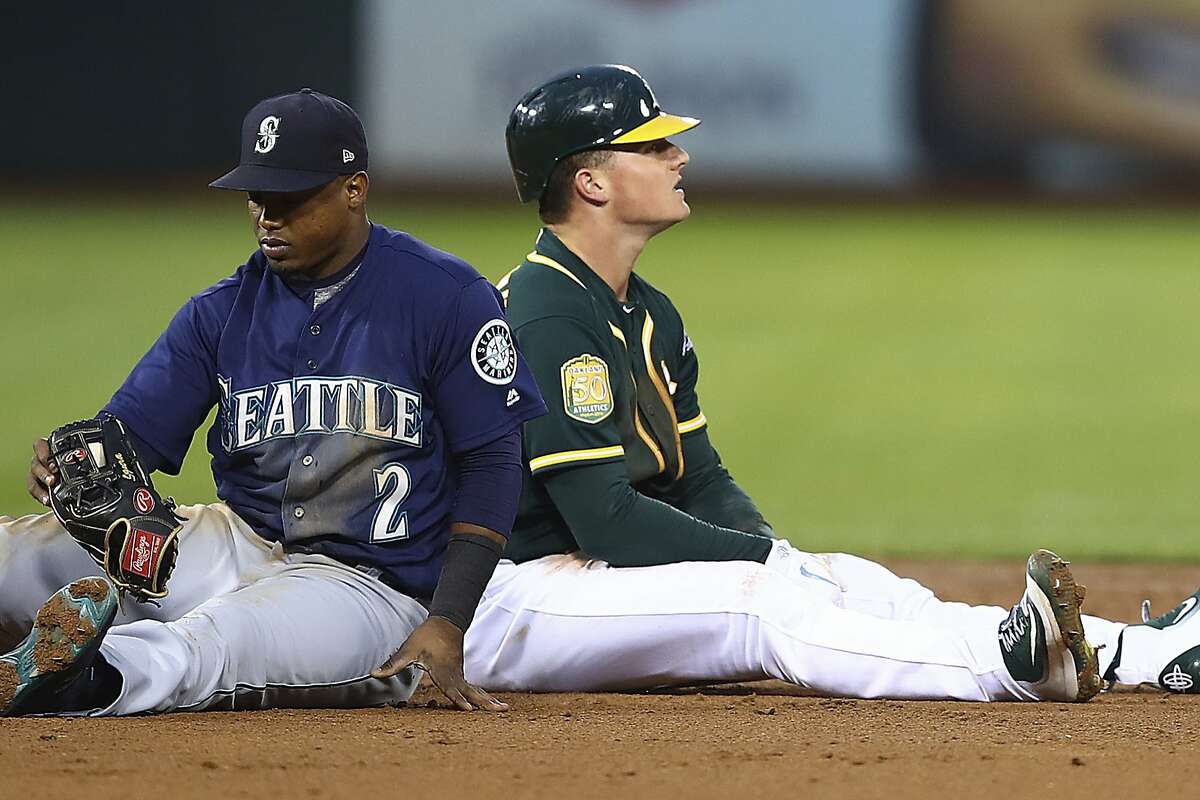 But it wasn't guaranteed without a late-inning fight. Trailing 7-1 going into the eighth, the M's lost 7-6 and had Nelson Cruz up with the tying run in scoring position in the ninth.
Still, the best Seattle can do now is pull within a half-game. Maybe tonight's return of Robinson Cano will spark a streak. It could.
And maybe it's time to stop worrying about catching Oakland. The way the A's have been playing, maybe the real question for the last month and a half of the season is whether the Mariners can catch either the Yankees or the Astros. Those two might end up being the wild-card competition.
•••
WSU: There wasn't a football practice to cover yesterday, so Theo Lawson took a look at the player to worry about on each of the Cougars' opponents. It's a dangerous dozen. … Elsewhere in the Pac-12, Washington has recruited so well, the Huskies feel some freshmen defensive backs can play right away. … The film from Oregon State's practice seems to be favoring Jake Luton. … A couple of walk-ons want to contribute in a big way for Oregon. … California has an outside linebacker who might be unstoppable this season. … A former BYU linebacker is now playing for Utah. … Colorado hopes a lineman will be 100 percent. … UCLA has a famous coach now, but had an even more famous one 60 years ago. That's when Red Sanders died under odd circumstances. …The Bruin linebackers are being asked to be more aggressive. … USC wants to keep its quarterbacks safe. … Arizona State lost a starting safety to an injury. … Arizona's Khalil Tate sees his Sports Illustrated cover as a family honor. … The Pac-12 settled a long-standing lawsuit.
Gonzaga: His knee injuries behind him, Sam Dower is going to start playing professionally again. Jim Meehan has Dower's plans in this story.
EWU: The FBS football coaches have more faith in Eastern than other poll voters do, voting the Eagles above Weber State and into seventh nationally. … Around the Big Sky, Portland State coach Bruce Barnham feels he failed his team last season. … Montana State has a well-traveled kicker. … Northern Arizona has talented quarterbacks. … The Big Sky has an interim commissioner. 
Idaho: A former Vandal running back is in Moscow, finishing his degree and helping out around the program. Peter Harriman has this piece on Aaron Duckworth being back in town.
Whitworth: As we said, Jim Allen headed up north yesterday and watched the Pirates practice indoors.
Indians: Spokane is heading home, but before they got on the road back, the Indians rallied to defeat Boise 6-3 in 10 innings. … Around the Northwest League, the Everett AquaSox didn't receive a post-Cano bump, losing to Eugene.
Mariners: Yes, the M's rallied last night, but it wasn't enough. And, yes, Cano returns tonight in Oakland. Where he will play and where he will hit is a hot topic. … Edwin Diaz wasn't available but he wasn't needed.
Seahawks: The Hawks may have a new punter this season, one who hasn't been around football all that long. … Practice hasn't been kind to running backs and yesterday was no exception. … Nick Vannett may just be the tight end.
•••        
• The smoke is still bad. I may be staying inside most of the day. At least I know I won't be outside taking a 10-mile run. That's off. Well, that's off everyday but it's guaranteed not to happen today. Until later … 
Local journalism is essential.
Give directly to The Spokesman-Review's Northwest Passages community forums series -- which helps to offset the costs of several reporter and editor positions at the newspaper -- by using the easy options below. Gifts processed in this system are not tax deductible, but are predominately used to help meet the local financial requirements needed to receive national matching-grant funds.
Subscribe to the sports newsletter
Get the day's top sports headlines and breaking news delivered to your inbox by subscribing here.
---