Coeur d'Alene Little League 'proud' to represent North Idaho at World Series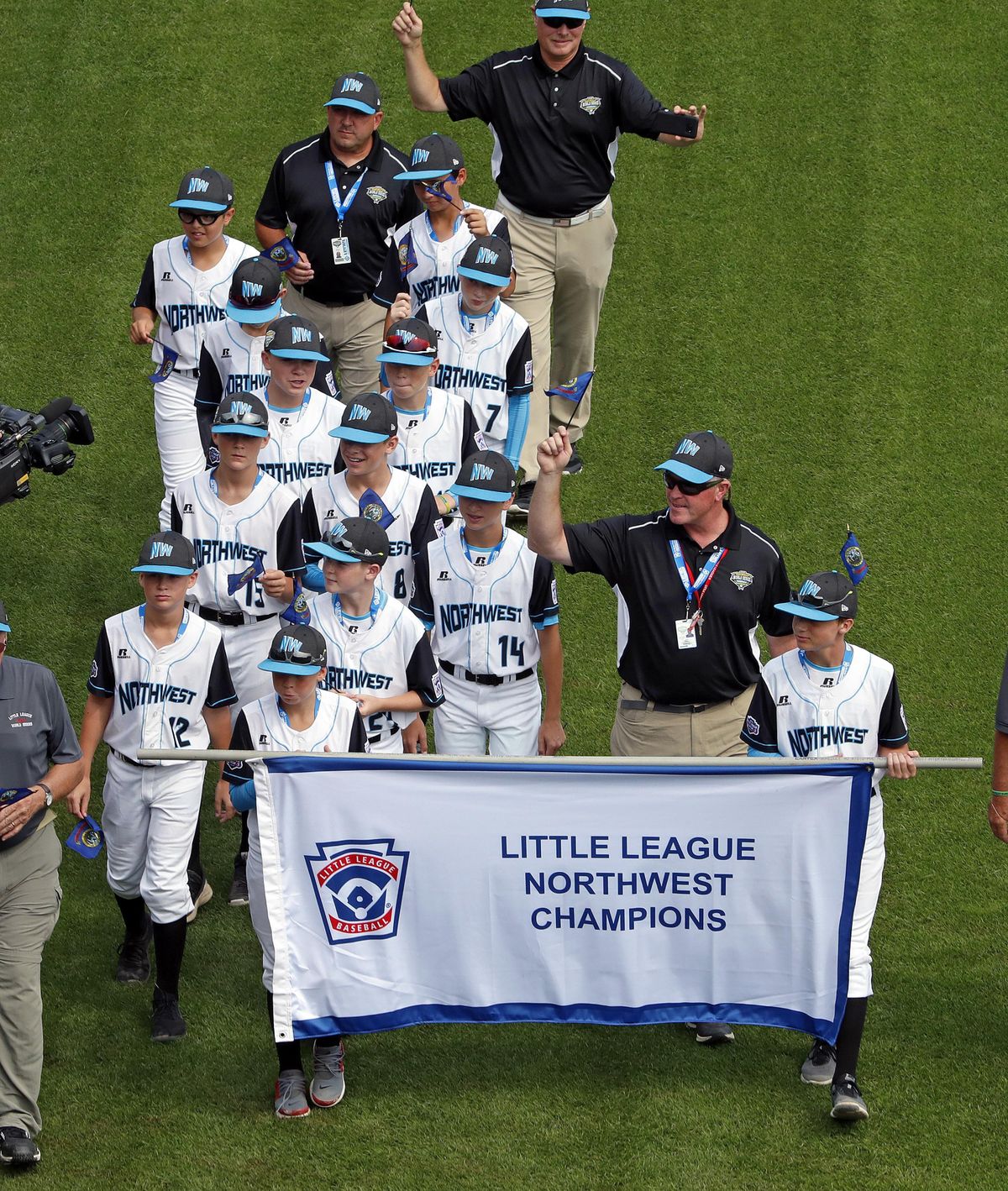 The Coeur d'Alene Little League all-stars are aware they are making history. But they are still trying to enjoy everything along the way.
"You know, they are having fun," CdA coach Sean Cherry said. "It is work, with all the requirements that we're expected to fulfill and it's all wonderful, but trying to get in baseball is kind of difficult at this point.
"It's a little overwhelming, but they're settling in and enjoying the spectacle that this place puts on."
"This place," being the Little League World Series in fabled Williamsport, Pennsylvania.
Coeur d'Alene – wearing "Northwest" across their chests in dark blue with teal trim – faces Great Lakes Region champion Michigan (Grosse Pointe Woods-Shores) Friday at 1 p.m. in the first round at the Little League World Series Complex.
The winner plays on Sunday at 11 a.m., while the loser faces elimination on Saturday at 5 p.m.
The tournament runs through Aug. 26, with all games televised live on ESPN or ABC.
First representing Idaho as state champion, then earning the Northwest Region title last week with a 2-0 win over Montana (Boulder Arrowhead), CdA is paving the way for future 12-year-olds.
It's the first time a team from North Idaho has qualified for the Little League World Series, and only the second time the state has sent a representative – following South Boise in 1999.
Cherry said the team is in a somewhat controlled environment right now in the tournament's complex provided for them in Williamsport, with little access to television, so some of the hype is missing them.
"They don't really get it," he confessed.
But Cherry did show them a picture of a t-shirt that said "Coeur d'Alene Little League World Series" and the kids reacted as you would imagine 12-year-olds would.
"Until they see it on a t-shirt," Cherry said, "they don't really realize how big of a deal it is."
The first test against Michigan is daunting. Cherry called the squad "a scary team."
"They hit the ball and run and keep running until you force them to stop," Cherry said. "We've been doing our homework. I think they're beatable, but it's going to be a matter of execution of our pitches and being able to put the bat on the ball and put some pressure on them."
Christopher Reynolds is the team's "ace," and one of the pitchers who could start against Michigan.
He threw a one-hitter with 11 strikeouts in a complete-game win over Wyoming in a region semifinal and tossed five shutout innings with 10 Ks in the championship game.
"His control was precise against Wyoming," Cherry said. "He had a little less control – I think that was based on some nerves – in the championship game.
"I talked briefly to the Montana coach after the game and he said 'We just couldn't get anything going against the kid.' They just couldn't get the bat on the ball."
Cherry relies on first base Cooper Smith in the field and at the plate.
"He's a super-steady, a solid glove," Cherry said "He's been our first baseman for three years going now. With his bat, he stays consistently on plane and he's a see-ball, hit-ball type of hitter. He can drive the ball at times and he can slap the ball the other way to help the team out."
And if things are close late, Cherry won't hesitate to bring in A.J. Currie to help close the game out.
"We've brought Currie in to some extremely stressful situations and he's got ice water in his veins," Cherry said. "He goes up there and just throws hard and he's got a wicked breaking ball and nothing rattles him."
Cherry said the national tournament and attention is the icing on the cake for his team – and the community.
"We're extremely proud to be representing North Idaho," he said. "These next couple of games I'm looking at it as a big thank you to the baseball community and to Coeur d'Alene itself.
"We just want to represent well and make the city proud and thank them for all the support they've given us."
Sending a team to the Little League World Series, though, is not an inexpensive endeavor.
"It's more than rolling balls out on the field at Canfield (Sports Complex) where we practice," said Jeff Smith, president of Coeur d'Alene Little League.
Little League International provides transportation, lodging and three meals per day for 13 players and three coaches.
Everything else associated with the postseason tournaments – state championship, regionals and the finals in Williamsport – comes out of the parents' pockets.
"There's no blueprint for this," Smith said. "It's the first time North Idaho has sent a team to Williamsport so we're making it up as we go and trying to take as many people as we can with us."
Smith estimates a cost of $3,500 for a pair of parents to travel with the team to Williamsport – just for transportation and lodging for however long the finals go. And that's on top of traveling to San Bernardino, California last week for the regionals and Boise earlier in the month for the state finals.
"We don't use league general funds to fund the postseason," Smith said. "It wouldn't be fair to the other 360 of kids and families in the program to pay for the 13 in the tourney."
Friends of Coeur d'Alene Little League have set up a Gofundme.com page (CDAAllStarsWorldSeries) to help defray the costs for parents. Smith said the goal is $40,000, but they're nowhere near the total.
"It's the chance of a lifetime and we don't want anyone to have to miss out," Smith said.
---