News > Idaho
Otter pardons man convicted of selling marijuana 30+ years ago
Thu., Aug. 16, 2018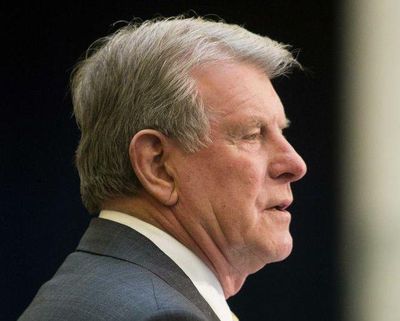 Idaho Gov. Butch Otter on Wednesday announced the fourth pardon he's issued in his 12 years in office, pardoning a man who was convicted more than three decades ago of selling marijuana. Ronald Steven Parker, who was convicted in 1976 and 1981 on three counts of selling marijuana, served a 90-day jail sentence and eight years of probation. He went on to a successful high-tech career and has since retired.
"While it is true every sinner has a past, it is also true they have a future," Otter said in a statement. "Key to defining that future is whether an offender avails him or herself to the difficult soul-searching needed to achieve meaningful rehabilitation and redemption. Often times, an offender is not up to the task because it is too hard. But Ronald Parker has not only done that heavy lifting, he has repaid his debt to society, taken responsibility for his actions and has lived a life that other offenders in our system would do well to emulate."
Parker is active in his church and as a food bank volunteer.
The pardon was unanimously recommended by the Idaho Commission for Pardons and Parole. Otter's three previous pardons, of two men in 2013 and another earlier this year, all involved drug offenses.
Local journalism is essential.
Give directly to The Spokesman-Review's Northwest Passages community forums series -- which helps to offset the costs of several reporter and editor positions at the newspaper -- by using the easy options below. Gifts processed in this system are not tax deductible, but are predominately used to help meet the local financial requirements needed to receive national matching-grant funds.
Subscribe to the Coronavirus newsletter
Get the day's latest Coronavirus news delivered to your inbox by subscribing to our newsletter.
---