News > Spokane
Gun rights enthusiasts joined by Shea, Fagan at Franklin Park rally
Aug. 18, 2018 Updated Sat., Aug. 18, 2018 at 7:59 p.m.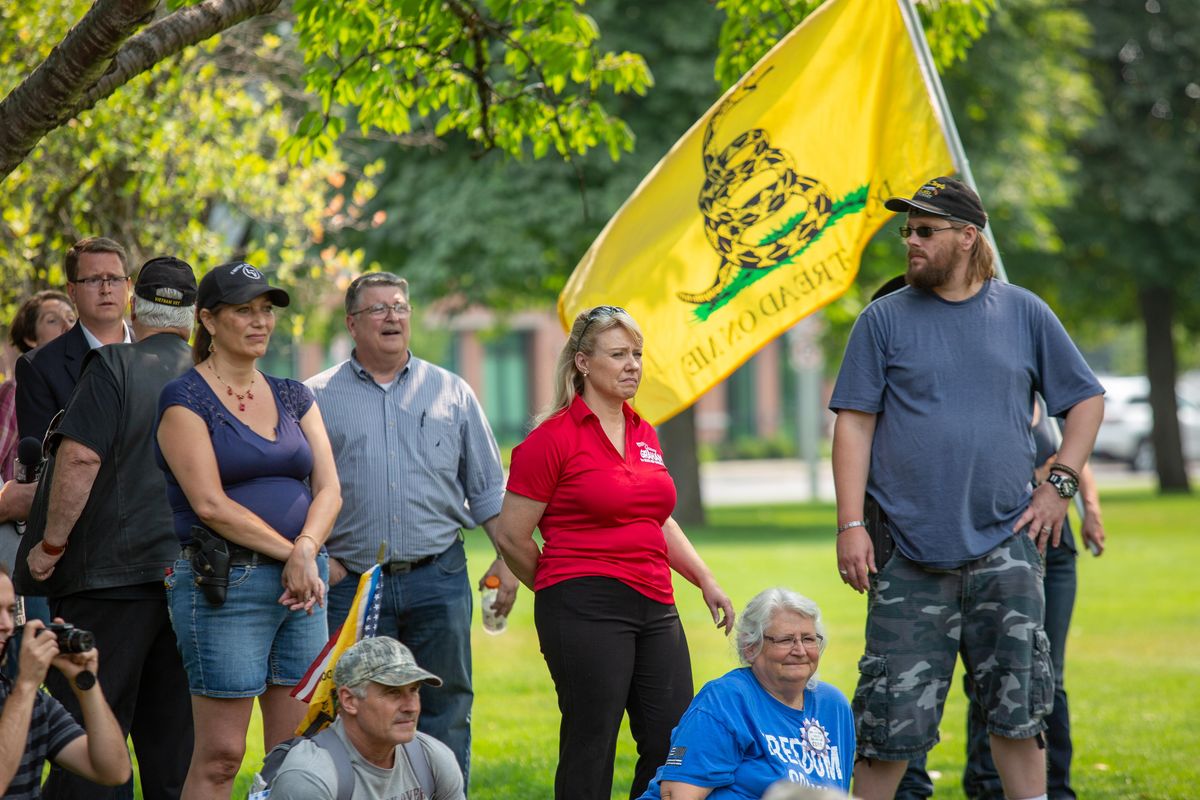 Jenny Graham, a candidate for the Sixth Legislative District House seat, stands among the crowd at the Liberty or Death Rally on Aug. 18, 2018 in Franklin Park. (Libby Kamrowski / The Spokesman-Review)
Armed gun enthusiasts and local politicians gathered Saturday at Franklin Park to advocate for their Second Amendment rights.
The Spokane Conceal and Carry Club and American Patriots the III% – a reference to the number of Americans who fought in the American revolution – co-organized the action, initially a protest against Initiative 1639, a gun control measure that was taken off the ballot by a judge earlier this week.
The initiative, which would have raised the minimum age of purchase, as well as required safe storage and more stringent background checks for semi-automatic rifle buyers, was taken off the ballot after a Thurston County Superior Court judge said the font on the initiative was too small and the changes weren't clearly marked.
The decision is being appealed.
APIII leader John Valle said the so-called Spokane Liberty or Death rally was organized in coordination with the group Patriot Prayer, which held a rally of the same name Saturday in Seattle, drawing counterprotests and a few arrests but ending without conflict.
He said while APIII was working with Patriot Prayer they aren't affiliated. He emphasized APIII is not an anti-government group or a militia and does not support white nationalism or extremist views.
He added the court's decision to exclude I-1639 from the ballot may have reduced turnout for the rally, but it was still important to show opposition as it goes through the appeals process.
Several local lawmakers, including Spokane City Councilman Mike Fagan, 6th District candidate Jenny Graham, Spokane County Prosecutor Larry Haskell and Rep. Matt Shea, R-Spokane, spoke at the event. A representative from the campaign for Rep. Cathy McMorris Rodgers, R-Wash., spoke briefly and distributed signs.
Fagan spoke in favor of the campaign he is running with his father, Jack Fagan, and Tim Eyman to reduce car tabs to $30, and praised the attorneys who argued against I-1639 in court.
While addressing attendees, Shea defended gun rights and free speech, and criticized the media, calling journalists – including those at the event – "dirty, godless, hateful people."
Members of the 63rd Lightfoot Militia also attended the event.
Local journalism is essential.
Give directly to The Spokesman-Review's Northwest Passages community forums series -- which helps to offset the costs of several reporter and editor positions at the newspaper -- by using the easy options below. Gifts processed in this system are not tax deductible, but are predominately used to help meet the local financial requirements needed to receive national matching-grant funds.
Subscribe now to get breaking news alerts in your email inbox
Get breaking news delivered to your inbox as it happens.
---