News > Nation
Trump says he 'won't let' social media target conservatives
Sat., Aug. 18, 2018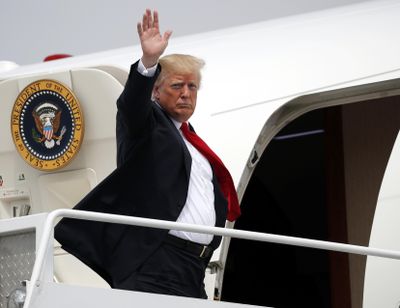 BRIDGEWATER, N.J. – President Donald Trump is accusing social media companies of "totally discriminating against Republican/Conservative voices" and says "we won't let that happen."
Trump's Saturday morning tweets come as companies have been working to ban right-wing "Infowars" conspiracy theorist Alex Jones from their platforms.
Apple, YouTube and Spotify have permanently removed some of his content, Facebook has suspended him for 30 days and removed some of his pages, while Twitter has given Jones a weeklong timeout and is mulling deeper changes to try to limit the spread of fake news, misinformation and hate speech.
Trump did not mention Jones by name in his tweets, which complained that, "Too many voices are being destroyed, some good & some bad."
Trump appeared on Jones' program during the 2016 campaign and praised his "amazing" reputation.
Local journalism is essential.
Give directly to The Spokesman-Review's Northwest Passages community forums series -- which helps to offset the costs of several reporter and editor positions at the newspaper -- by using the easy options below. Gifts processed in this system are not tax deductible, but are predominately used to help meet the local financial requirements needed to receive national matching-grant funds.
Subscribe to the Coronavirus newsletter
Get the day's latest Coronavirus news delivered to your inbox by subscribing to our newsletter.
---