News > Weather
Spokane air quality reaches 'hazardous' range
Aug. 19, 2018 Updated Sun., Aug. 19, 2018 at 11:35 p.m.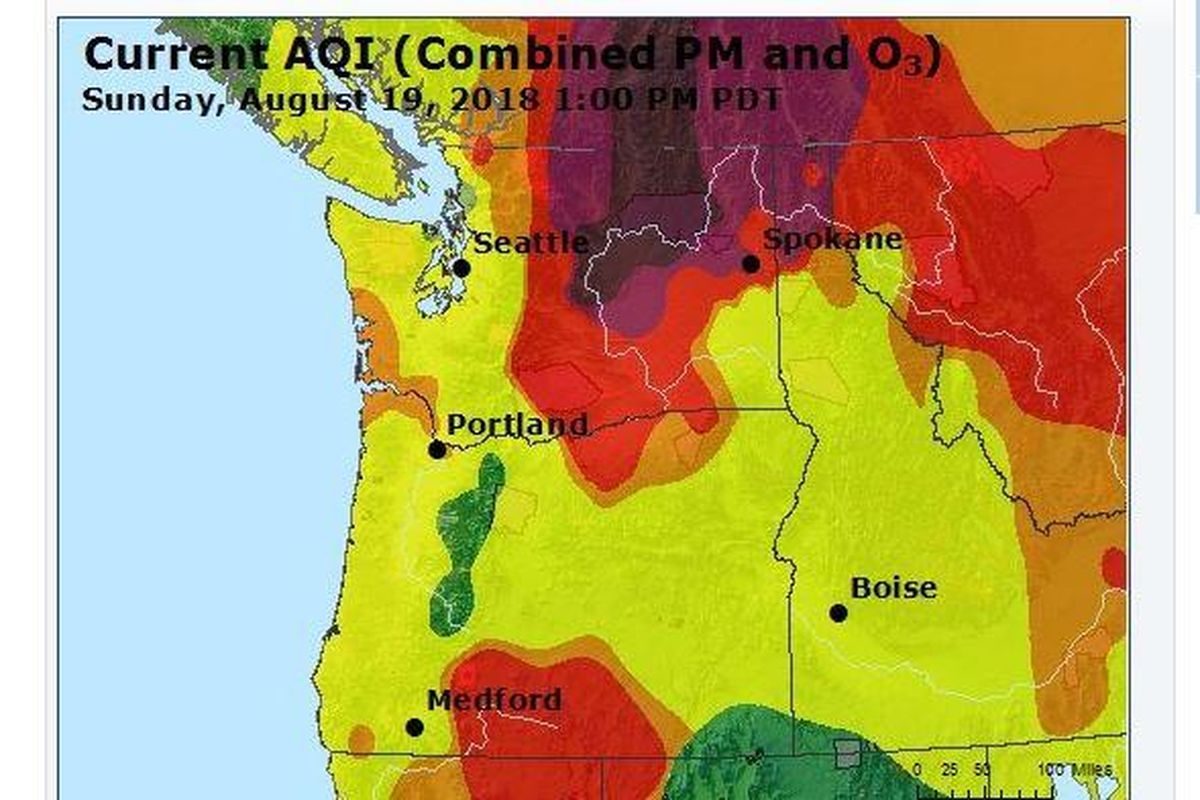 Air quality in Washington State ranges from moderate to hazardous, with the worst conditions in the center of the state. (AirNow)
Air quality in Spokane has tipped into the "hazardous" range, and regional air quality monitors caution anyone, regardless of health, from exerting themselves outdoors.
The air quality index stood at 307 as of Sunday evening, according to the Spokane Regional Clean Air Agency. The maroon-colored rating means that all people, regardless of physical condition or age, will likely be affected.
It's the worst air quality level Spokane has reached this year.
The smoke could clear by midweek thanks to cooler temperatures and cleaner west winds, according to a National Weather Service report Sunday.
But until then, hazy conditions are expected to continue through the early part of next week, according to a KHQ weather report, and fire alerts will be active due to gusting winds of up to 40 mph.
Cooler temperatures are expected for Monday, reaching into the 80s Tuesday and Wednesday before falling again later in the week.
The haze caused Gonzaga and Eastern Washington universities to cancel soccer matches Sunday. Gonzaga was set to play California State University, Bakersfield at Luger Field at noon. There will be no makeup date for the match, according to Gonzaga's website. Eastern Washington women's soccer rescheduled a match with Seattle University for Monday at 1 p.m. at Championship Field in Seattle.
National air monitoring group AirNow released a map Sunday showing conditions in Washington and, directly north of the border, in Canada to be the worst on the North American continent. Conditions in central Washington were particularly bad.
The Tuxedo Junction concert, scheduled to take place at the Arbor Crest Wine Cellars on Sunday, had been canceled due to the air quality, event organizers said.
"We appreciate your understanding and support, and we especially appreciate the firefighting communities out there!" the business said in a news release.
The hazardous level was seen in Chelan County last week, which prompted officials to distribute masks.
Last year saw several days of hazardous air quality in September, with Spokane pinned between wildfires to the north, south and east.
Local journalism is essential.
Give directly to The Spokesman-Review's Northwest Passages community forums series -- which helps to offset the costs of several reporter and editor positions at the newspaper -- by using the easy options below. Gifts processed in this system are not tax deductible, but are predominately used to help meet the local financial requirements needed to receive national matching-grant funds.
Subscribe now to get breaking news alerts in your email inbox
Get breaking news delivered to your inbox as it happens.
---