Lost Summer: Wildfires make August campfires an endangered species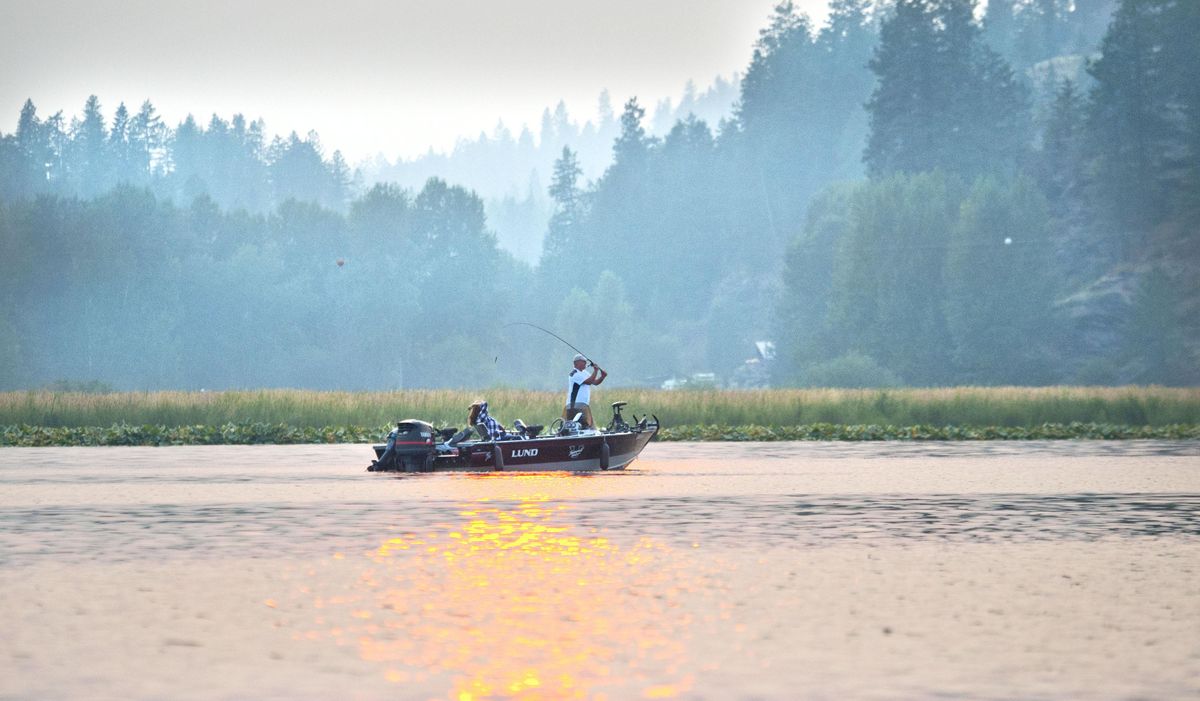 The month of August in the Northwest once meant campfires, visits to deep lakes warmed by months of sun, and last-chance vacations before school ended outdoor adventures.
But for three of the last four summers, hot weather with little rain has made August synonymous with burn bans, catastrophic wildfires and skies filled with so much smoke that it has forced families to rethink plans to avoid choking air.
"I never remember being told as a kid that we couldn't go out and play," said 48-year-old Ruth Gifford, who has lived in Montana, Idaho and Washington. "You go camping to roast marshmallows. S'mores are, like, huge. Now we're supposed to do it over a camp stove? Who wants to make s'mores over a camp stove?"
Just this week, the National Weather Service's branch in Seattle announced that Washington had the worst air quality in the country, providing a graphic showing that most of the Evergreen State had air quality levels at either unhealthy for sensitive groups or unhealthy for everyone.
The air in Spokane on Friday finally improved above "unhealthy" for the first time all week. But the Spokane Regional Clean Air Agency still warned sensitive groups against outdoor activity, and officials suggested air quality is likely to worsen again.
"It is disheartening to see that and see how it affects people's health and their ability to go out and enjoy the outdoors," said Lisa Woodard, spokeswoman for the agency. "It certainly makes you appreciate the 80 percent of days we do have good air quality."
Public Lands Commissioner Hillary Franz said much of the smoke blanketing Washington has come from fires in Canada and California.
Franz oversees about 3,500 firefighters in Washington, who together have responded to 1,139 fires so far this year. With several weeks of the peak fire season remaining, she fears the number of fires could overtake 2015, which had 1,835 wildfires across the state.
"We all look forward to summer weather … getting out of school and the opportunity to go play all day," she said. "Now we have this sort of gray, bleak, pale sky that is now plaguing every corner of our state. It's become the new norm."
Some 96 percent of the state is experiencing drought, and even the normally temperate West Side has set a record this year with the number of days that exceeded 85 degrees, she said.
The changing weather patterns, forest management practices and other factors have left about 2.7 million acres of timber suffering from either disease, drought or insect infestations that provide even more fuel for fires. The dry conditions allow lightning strikes to spark fires in addition to the human-caused blazes, which still account for some 85 percent of the problem, Franz said.
"My hope is that we can make significant progress in the forest health crisis and help reduce the fires," she said. "It took many years to create the problem and it will take many years to get on top of it. I think this is our new reality."
Endangered dessert
The smoke and fire danger has prevented campers from sitting around fires and smashing Graham crackers around roasted marshmallows and chocolate.
"My favorite dessert is s'mores," Franz said. "You can give me everything from chocolate sundaes to tiramisu to tort and I'll take s'mores over everything."
As a child growing up near Portland, Franz said she couldn't wait for August's dry weather to go camping.
But the drier, warmer weather has doubled the length of wildfire seasons across the state even though the annual budget to fight them has only increased $2.5 million since 2008, she said.
"I'm having to fight fires across a larger area … with the same amount of equipment and resources," she said. "We are setting up our state and our team for failure."
Franz said she has been focusing on placing air resources close to areas in central and Eastern Washington that are prone to having large fires.
"My hope is we can still do everything … with the resources we have to keep (the fires) small and put them out," she said. "My firefighters have been fighting fires with very little break since April."
Given the inherent danger, Franz said her kids have resorted to making s'mores in the microwave.
"I know it's not the same," she said. "In doing so, we will keep our firefighters and the public safe, which is our No. 1 priority."
For Gifford, of Spokane, the smoke has made her rethink all of her outdoor activities.
"Do I go out and do a hike? This is unhealthy air for everyone," she said. "Am I going to risk that? You try to take it seriously but we are still trying to function at the same time."
Gifford, who is married to Department of Natural Resources spokesman Guy Gifford, grew up in Montana with a father who sought out camping places away from everyone else.
"He was also teaching us to be careful with fire and put it out and have safety equipment there," she said. "That's a huge impact of going camping and not having a campfire.
"One of my favorite memories is having hot trout in Yellowstone National Park," she continued. "We grilled the fresh fish over the fire. To this day, fish doesn't taste quite as good if it's not cooked over that smoky fire."
Economic impact
Even though the smoke prevented Katie Ailor from seeing all the way across Priest Lake, it didn't stop throngs of people from paddleboarding, swimming and playing on the beach at Hill's Resort, she said.
"We haven't really had too many people let it affect their time at the lake," she said. The smoke "has become kind of the norm, but this is nothing like it has been in years past. Last year was really bad."
Ailor grew up in Clark Fork, Idaho, and has worked at Hill's Resort for the past 19 years.
"I was always able to have campfires" growing up, Ailor said. "I'm from a Forest Service-firefighting family. My dad is in California on another fire."
While Hill's Resort keeps humming, the smoky Augusts have had a major impact at Silverwood Theme Park near Athol, said Jordan Carter, Silverwood's marketing director.
"The best August we ever had was in 2011," he said. "We have slowly declined, with the biggest difference in 2015. That was the big fire season. Since then, we have been well below average for the month of August."
While the smoke has been consistent this year, the attendance numbers have rebounded.
"It looks like it's going back to what it was in 2011 or 2012 when we were well above average," he said. "It's been interesting."
Still, all things have not been rosy for the park, which does half of all its business between July 1 and the third week of August. That coincides with the peak fire season.
"I have seen on social media … a lot of people canceling their trips because of the smoke. But we are not seeing it in the attendance levels, overall," Carter said. "Our tourism people are coming. They have already booked their trips. It's the local people who can push it back a week who may be holding back."
Just like Ailor, Gifford and Franz, Carter, 28, was raised camping in the Northwest. He grew up in Seattle and attended college in Portland before coming to Idaho for work.
"August was the time you try to fit in that last summer vacation before you got back to school," he said. "I think we have seen (the smoke) become the new norm in the last three or four years.
"I wish I had an answer," he continued. "But it seems like central Washington is going to have wildfires and Canada is going to have wildfires and all that smoke is, unfortunately, going to blow towards us."
---