News > Spokane
100 years ago today in Spokane: Whitworth College trustees turn school over to government for military training use
Wed., Aug. 22, 2018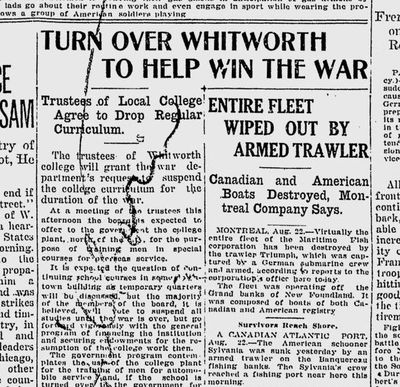 The trustees of Whitworth College agreed to allow the school to become a military training college for the duration of the war.
They agreed to suspend the regular college curriculum and offer the entire college campus to the government "for the purpose of training men in special courses for overseas service." The courses would be mostly in automobile service and mechanics.
This came at the request of the War Department, which had sent representatives to the campus earlier and "reported the plant (campus) as ideal for the work contemplated."
"It is expected that 1,500 men will be trained in the institution before next June," the Spokane Daily Chronicle said.
From the Wobbly beat: Wobbly leader W.E. Hall was defiant in captivity.
"I will accomplish this end if I am shot down in the street," Hall told a federal commissioner at a hearing.
He was suspected of attempting to foment a general strike. Spokane police arrested him with a trunk full of Wobbly literature and pamphlets. He had come from Chicago and had stopped in Butte to meet with Wobbly leaders there. He was bound for Seattle when he was arrested.
Hall said believed that if the laboring men of the nation would unite in a strike, the government would be forced to release all of the Wobbly leaders recently convicted in Chicago.
Hall was bound over to a federal grand jury on a charge of violating the Espionage Act.
Local journalism is essential.
Give directly to The Spokesman-Review's Northwest Passages community forums series -- which helps to offset the costs of several reporter and editor positions at the newspaper -- by using the easy options below. Gifts processed in this system are not tax deductible, but are predominately used to help meet the local financial requirements needed to receive national matching-grant funds.
Subscribe to the Coronavirus newsletter
Get the day's latest Coronavirus news delivered to your inbox by subscribing to our newsletter.
---