News > Spokane
7 law enforcement officers recognized for domestic violence work by Spokane YWCA
Aug. 23, 2018 Updated Fri., Aug. 24, 2018 at 10:30 a.m.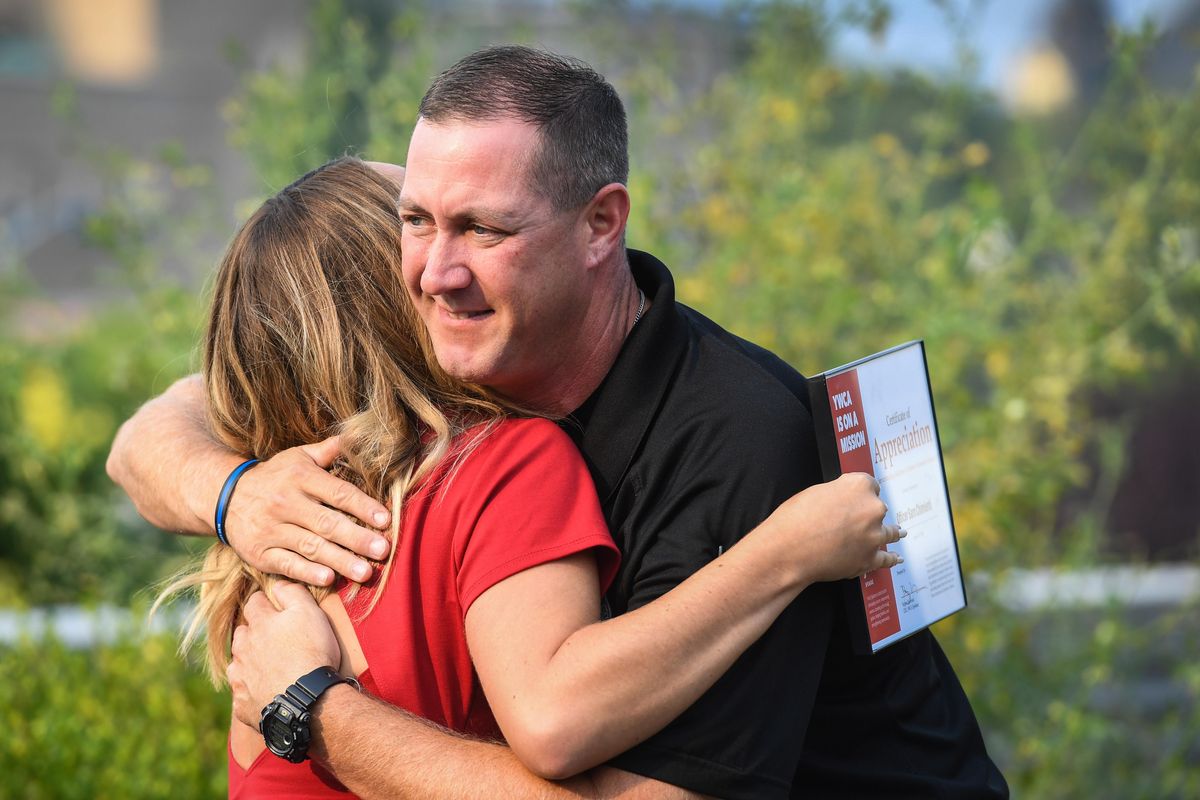 Spokane police Officer Sam Chimienti embraces Emily Morgan after he is recognized by the YWCA legal team as an honoree at the at the 5th Annual Law enforcement Appreciation Breakfast, Thursday, Aug. 23, 2018. Honorees were nominated bases on their professionalism, compassion and and positive impact on the lives of survivors of domestic violence. (Dan Pelle / The Spokesman-Review)
YWCA legal advocate Kami Schiller started her speech with a smile.
But halfway through, as she told the crowd how Spokane County Sheriff's Detective Mike McNees cleared his busy schedule to help a woman and her son report a domestic violence incident, the tears started to well. Then the levee broke.
"This is why I just plan the events and not do the speeches," she said, taking a pause as the audience laughed in support. "I don't like this part."
Schiller was one of several YWCA advocates to recognize area law enforcement Thursday morning at the fifth annual Law Enforcement Appreciation Breakfast at the organization's West Central building on Monroe Street.
Attended by several law enforcement personnel, including Sheriff Ozzie Knezovich, the organization honored Officers Sam Chimienti, Shawn Tylock and Todd Brownlee; Deputies Greg Snyder and Darrin Powers; and Detective Mike Ricketts for impacting the lives of domestic violence survivors.
YWCA Spokane CEO Regina Malveaux said "this day is really about acknowledging those who do an exceptional job working in law enforcement."
She said a victim's first interaction with an officer typically sets the stage for how willing they are to cooperate moving forward. Given that, she said, it's integral that law enforcement go above and beyond in those situations.
"We see you," she said. "We see the extra commitment."
Detective Ricketts, who's been a member of the sheriff's office domestic violence unit for four years, was just the second person to receive the organization's "Jackie Bell Award," named after Jacqueline Elizabeth Bell, who died at age 47 in February 2017. The first was given last year.
"I'm extremely honored," Ricketts said. "I've worked in all kinds of task forces throughout the years. And this is just an exceptional place to work."
Local journalism is essential.
Give directly to The Spokesman-Review's Northwest Passages community forums series -- which helps to offset the costs of several reporter and editor positions at the newspaper -- by using the easy options below. Gifts processed in this system are not tax deductible, but are predominately used to help meet the local financial requirements needed to receive national matching-grant funds.
Subscribe now to get breaking news alerts in your email inbox
Get breaking news delivered to your inbox as it happens.
---