News > Spokane
Crescent Mountain fire continues to grow, spewing smoke across the state
Aug. 23, 2018 Updated Fri., Aug. 24, 2018 at 7:48 a.m.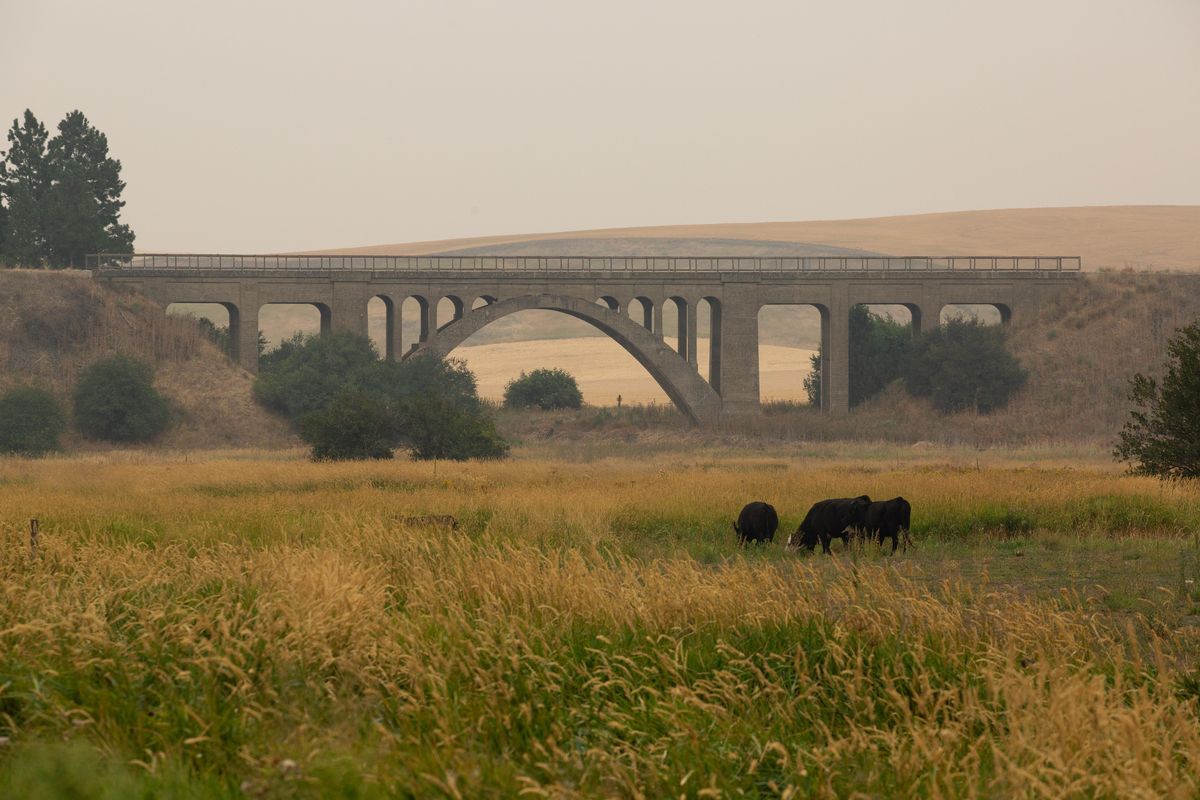 Cows on a farm in Rosalia, Wash. are seen through smoke on Aug. 20, 2018. Most of Washington state was hit with smoke from wildfires, and as winds from Canada blew south and large fires continue to burn the center of the state, air quality remains smoky. (Libby Kamrowski / The Spokesman-Review)
One of Washington's largest and longest-burning wildfires continues to grow in central Washington, forcing evacuations and sending spires of smoke into the atmosphere.
The Crescent Mountain fire, which began July 29 about 21 miles west of Twisp in Okanogan County, has grown to about 33,000 acres as it continues its eastward trek, said Todd Schroeder, information officer for the fire.
On Aug. 17 and again on Tuesday, Okanogan County Emergency Management called for mandatory evacuations for a total of 179 residences in wooded areas west of town. The postings remained in place Thursday.
The slow-moving fire has drawn statewide concern as smoke from it and another fire burning nearby – the McLeod fire, burning at 17,000 acres – has blanketed much of the state. As winds pushed east Thursday through the evening, meteorologists predicted more smoke from the two blazes would settle into Eastern Washington.
The fire has even drawn national – or in this case, planetary – attention. On Tuesday, NASA posted a satellite photo showing the fire's unique impact on what is already one of the state's worst air quality seasons.
"Washington's Crescent Mountain fire is spewing copious amounts of smoke into the atmosphere," the space agency said. "This NASA image shows the huge plume rising from the fire and drifting along the jet stream. The skies above Washington state continue to be obscured by this smoke and the smoke from other fires around the state, as well as from Oregon and California wildfires."
Schroeder said firefighters have been able to contain about 34 percent of the fire, though winds Wednesday night and Thursday contributed to more growth. Thursday morning, he said the eastern edge was sitting on Scaffold Peak west of Twisp but hadn't yet moved toward the valley, where there are structures and homes.
So far, no structures have been lost and no injuries are reported.
"The fire is up high on the peak," he said. "Crews are just trying to keep it there."
The McLeod fire, Schroeder said, is 5 percent contained. A total of 538 fire personnel worked on it Thursday.
Due to wind and heavy wildfire smoke, Schroeder said crews haven't been able to rely on aircraft support. If it clears, he said they planned on attacking it from the air with helicopters.
Editor's note: This story was changed on Friday, Aug. 24, 2018 to correct which direction winds pushed smoke from the fire on Thursday.
Local journalism is essential.
Give directly to The Spokesman-Review's Northwest Passages community forums series -- which helps to offset the costs of several reporter and editor positions at the newspaper -- by using the easy options below. Gifts processed in this system are not tax deductible, but are predominately used to help meet the local financial requirements needed to receive national matching-grant funds.
Subscribe now to get breaking news alerts in your email inbox
Get breaking news delivered to your inbox as it happens.
---