News > Spokane
Landmarks: Maggie Rail researched hundreds of cemeteries in Northwest, beyond; she died April 26 at age 84
Thu., Aug. 23, 2018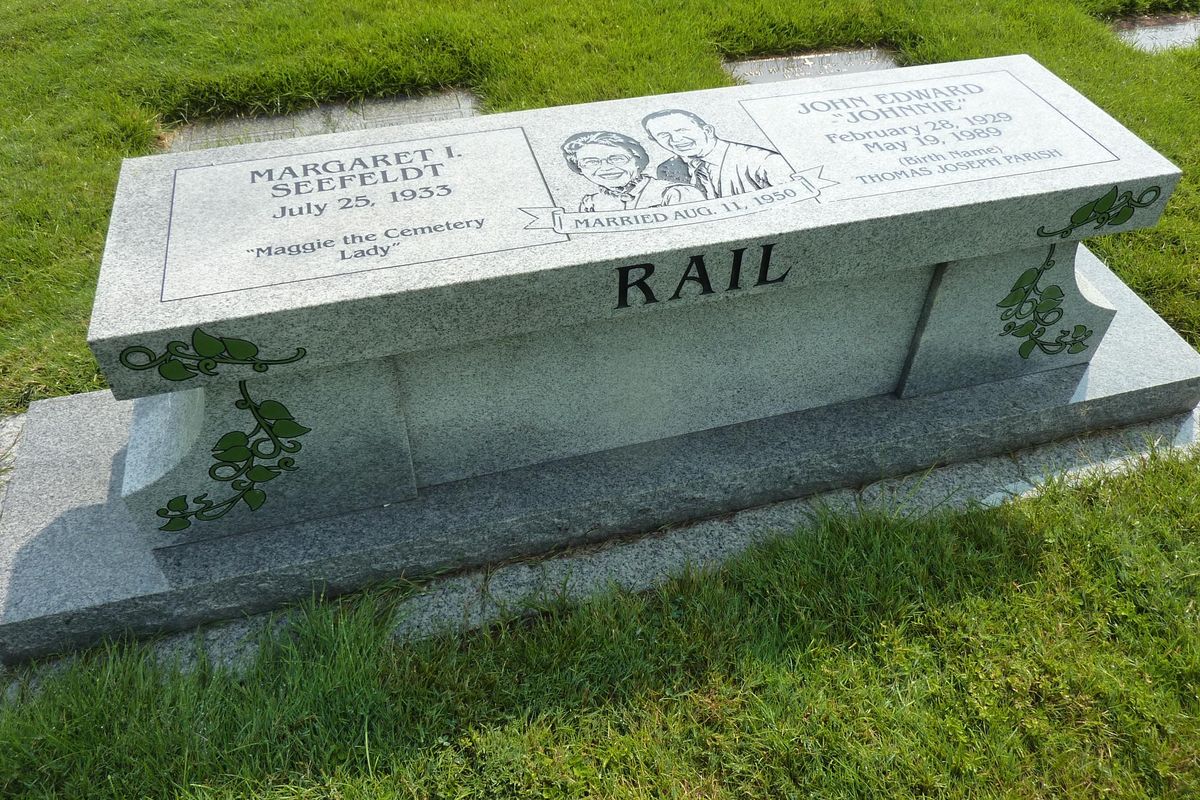 The gravestone for Maggie Rail, "the Cemetery Lady," and her husband at Greenwood Memorial Terrace. The region's most prolific cemetery researcher died April 26, 2018, and that date is soon to be recorded on the stone. Her tireless work reading cemeteries and recording, updating and correcting records in numerous states has been of great value to genealogists and families seeking historical information. (Stefanie Pettit / The Spokesman-Review)
Anyone who has spent much time trying to locate ancestors in any of the hundreds of cemeteries of Eastern Washington and North Idaho – and elsewhere – have likely utilized research done by Maggie Rail, whether they know it or not.
For the past two decades she scoured records, interviewed landowners, located sextons and personally "read" cemeteries to properly locate and verify where people are buried. There are various terms for the on-site work she did – reading, walking, surveying or inventorying a cemetery. She would take her briefcase, notebooks, camera and a brush (to clean off headstones) to do her work – for big cemeteries or small. In good weather and bad, even as her health failed.
Her voice has been silenced now, but it is estimated she completed work on more than 400 cemeteries – including some in Australia, British Columbia, Montana, South Dakota, Wyoming and Oregon. She was generous with her work, establishing her own website, mrail.net, wherein she listed cemeteries, who is buried there (including dates of birth and death), information about the cemeteries themselves and where additional information can be found.
Margaret Irene (Seefeldt) Rail was born July 25, 1933, in Chewelah, Washington. She married John Rail and raised five children with him in Spokane. She died at age 84 on April 26. The stroke she had and the more recent heart attack had slowed her down, but she never missed a function in Hillyard.
"She was a Hillyardite through and through," said Paul Manly, president of the Hillyard Evergreen Cemetery Association, of which Rail was a charter member of the board when it was formed in 2012. At a recent meeting of the board, members remembered her contributions to cemetery transcription, genealogy and records research – plus everything she gave to Hillyard, including helping set up the food bank at St. Peter's Lutheran Church.
"She seemed to know everything that was knowable about any cemetery she researched," said board member Mary Holcomb. "Someone would bring up a name or try to recall a story about one, and she'd say 'Oh, I know that,' and would tell us the story."
Her interest began when she was in her mid-60s when she wanted to find information about the Spangle Cemetery, where her great grandparents were buried, and she met a man who was a cemetery reader. According to a published interview in 2000, she told him she could not see herself trudging through cemeteries and rather expected she could get what she needed from printed records.
It never turned out quite that easy, and after copying cemetery sexton records, she often found she needed to read the cemetery herself. She later wrote that when she found out where all the cemeteries were in Spokane County, "in short order I caught the disease. After I would finish one cemetery, I had to go find and read another," she said. She did work in 13 counties in Washington and eight in Idaho – plus her work in other states.
She also researched and transcribed records of about a dozen cemeteries which no longer exist, plus 37 which were flooded when Grand Coulee Dam was built. She knocked on people's doors for access because some small cemeteries are located on what is now private property or only have access through private farmland.
She volunteered her services for the Washington State Genealogy website, wagenweb.org/, then she reformatted it all for Interment.net, which she edited from 2000-13. All along she went out to read cemeteries – from such large ones as Greenwood Memorial Terrace in Spokane to the tiny Lance Hill Cemetery southwest of Cheney, always providing extra information should anyone need it.
Of Lance Hill she wrote: "I walked this cemetery on Apr 14, 1999, and combined my readings with the current sexton files taken care of by Ron Mill. His mother was the previous and only sexton prior to Ron. No sexton files existed previous to 1970 except for reading of the headstones and a few added from obits or death certificates. I returned to the cemetery on Jul 16, 2005, using a digital camera …"
She cleaned off gravestones with her brush but found that her hand worked just as well. Besides, she once said, "I left it (the brush) on a headstone in a Colville cemetery."
Rail clearly wore her unofficial title of "the cemetery lady" with pride.
She provided photos to people upon request, never charging anyone for information or photos or anything. In addition to setting up her website, which has free public access, a story about her in the July 27 Washington Secretary of State blog post "From Our Corner" notes that Maggie Rail was "the largest single provider of cemetery data to the Washington State Digital Archives" and that "today her work makes up the bulk of recorded cemetery metadata on the Digital Archives."
The story also observed that she was not shy at pointing out when the archives hadn't updated her new data or corrections to old information. Her friends in Hillyard smile at that. "She was feisty and vocal," Pat Ayers said. "Definitely a forceful personality," Mary Holcomb added, "when she talked with government people, they'd say, 'Yes, ma'am!' "
This past Memorial Day some members of the Evergreen board were searching the cemetery for some of the "lost" graves. Dirt, sand, pine needles and Mount St. Helens ash have covered many of the small stones or tiny brick grave markers. The group took knives, machetes and other metal implements to poke into the ground in a section near the highway – and located two bricks in the ground of the cemetery, the cemetery that Rail had read and researched and compiled the roster of those buried there.
The newly found bricks were for Barbara Jean Cook, who died at 2 months old in 1939, and Baby Rosenhoff, who was stillborn in 1935.
"They were on the list, but we had no location for them," Paul Manly said. "And now we do. Maggie would have liked that."
Send story ideas about historic sites, buildings and monuments that often go unnoticed to Stefanie Pettit at upwindsailor@comcast.net.
Local journalism is essential.
Give directly to The Spokesman-Review's Northwest Passages community forums series -- which helps to offset the costs of several reporter and editor positions at the newspaper -- by using the easy options below. Gifts processed in this system are not tax deductible, but are predominately used to help meet the local financial requirements needed to receive national matching-grant funds.
Subscribe now to get breaking news alerts in your email inbox
Get breaking news delivered to your inbox as it happens.
---