News > Local government
Lisa Brown addresses Social Security, debt, campaign ads at Spokane Valley Event Center
Aug. 23, 2018 Updated Thu., Aug. 23, 2018 at 11:19 p.m.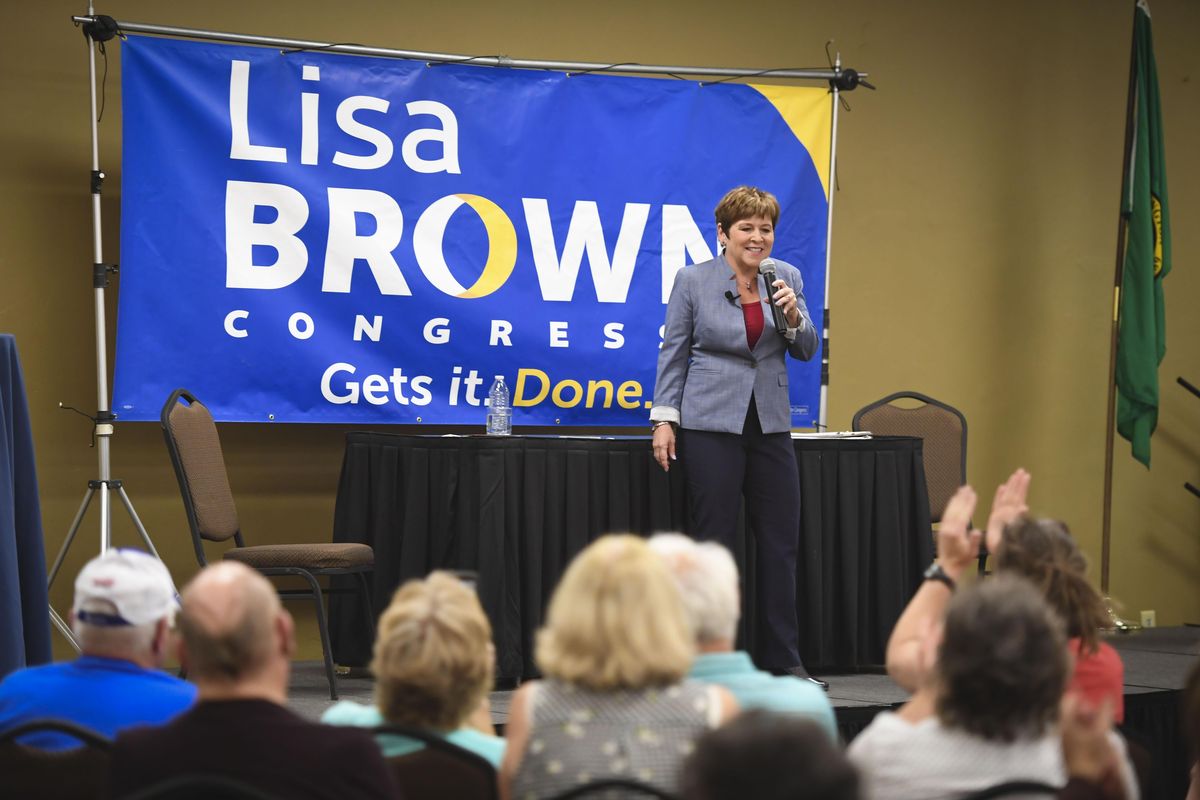 Congressional candidate Lisa Brown addresses a crowd of supporters Thursday during a community forum at the Spokane Valley Event Center. (Dan Pelle / The Spokesman-Review)
Democratic congressional candidate Lisa Brown made the case for her candidacy to an audience of about 300 potential voters Thursday night at the Spokane Valley Event Center, listening to audience concerns about Social Security and health care.
Before Brown answered questions from the audience, she gave the crowd about 30 minutes to share their priorities. Several audience members expressed concern for civility in politics, bringing up attacks from politicians on the media and ads from her opponent, Republican Rep. Cathy McMorris Rodgers, that claim Brown was soft on sex offenders. Other audience members shared their concern for Social Security and asked for Brown to consider supporting universal health care.
After listening to audience comments, Brown spoke of being a first-generation college student with a family that held a range of political opinions. She decried political polarization between rural and urban areas, saying most people are only a generation away from life in the country.
Brown also addressed ads by McMorris Rodgers' campaign criticizing her for past votes on taxes and sex offenders, saying personal attacks and name calling were unnecessary.
"The … preposterousness of the ads shows a certain amount of desperation and how low people will go to try and win an election," Brown said.
Overall, Brown lost by about 4 percentage points in the primary, but did finish in the lead in Spokane County. She is the first Democrat to carry Spokane County in a primary since 2004. Brown said her opponents likely wouldn't have started negative ads before the primary if they weren't concerned.
Brown also criticized Congress' recent tax cuts for corporations, lack of action to regulate money in politics and the "revolving door" between politicians, campaigns and lobbyists. She called on Congress to address alleged Russian interference in the 2016 election and criticized President Donald Trump's disruption of trade agreements and the new tariffs he implemented. She said the money the White House has budgeted for farmers hit by the tariffs will never be enough to cover the losses multiple industries across the United States may face.
Throughout the evening, audience members shared concerns about Social Security and the safety net for aging Americans. Brown addressed individual questions and discussed her concerns for the safety net separately.
Brown said her solution to sustaining Social Security was investing in young people. She suggested spending in education and other areas that would build the next generation of workers and increase the number of people consistently paying into the program. For baby boomers facing retirement in the next few years, she said the federal budget should be used to shore up the fund. She said Congress needs to continue making payments to Social Security, regardless of the national debt.
"The national debt and the fiscal irresponsibility of the current Congress is a real concern," she said. "But we don't have to address it by going after those very vital programs like Social Security and Medicare."
Local journalism is essential.
Give directly to The Spokesman-Review's Northwest Passages community forums series -- which helps to offset the costs of several reporter and editor positions at the newspaper -- by using the easy options below. Gifts processed in this system are not tax deductible, but are predominately used to help meet the local financial requirements needed to receive national matching-grant funds.
Subscribe now to get breaking news alerts in your email inbox
Get breaking news delivered to your inbox as it happens.
---