Sports > NCAA football
Oklahoma WR Marquise Brown more than a speedster this year
Thu., Aug. 23, 2018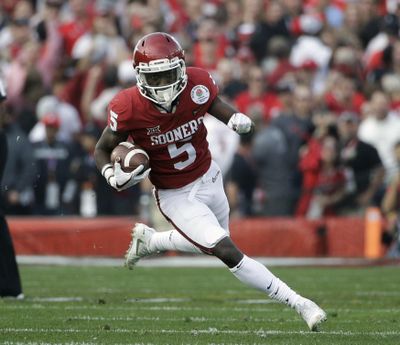 NORMAN, Okla. – Marquise "Hollywood" Brown showed up to Oklahoma with an exceptional gift that he relied on a bit too much.
Brown was used to blowing by people with his speed, so he kept doing it. The junior college transfer finished with 1,095 yards receiving last season in his first year with the Sooners – the eighth-highest yardage total in school history.
Even with all that success, coach Lincoln Riley said, Brown was still figuring out the nuances of the game. He enters this season a more complete player.
"His speed is such a weapon," Riley said. "Half the time (last season) it was awesome and half the time it was out of control and you were like, `What are you doing?' Now it's much more polished. It's so much more refined. He knows when to use it. He's gone from being a fast guy to really starting to become a good football player."
Brown didn't play against Ohio State last season and had just 18 catches the first six games before becoming the man announcer Gus Johnson calls "Hollywood" – a nod to Brown's Florida hometown and his eye-catching play.
He had six catches for 126 yards against Kansas State, then scored a touchdown against Texas Tech before he truly broke out with a school-record 265 yards and two touchdowns against Oklahoma State. He later caught eight passes for 114 yards and a touchdown in the College Football Playoff semifinal against Georgia.
He's beyond normal fast. Former Oklahoma quarterback Baker Mayfield said last season that Brown was faster than Dede Westbrook, the current Jacksonville Jaguars receiver who was timed at 4.34 seconds in the 40-yard dash at Oklahoma's pro day in 2017.
Brown's speed helped him catch touchdown passes of 87 yards against Tulane and 84 yards against Oklahoma State, the fifth- and ninth-longest receptions in school history. He also had a 77-yarder against Oklahoma State.
Brown figures teams will be more prepared to deal with his speed after watching film. To counter the extra attention he expects, he took several steps this summer to make sure there's more to his game. He spent time working out with Pittsburgh Steelers receiver Antonio Brown, put on muscle and improved his nutrition.
"Just being fast is not going to get you to everything," Marquise Brown said. "Being fast is going to get you by, but you're going to come across somebody who's just as fast as you, so you're going to have to use other tools."
Brown, listed at 5-foot-10 and 168 pounds, is noticeably more muscular this season. He says this is the strongest he's ever been.
"It made me a lot more comfortable coming across the middle, going up for balls," he said. "I feel more confident that if someone hits be good, I'm not going to get hurt."
Riley said Brown's mental game has improved, too.
"Just more consistent," Riley said. "He's a better every-down player. He understands what we're doing. He knows how to play in control."
Brown said he knows he'll be on Florida Atlantic's radar in the opener on Sept. 1, and that's fine with him. CeeDee Lamb caught 46 passes for 807 yards last season, and tight end Grant Calcaterra is a preseason all-conference selection. Running back Rodney Anderson also has proven to be a capable receiver.
"I mean it's hard to be a marked man in this offense," he said. "You mark me, then someone is going to go off."
Local journalism is essential.
Give directly to The Spokesman-Review's Northwest Passages community forums series -- which helps to offset the costs of several reporter and editor positions at the newspaper -- by using the easy options below. Gifts processed in this system are not tax deductible, but are predominately used to help meet the local financial requirements needed to receive national matching-grant funds.
Subscribe to the sports newsletter
Get the day's top sports headlines and breaking news delivered to your inbox by subscribing here.
---