News > Local government
Rep. Cathy McMorris Rodgers faces smaller, friendlier town hall crowd in downtown Spokane
Aug. 23, 2018 Updated Thu., Aug. 23, 2018 at 10:48 p.m.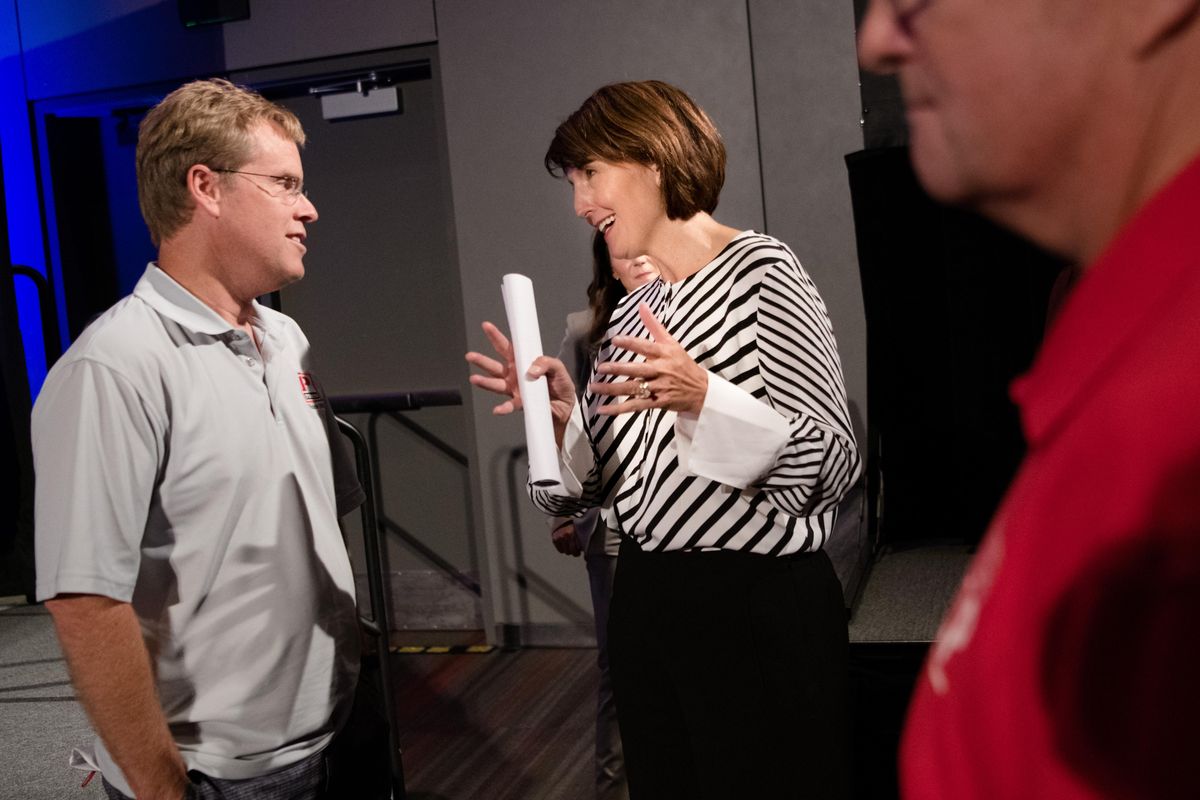 Cathy McMorris Rodgers speaks with Paul Schmidt about international trade issues after a town hall on Thursday, Aug. 23, 2018, at the Spokane Convention Center in Spokane, Wash. (Tyler Tjomsland / The Spokesman-Review)
A year removed from one of the most raucous town halls in her recent congressional career, Rep. Cathy McMorris Rodgers faced a relatively calm – and sparse – gathering Thursday night.
Whether it was the smoke or the crosstown draw of seeing Democrat Lisa Brown on stage in Spokane Valley, a room of 300 chairs at the Spokane Convention Center was about a third full for the congresswoman's annual Spokane town hall, and the most probing questions came from audience members watching on Facebook. Organizers said they'd handed out enough tickets to fill the room.
In response to two of those Facebook questions, McMorris Rodgers said she supported the Robert Mueller-led investigation into Russian meddling in the 2016 election, but believed "we need to get this wrapped up." She also addressed rumors of a presidential pardon for Paul Manafort, the former Donald Trump campaign manager found guilty this week of financial fraud.
"Do I support a pardon for Manafort? You know, that's a decision the president will make," McMorris Rodgers said, ignoring a follow-up question from the crowd whether she'd support the pardon.
McMorris Rodgers appeared at the downtown town hall in the midst of what is shaping up to be her toughest test to retain her seat in Congress. Even so, the Republican emerged from a tight five-way primary with a lead that widened to four points after election night – enough to convince at least one national forecaster to revise predictions back toward the incumbent.
The congresswoman said she, too, was surprised by the low turnout after the event.
"They took all the tickets, so I expected the room to be full," McMorris Rodgers said.
Anne Whigham, a lower South Hill resident and Brown voter, asked at the microphone about budgetary plans to cut Medicare and Social Security. A budget released by House Republicans in June would make changes to those programs as well as create a work requirement for Medicaid, but it's unlikely that proposal would make it to the floor. A similar plan crafted by Rep. Paul Ryan in 2011 in an attempt to balance the federal budget has been collecting dust.
"No one is talking about taking those benefits away, or cutting Medicare or Social Security right now," McMorris Rodgers said. "I don't know what proposal you're looking at."
Whigham protested from the floor, but was asked by the moderator not to follow up. McMorris Rodgers answered those questions by saying that she would strengthen Medicare by determining how to make it more sustainable.
Whigham said after the town hall that she wasn't impressed with the congresswoman's answer.
"They've turned the wording into entitlement, and I'm sorry, it's not an entitlement," Whigham said. "I've paid into it – it's much like an insurance – for 55 years."
Whigham said she learned about the town hall by following McMorris Rodgers' Facebook page.
Tomi Pintler, one of several supporters wearing a T-shirt with the congresswoman's name, said she switched to the Republican Party in 2012 after what she saw as Democrats trying to divide the country.
"She listens to what we have to say," Pintler said of the congresswoman. "She's a real person, and a good person who listens to what we have to say. She cares about women."
Several of the congresswoman's supporters took to the floor to speak, one of whom asked McMorris Rodgers if she was interested in the role of House Speaker. The congresswoman declined, saying she was focused on the district.
A new ad from Brown's campaign is attempting to seize on the view of McMorris Rodgers as a politician more concerned about the beltway than Eastern Washington. The tactic proved fruitful for George Nethercutt 24 years ago, when he unseated Rep. Tom Foley. But unlike other GOP leadership members, and Washington's two Democratic U.S. senators, McMorris Rodgers has appeared in the district annually for live events, in addition to telephone appearances.
Another Facebook question asked McMorris Rodgers what her stance was on term limits, an issue Nethercutt emphasized in his upset defeat of Foley, who'd been in Congress for 30 years.
"I believe that term limits take place every two years at the ballot box," the congresswoman said.
McMorris Rodgers will end the week with a private fundraiser Friday night featuring Kellyanne Conway, Trump's counselor, after another event last month that featured Rep. Devin Nunes, who has defended Trump in the Russian probe.
The congresswoman downplayed the idea that those appearances might constitute an attempt to appeal to the president's base.
"It wasn't calculated, let's put it that way," McMorris Rodgers said. "I had actually talked to Kellyanne about coming out last year."
Local journalism is essential.
Give directly to The Spokesman-Review's Northwest Passages community forums series -- which helps to offset the costs of several reporter and editor positions at the newspaper -- by using the easy options below. Gifts processed in this system are not tax deductible, but are predominately used to help meet the local financial requirements needed to receive national matching-grant funds.
Subscribe now to get breaking news alerts in your email inbox
Get breaking news delivered to your inbox as it happens.
---