Sports > Outdoors
Frustrated northeast Washington politicians meet after judge blocks killing of Togo pack wolves
Aug. 24, 2018 Updated Mon., Aug. 27, 2018 at 1:03 p.m.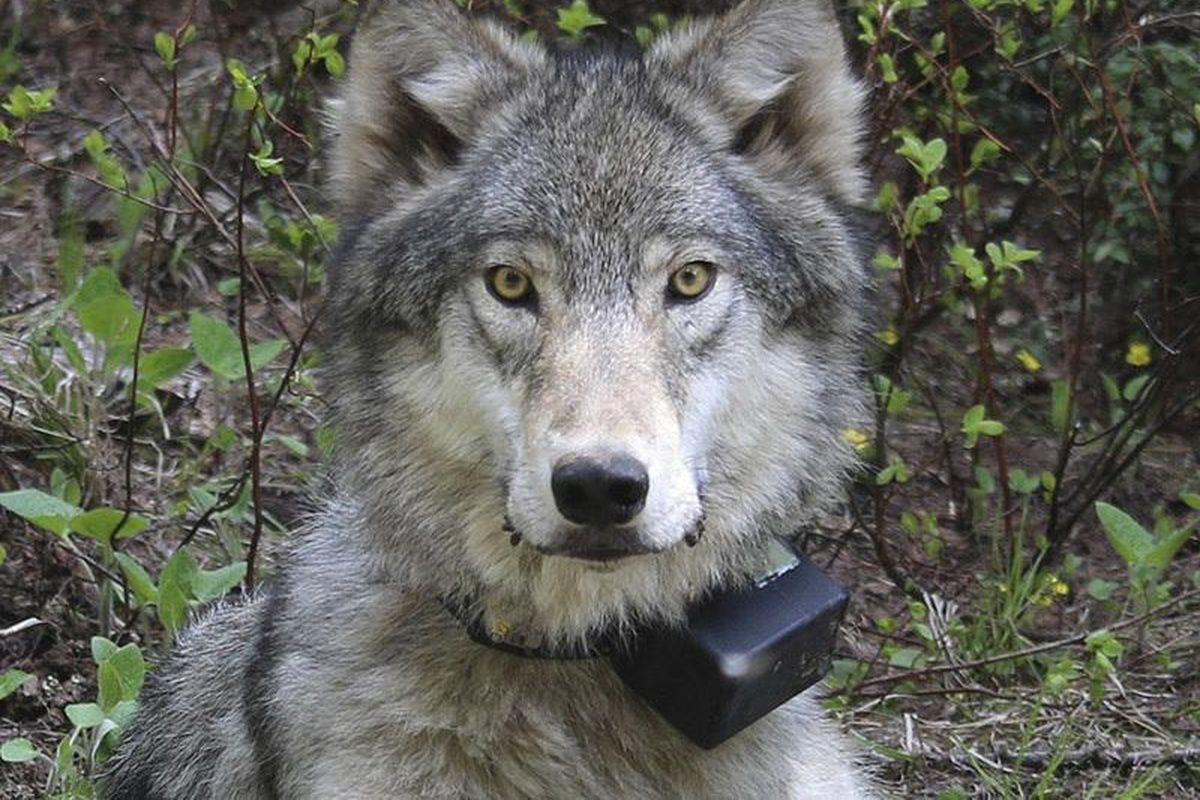 This March 13, 2014 photo provided by the Oregon Department of Fish and Wildlife shows a female wolf from the Minam pack outside La Grande, Ore., after it was fitted with a tracking collar. A pair of bills to encourage more people to kill wolves drew spirited debate at the Montana Legislature's Fish, Wildlife and Parks Committee Jan. 31. (Uncredited / AP)
Politicians and ranchers in northeast Washington are chafing after two environmental groups from outside of the state temporarily blocked the legal killing of members of the Togo wolf pack.
In response, county commissioners from Ferry, Stevens and Pend Oreille counties met Friday in Colville.
"The meeting today was to try and develop, I guess, a strategy to go forward figuring out how to give the people in these counties a little bit of relief," said Stevens County Commissioner Don Dashiell.
Commissioners discussed, among other things, taking legal action.
The meeting was held in Colville in advance of a Tri County Economic Development District meeting.
Of particular concern was whether a judge will extend the temporary restraining order blocking the Washington Department of Fish and Wildlife from killing members of the Togo pack.
The Thurston County judge is scheduled to make a decision next Friday.
"When the judge put the restraining order on the department he didn't put the restraining order on the wolves," Dashiell said.
On Monday, WDFW ordered the lethal removal of wolves from the Togo pack in northeast Washington. However, the Arizona-based Center for Biological Diversity and Oregon-based Cascadia Wildlands filed a lawsuit seeking a restraining order to stop the killing. The lawsuit alleges that WDFW "relied upon a faulty protocol and failed to undergo required environmental analysis."
The lethal removal order came after six documented cattle depredations in the past 10 months by the Togo pack. Three of those cattle kills occurred within the past 30 days. The most recent documented depredation occurred when one or more wolves injured a calf on a U.S. Forest Service grazing allotment in Ferry County.
WDFW's policy allows killing of wolves if they prey on livestock three times in a 30-day period or four times in a 10-month period. That policy was developed in 2016 by WDFW and its 18-member Wolf Advisory Group, which represents the concerns of environmentalists, hunters and livestock ranchers.
Seattle-based Conservation Northwest decried the lawsuit in a news release Thursday.
"Lawsuits and polarization haven't worked out well for wolves elsewhere, so we see little upside in spreading those tactics to Washington, where wolf recovery is going relatively well overall" said Mitch Friedman, Conservation Northwest executive director in a news release. "Instead of polarization, our focus is on collaboration and long-term coexistence."
All three Ferry and Stevens county commissioners attended the meeting. One Pend Oreille county commissioner also joined, as did state lawmakers, including Rep. Joel Kretz and state Sen. Shelly Short.
Ferry County commissioner Johnna Exner said the commissioners are considering legal action and will be working with county prosecutors to see what those options are.
Exner pointed out that the hearing on the temporary restraining order was filed in Thurston County, too far away for any ranchers or northeast politicians to attend.
"It was held way too far away for anyone to even get to the court date," she said.
The commissioners discussed other ways of alleviating the pressure on ranchers who they say are struggling to stay afloat because of wolf predations, Dashiell said.
One idea floated Friday was for WDFW to trap members of the Togo pack and hold them until the judge rules on whether the wolves can be killed or not.
Dashiell acknowledged that plan likely wouldn't work.
Another possibility, Exner said, would be if wolves were delisted at the state level which would give the counties more flexibility. Wolves remain federally protected in the western two-thirds of the state and protected throughout the state under state law.
Exner pointed out that WDFW waited a week before ordering the killing of the wolves. For ranchers the extra time means potentially more dead cows, she said.
"(We need) swifter action on the plan that has already been set," she said. "Both sides need to follow the plan."
Correction: This story incorrectly identified state Sen. Shelly Short's role in state government. She is a state senator.
Local journalism is essential.
Give directly to The Spokesman-Review's Northwest Passages community forums series -- which helps to offset the costs of several reporter and editor positions at the newspaper -- by using the easy options below. Gifts processed in this system are not tax deductible, but are predominately used to help meet the local financial requirements needed to receive national matching-grant funds.
Subscribe to the sports newsletter
Get the day's top sports headlines and breaking news delivered to your inbox by subscribing here.
---