News > Spokane
'Straight, mean vandalism': Grant Park's community garden sustains about $2,500 in damage
Fri., Aug. 24, 2018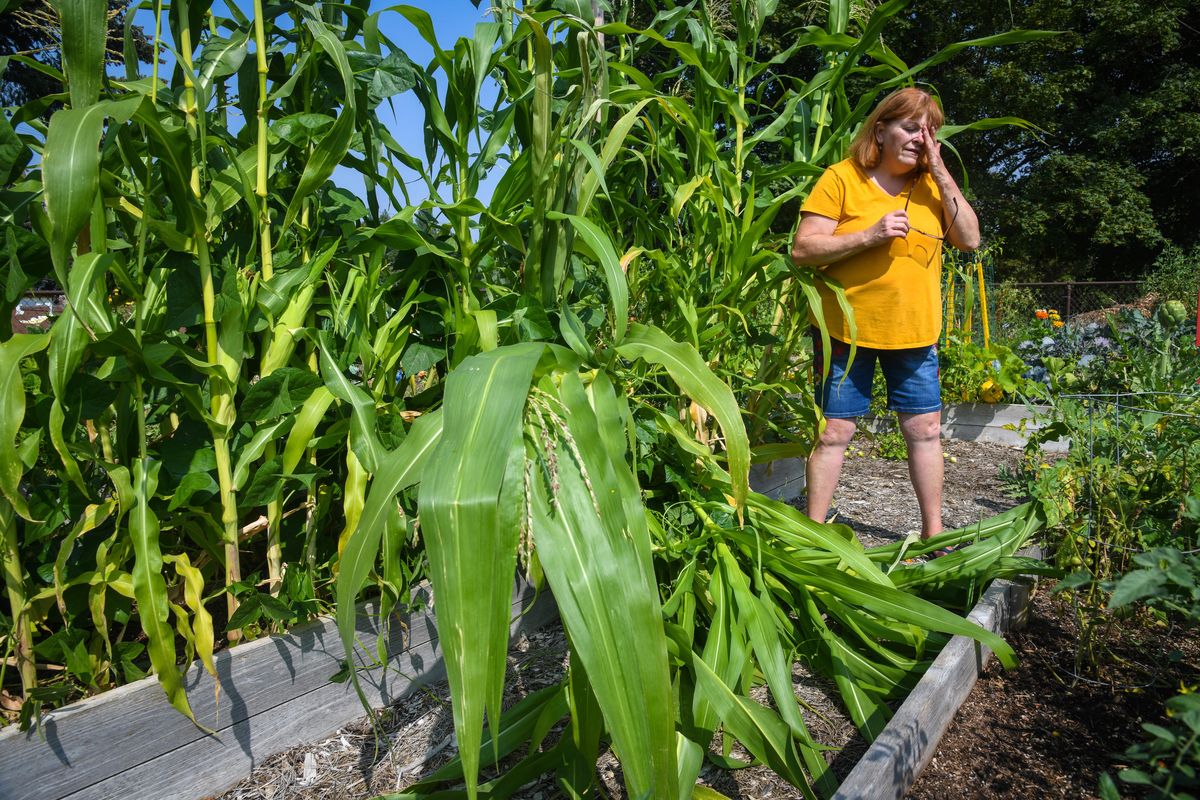 Garden manager, Peggy Parker, wipes her eyes while going over the vandalism to the community garden at Grant Park, Wednesday, Aug. 22, 2018. 42 of the 44 boxes had some damage to the plants said Parker. (Dan Pelle / The Spokesman-Review)
Peggy Parker encountered a scene of vegetable mayhem at the Grant Park community garden on Tuesday morning.
Squashes were smashed, eggplants were gone. Cabbages had been yanked out of the ground and hurled about. Cornstalks listed to the side. Tomatillas littered the walkway.
About $2,500 worth of damage occurred at the garden between 8 p.m. Monday and 8 a.m. Tuesday.
"It was straight, mean vandalism," said Parker, the garden's volunteer manager, who filed a police report. "The pathways were full of broken trellises and produce."
Vegetables were maturing in the raised beds, which local residents rent for $25 to $35 during the growing season. Forty-two of the 44 garden plots sustained damage.
It was a disheartening discovery for Parker and the other gardeners.
"It's discouraging when you go there when your vegetables are just getting ripe, and it's torn apart," said Dawn Wynne, a Perry District resident who has had a garden bed for two years.
Five years ago, Parker took over the garden's management. At the time, the garden was neglected and in danger of being closed by the city of Spokane. The retired naturopath, who grew up on a dairy farm, said she averaged 70 volunteer hours per week to rehabilitate the garden.
Weeds were banished and landscaping bark was laid down. The height of the beds was raised and the soil was amended. Each year, the garden's membership has a booth at the South Perry Street Fair. They sell handcrafted goods and raffle tickets to pay for tools and garden improvements.
Despite a 42-inch-high chain-link fence surrounding the raised beds, the garden has been a target of regular vandalism, Parker said. After repeated thefts of produce, she and other gardeners planted herbs and vegetables around the fence's perimeter.
Signs in five languages – including Russian and Arabic – invite people to harvest free produce outside the fence, but explain that produce from the raised beds should be left alone.
"We wanted people who needed food to be able to take it without having to steal," Parker said.
But earlier this year, someone tried to steal the garden's chain-link fence. Wheelbarrows and rakes were taken. And each year, the garden beds are raided and plants are damaged, Parker said.
An 8-foot fence and a security camera would solve some of the problems, Parker said. The garden's membership has talked to the city's Parks and Recreation Department, but officials there haven't been receptive, she said.
Fianna Dickson, Spokane parks spokeswoman, said city officials will continue to work with the gardeners on possible solutions.
"We would … want to ensure a taller fence was the right step to take," Dickson said in an email.
Principles for crime prevention through environmental design generally support shorter fences, with taller fences having the potential to exacerbate the situation, she said.
Security cameras are expensive to install, maintain and to operate, Dickson said. A high-speed connection and a large server are required to store images. And in low-light settings, the pictures often aren't distinct enough to identify suspects, Dickson said.
Wynne, who lives several blocks from Grant Park, said the vandalism coincides with what she calls a "darker side" to the park this summer. She's seen open drug deals there and isn't comfortable being around at dusk. With the Perry District in the midst of a revival, it's surprising to see crime on the upswing in the neighborhood park, she said.
Whether the recent damage was caused by kids or adults, "I wish I knew what was going on inside their heads," Parker said. "These are acts that seem angry."
Parker said she depends on the produce she grows. She makes salsa and pesto and preserves beans, tomatoes and cabbage.
"A lot of us who garden here do it for food security," Parker said. "We have a number of low-income gardeners. … But this year, I won't make a single batch of salsa."
Her tomato cages were tipped over during the recent vandalism. The plants' roots were damaged and the vines are wilting.
Parker is demoralized enough that she's evaluating whether she'll be involved with the garden next year.
"Most gardeners are holding their breaths every time they come here," she said. "I don't think I can take this another year."
Local journalism is essential.
Give directly to The Spokesman-Review's Northwest Passages community forums series -- which helps to offset the costs of several reporter and editor positions at the newspaper -- by using the easy options below. Gifts processed in this system are not tax deductible, but are predominately used to help meet the local financial requirements needed to receive national matching-grant funds.
Subscribe now to get breaking news alerts in your email inbox
Get breaking news delivered to your inbox as it happens.
---