A&E > Books
Book notes: September is shaping up as a busy month for book lovers
Sat., Aug. 25, 2018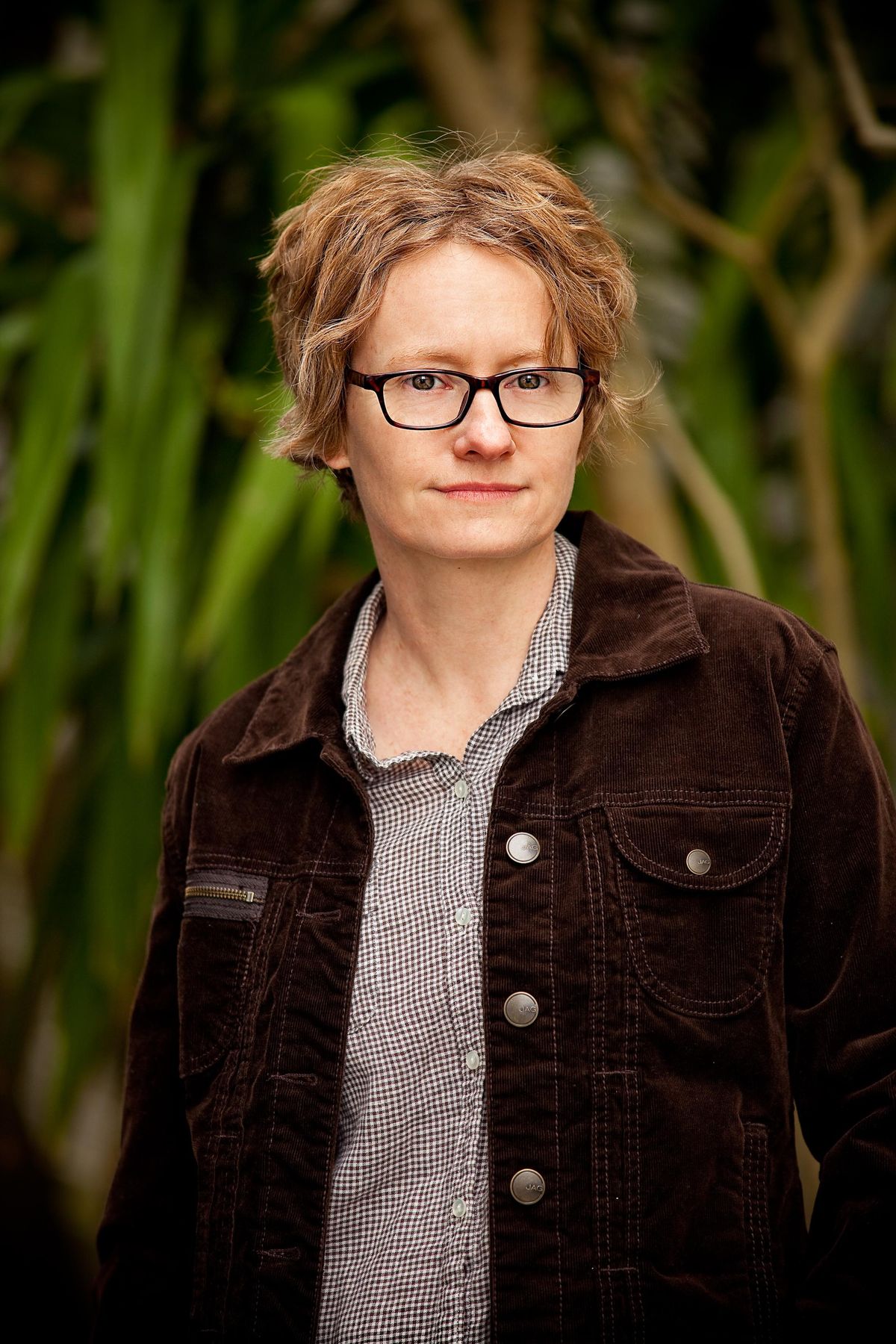 Amy Stewart, author of "Girl Waits With Gun," will be in the Inland Northwest for Spokane is Reading on Sept. 27. (Delightful Eye Photography)
Everyone around here knows April is where it's at when it comes to literary events, because that's when Get Lit celebrates the written word with a week of fun.
Looking at the calendars, however, it's clear to see that September is no slouch.
And things kick off the ninth month of the year with a big milestone event: Auntie's Bookstore turns 40.
Spokane's venerable indie bookstore will celebrate the big 4-0 with a daylong party at the store Sept. 8. Look for discounted merchandise, giveways, raffle prizes and baked goodies. And, yes, there will be cake!
The store, now located at 402 W. Main Ave., started life as the Book and Game Company in the Flour Mill. Owner Chris O'Harra sold the business in 2016 to John Waite, who also owns the nearby Merlyn's Comics and Games.
For details, visit www.auntiesbooks.com.
Also on the literary calendar for September:
Auntie's is bringing New York Times best-selling young adult author Marie Lu to town at 7 p.m. Sept. 22. She's on tour in support of her new book, "Wildcard," a sequel to her 2017 novel "Warcross."
"Wildcard," due out Sept. 18, follows Emika Chen as she teams up with the Phoenix Riders to foil a nefarious plot. Lu, who lives in Los Angeles, is also the author of the "Legend" and "The Young Elites" trilogies. This is a ticketed event, available to those who purchase "Wildcard" from Auntie's in store, by phone, or online via https://bit.ly/2uGY7Oc. The event will be at the downtown branch of the Spokane Public Library, 906 W. Main Ave.
Also coming to Auntie's is Jane Kirkpatrick, a New York Times best-selling author from Bend, Oregon. Kirkpatrick's books tend to center on pioneer women, based on real-life figures, who use their brains and faith to guide them through life's difficulties. Her debut novel, 1996's "A Sweetness to the Soul" won the Wrangler Award from the Western Heritage Center. Her other books have gone on to win a WILLA Literary Award, the Carol Award and the Will Rogers Medallion Award. She was among the featured authors in the collection "A Log Cabin Christmas," which hit the New York Times Bestseller list in 2011.
Her latest book is "Everything She Didn't Say," based on the life of Carrie Strahorn, who traveled with West with her husband, a railroad promoter. She'll be at Auntie's from 7 to 8:30 p.m. Sept. 15, along with Spokane's Chet Caskey, author of "Haunted Hillyard."
Then there's Spokane is Reading, the annual fall event centered around one book. This year, Spokane is reading "Girl Waits With Gun" by Amy Stewart. It's based on the true story of Constance Kopp, one of the first female deputy sheriffs in the U.S.
Stewart will make two appearances in the area on Sept. 27, from 1 to 2:30 p.m. at the Spokane Valley Event Center, 10514 E. Sprague Ave., and from 7 to 8:30 p.m. at the downtown public library. The programs, presented by Spokane Public Library, Spokane County Library District, and Auntie's Bookstore, are free.
The Spokesman-Review's Northwest Passages Book Club is presenting Eli Saslow and his new book, "Rising Out of Hatred," from 7 to 9 p.m. Sept. 24 at the newspaper, 999 W. Riverside Ave.
Saslow, a Pulitzer Prize-winning national correspondent for the Washington Post now based in Portland, first wrote about Derek Black for the Post in 2016. Black was a rising star in the white supremacist movement, son of the founder of Stormfront, and godson to former KKK grand wizard David Duke. However, after attending a shabbat dinner at the home of a fellow college student, Black started to move away from – and eventually rejected – his family's views.
Saslow's book, due out Sept. 18, further delves into Black's story and examines how the ideas of a fringe extremist movement migrated to a place of power: the White House.
General admission tickets are $5; VIP tickets are $40 and include a copy of the book, a glass of wine at Terra Blanca Winery during the author reception and a reserved seat. Get them at www.spokane7.tickets.com.
Finally, the Gonzaga University Visiting Writers Series is about to kick off for the year in a big way – with an appearance by Pulitzer Prize-winning graphic novelist Art Spiegelman.
Spiegelman is perhaps best known for creating "Maus," a comic that originally was serialized beginning in 1980 and was published as graphic novel in 1991. "Maus, a Survivor's Tale: My Father Bleeds History," about a family of Jewish mice during the Holocaust, was the first graphic novel to win a Pulitzer, and remains one of the most influential books of the genre.
His talk, titled "What the %@&*! Happened to Comics?" will be at the GU's Hemmingson Ballroom at 7 p.m. Sept. 25. Admission is free.
The rest of the GU series features: Gonzaga alum Sierra Golden reading from her forthcoming poetry collection, "The Slow Art," which was the winner of the 2018 Dorothy Brunsman Poetry Prize, on Oct. 18; actor and writer Elena Passarello ("Let Me Clear My Throat," 2012) on Nov. 8; poet giovanni singleton, author of the 2017 collection "AMERICAN LETTERS: works on paper (2017) and 2011's "Ascension," on Feb. 27; and Helena María Viramontes, author of "The Moths and Other Stories" (1985), the novel "Under the Feet of Jesus" (1995), and her most recent novel, "Their Dogs Came with Them" (2007), on April 2.
For details, visit www.gonzaga.edu and search for the visiting writers series.
Local journalism is essential.
Give directly to The Spokesman-Review's Northwest Passages community forums series -- which helps to offset the costs of several reporter and editor positions at the newspaper -- by using the easy options below. Gifts processed in this system are not tax deductible, but are predominately used to help meet the local financial requirements needed to receive national matching-grant funds.
Subscribe to the Spokane7 email newsletter
Get the day's top entertainment headlines delivered to your inbox every morning.
---