News > Idaho
Steve Groene, father of kidnapping victim Shasta Groene, fighting eviction from Coeur d'Alene home
Aug. 26, 2018 Updated Mon., Aug. 27, 2018 at 4:30 p.m.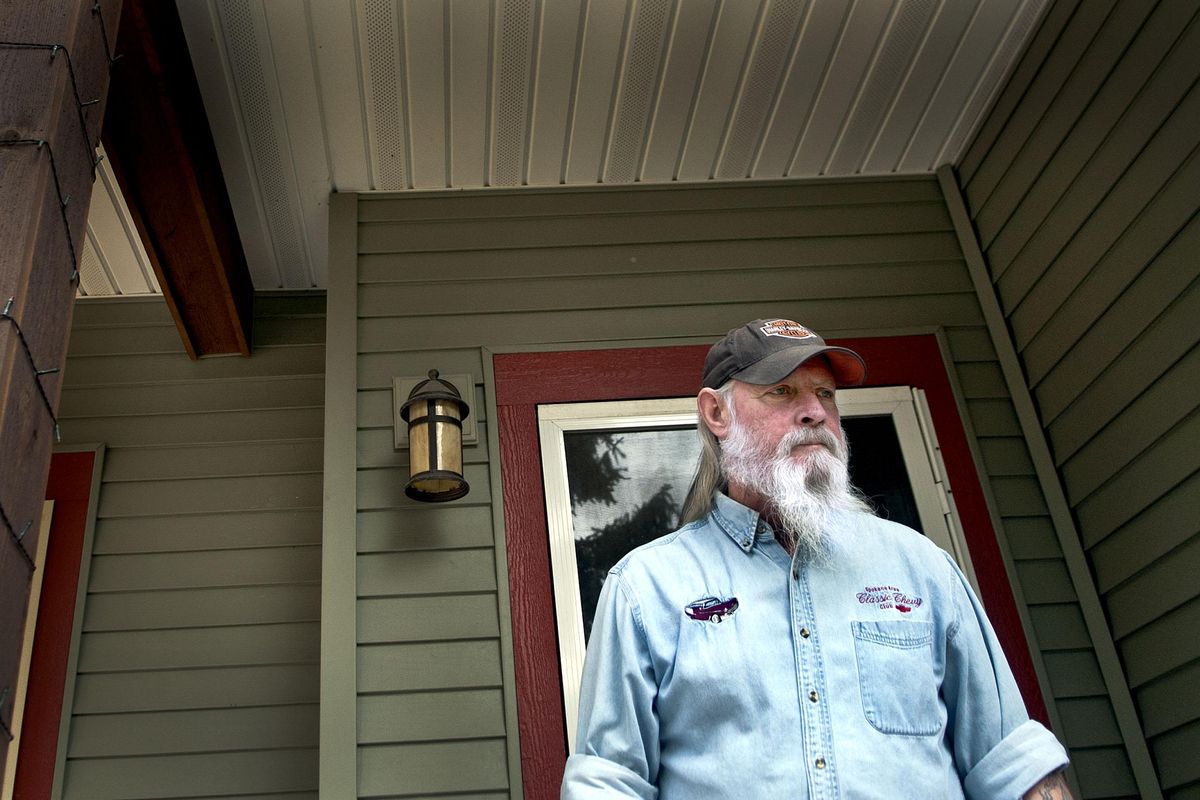 "I could be homeless in three weeks," said Steve Groene, who's lived in a house owned by the Shasta Groene Charitable Trust since 2007. The trust is now seeking to evict him and sell the home to benefit his daughter, Shasta Groene, who lost four family members at the hands of serial killer Joseph Duncan III when she was 8 years old. (Kathy Plonka / The Spokesman-Review)
A house in Coeur d'Alene was supposed to be a gift for Shasta Groene, the lone survivor of one of the region's most horrific crimes.
But more than a decade after it was built, the house is entangled in litigation and likely to be sold.
After Groene and her family fell victim to child molester and serial killer Joseph Duncan III in 2005, community members raised money to build a house for her, which has been held in a charitable trust. She and her father, Steve Groene, began living there in 2007, when she was 10 years old.
Now Shasta Groene is 21 and living in the Boise area, and a judge is expected to decide soon whether her father has any right to stay in the Coeur d'Alene home.
Steve Groene, 60, who has battled throat cancer and said he lives on disability payments of less than $1,000 a month, was served an eviction notice last summer, sparking a legal battle with the managers of the trust, who say their obligation is to Shasta, not him. She is supposed to assume ownership of the house when the trust expires on her 25th birthday – unless the trust sells the property before then.
One of the three trustees, Midge Smock, an owner of Windermere Coeur d'Alene Realty, said Friday the trust has cashed out all of its other investments and must sell the house to continue supporting Shasta Groene while she lives in Nampa, near Boise. The 1,300-square-foot, three-bedroom, two-bathroom house, at 2323 E. French Gulch Road, has an assessed value of about $240,000.
"She hasn't lived there for years," Smock said. "In order to provide for her, we have to cash in her only asset. It doesn't matter what her dad wants her to do."
The other two trustees are attorney Doug Marfice and accountant Lee Anderson. The trust has been represented in court by attorney Scott Poorman, who did not respond to a message seeking comment Friday.
In court filings, they said the trust has covered all property taxes, maintenance, utility and insurance costs for the house, though Steve Groene, who is representing himself in the case, argued he's done his own landscaping and tended to some home repairs. He has not paid rent to live there.
According to a letter the trustees sent to Steve Groene in November 2015, the trust also covered his daughter's rent and nursing school tuition in Nampa as she prepared to have her first child.
"Heretofore, the trust has not asked you to contribute any financial resources in relation to the property," the letter said. "That, however, has now become necessary in order to preserve this asset for Shasta's benefit."
The letter said the house would need to begin generating revenue and laid out three options for Steve Groene: The trust could sell the house, lease it to someone else at an estimated market rate of $1,200 a month, or let him continue living there at a discounted rate of $600 a month.
Groene rejected that offer and argues he already has a legal interest in the property. He has cited, among other things, a letter that Smock wrote before the house was built in which she solicited donations for the project.
In the letter, which the trust entered as an exhibit in the eviction case, Smock wrote that both Shasta and her father had become "homeless" after the murders. (Steve Groene said he resents that characterization because he and his daughter had actually been living in rentals at the time.)
Smock also described the challenges that Steve Groene had faced because of his throat cancer, including multiple rounds of radiation and chemotherapy, and multiple surgeries that left the former blues-rock singer without vocal cords. Toward the end of the letter, she applauded the community for "giving to this family."
"I have always been under the impression that this house was built for me and Shasta," Steve Groene said.
Reached by phone Friday, Shasta Groene declined to comment. But in a notarized letter she signed and sent to her father for use in the eviction case, she asked that the house be turned over to him.
"I have always considered it to be our home, not just mine or the trust's, and it is my wish that my father continue to reside there as long as he wishes," the letter states. "In return I will release the trust and its trustees from any obligations it may have to me, as the trust's beneficiary, concerning the house. I am very grateful for the support the community, through the trust, has given me, but I am at a point in my life where I no longer need that support and would rather my father have a place to live."
Smock dismissed that letter as "hearsay," adding that she has been in touch with Shasta Groene and understands her wishes. Shasta Groene lived with Smock and her husband, Don "Pepper" Smock, at various points during her childhood, and at one point the Smocks became licensed foster parents in anticipation of caring for her long term. Midge Smock and Steve Groene have long had a contentious relationship. She asserted Friday that he "has no interest in protecting Shasta."
In a counterclaim in the eviction case, Steve Groene also accused the trustees of financial mismanagement. And he said the judge on the case did not give him enough time to find a new attorney after losing his old one, who had been working pro bono. Groene said he suffers from a short attention span and other cognitive side effects of chemotherapy.
"The judge discriminated against me and my handicaps by forcing me to be an attorney," he said, "because there was no way on God's earth that I was ever going to be able to mount any kind of a viable defense on my own behalf."
Shasta Groene became a household name in May 2005, when Duncan broke into her family's Coeur d'Alene home and fatally bludgeoned her 13-year-old brother, Slade Groene, their mother, Brenda Groene, and her boyfriend, Mark McKenzie.
Duncan then abducted Shasta, who was 8, and her 9-year-old brother, Dylan, and took them to a remote campsite in western Montana, where he abused and tortured them for weeks before shooting Dylan and burning his body.
Duncan was arrested and Shasta was rescued that July, after Duncan brought the girl back to Coeur d'Alene and a waitress at a Denny's restaurant recognized her and called police.
In early 2014, Shasta landed in juvenile detention for a drug-related crime. Her father said she served her sentence at a facility in St. Anthony, Idaho, and has lived in the Nampa area since. Shasta Groene has talked in the past about struggles with drug use. In a 2015 interview with KHQ, she spoke about trying to deal with life as a "celebrity victim" on top of the abuse she suffered at the hands of Duncan.
The Coeur d'Alene Press reported she was scheduled to testify in her father's eviction case this month, but was unable to attend because she is on probation in Canyon County, Idaho, after pleading guilty to two counts of injury to a child. The Idaho Statesman reported she was accused of leaving methamphetamine in close proximity to 1-year-old and 1-month-old children.
During an Aug. 16 hearing in Kootenai County District Court, Judge Rich Christensen ordered Steve Groene and the trust to submit closing arguments in writing. Groene, whose submission is due Aug. 31, said he's not optimistic about how the judge will rule.
"I could be homeless in three weeks," he said.
Local journalism is essential.
Give directly to The Spokesman-Review's Northwest Passages community forums series -- which helps to offset the costs of several reporter and editor positions at the newspaper -- by using the easy options below. Gifts processed in this system are not tax deductible, but are predominately used to help meet the local financial requirements needed to receive national matching-grant funds.
Subscribe now to get breaking news alerts in your email inbox
Get breaking news delivered to your inbox as it happens.
---