Sports > Idaho football
Block buster: Kaden Elliss brings intensity, versatility to field for Idaho Vandals
Thu., Aug. 30, 2018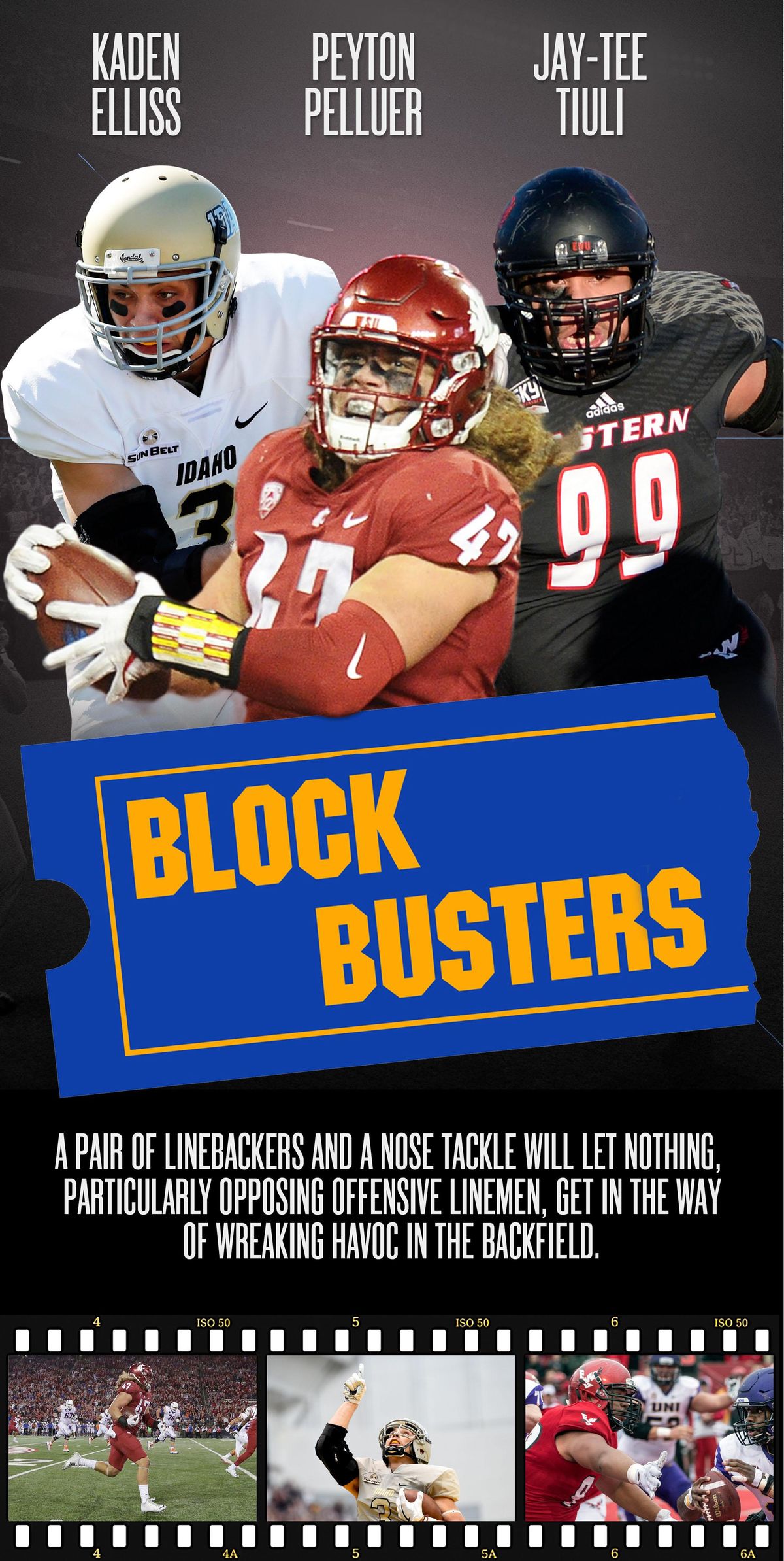 In his time with the Idaho Vandals, Kaden Elliss has accumulated relationships that will color and focus his final season. He's not simply a talented kid anymore, doing his own thing. He has a brother, Christian, starting with him for the Vandals and, most notably, a bride, former Idaho basketball player Brooke Reilly.
In ways probably not yet fully clear, they will be with him on this last ride. So when he says his goals are "No regrets. Do everything I can to have the best year possible," they are part of the deal.
Elliss is the immensely talented linebacker whose role with the Vandals has expanded to the point he plays a half-dozen positions on both sides of the ball, plus special teams. The degree to which he is committed to going out in a blaze of glory could have a big impact on Idaho's return to the Football Championship Subdivision and the Big Sky Conference.
"He has such great explosion. He's so fast. He has a change of direction that makes him hard to block. He throws 300-pound offensive linemen around like they're 150 pounds," said Vandals coach Paul Petrino.
After playing at a rangy 6-3, 225 pounds a year ago, Elliss has grown to about 240 pounds.
"I pushed my body hard this offseason to be bigger, faster, stronger overall. I'm going to be ready to go all out," Elliss said.
Elliss and his wife dated since he was a sophomore. They got married this summer.
"Now, I'm doing things for more than myself. As soon as I said 'I do,' things changed inside. She's my biggest motivator."
Almost in parallel with that, Idaho's outstanding middle linebacker Tony Lashley decided late this spring to graduate from Idaho to play his final season at Boise State.
"I love the kid to death. He had to do what's best for him and his family," Elliss said.
But Lashley's move opened up a position that Christian Elliss, a sophomore, has stepped up to fill in preseason camp.
"This is the most fun I've ever had on a football field," Kaden Elliss said about starting with his brother. "He's the most passionate, the most competitive person. We talk a lot on the field."
Petrino said it's more Christian talking and Kaden making plays, perhaps because the fire Elliss ignited in his younger brother when they were growing up still burns hot.
"I was awful to him. I was a mean older brother," Elliss admitted. "I made him one of the most competitive people I've ever met. I had matured much faster, but when I came home from college after my first year, he had grown. His biceps were huge. He was ready to compete with me. We still go at it very hard. Chess, Pokémon, he and I have to be on separate teams. We go at each other."
Elliss will have a prominent role with Idaho's offense as a tight end and wide receiver. But he envisions himself as primarily a defensive player. In his time with the Vandals he has played at both outside and middle linebacker. It has made him a complete defender, he says.
"Inside linebacker really helped me learn to tackle. Playing Sam helped me with coverage. Playing Buck helped me with rushing."
He's happy to play wherever the Vandals need him, but Elliss says he has an affinity for Buck linebacker, because of the opportunity to rush the quarterback.
"Buck. Buck. It's been calling my name for three years now," he said.
However, Petrino plans to make opponents' offenses hunt for Elliss.
"We're going to move him around. Not line him up in one spot," Petrino said. "He'll play both to the field and the boundary side, and on some sets he'll play inside. In passing situations, we're going to try to get him on the other team's worst lineman."
The Vandals can use him in so many places all over the field not only because Elliss is so physically talented, but because he's such a quick learner, according to Petrino.
"You show him something one time, let him practice it a couple of times, and he knows it," he said.
His football knowledge is not only expansive but detailed. In reading opposing players' tells, Elliss harkens back to his own experience as a high school quarterback.
"Whenever I was going to pass, I would lick my fingers and touch a towel," Elliss said.
It's the sort of thing he looks for now in opponents.
Elliss also observes that in moving from the Sun Belt Conference to the Big Sky, the Vandals will be transitioning from a league that used a lot of one-back sets and run-pass options to a conference that can be characterized as largely a passing league.
The Vandals have beaten two Big Sky teams during Elliss' tenure, Sacramento State last year and Montana State in 2016, although they had to sneak by the Bobcats 20-17.
"That was a tough game," Elliss acknowledged.
But he believes Idaho is well positioned to compete in the Big Sky, and with a brother and a bride helping him in various ways to wring the utmost from his final season of college football, Elliss is confident enough to name without hesitation what he wants to be the last drop of his Vandals career:
"National championship."
Local journalism is essential.
Give directly to The Spokesman-Review's Northwest Passages community forums series -- which helps to offset the costs of several reporter and editor positions at the newspaper -- by using the easy options below. Gifts processed in this system are not tax deductible, but are predominately used to help meet the local financial requirements needed to receive national matching-grant funds.
Subscribe to the sports newsletter
Get the day's top sports headlines and breaking news delivered to your inbox by subscribing here.
---