Block buster: Peyton Pelluer, Washington State's beloved middle linebacker, is preparing for his swan song with the Cougars … again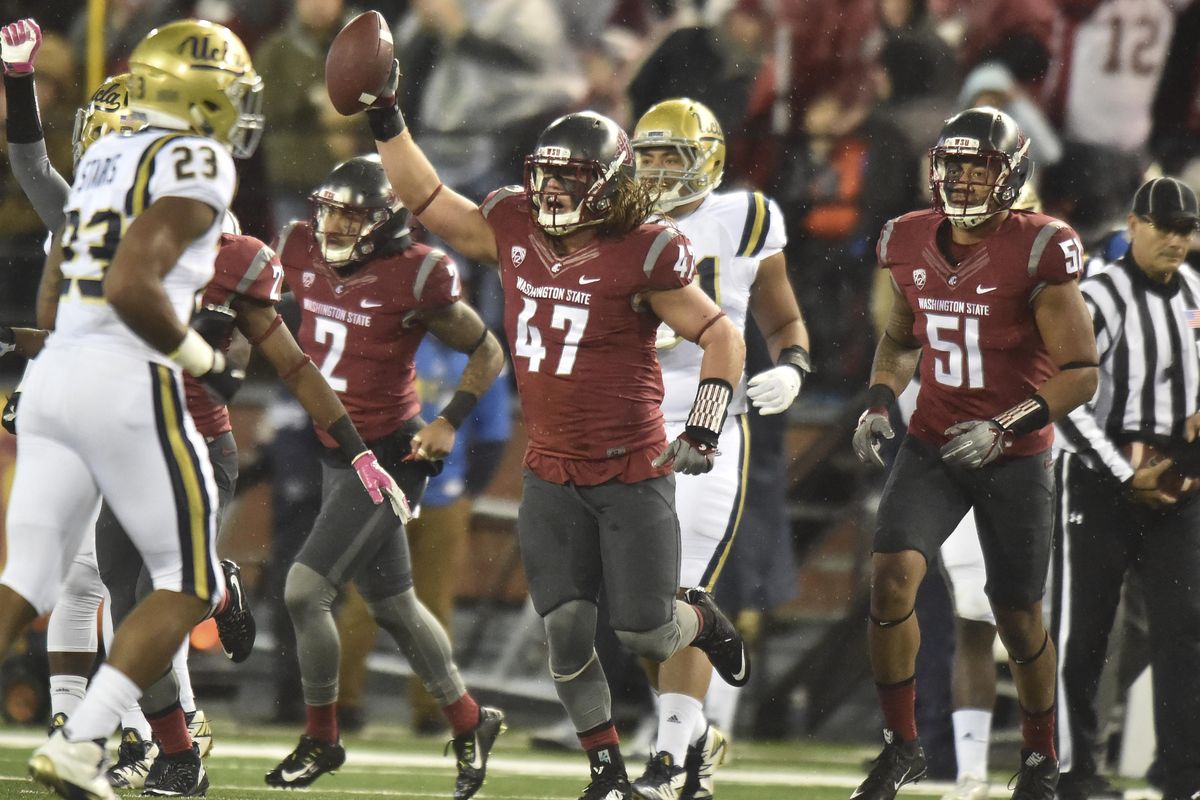 PULLMAN – The pain sensors in Peyton Pelluer's left foot started sending off warning signals one week earlier, as the Washington State Cougars were gradually chipping away at a 21-point deficit against Boise State at Martin Stadium.
It's not in Pelluer's nature to let pain keep him down, so the middle linebacker didn't make much of the discomfort.
He went to the sideline, wrangled a few pain-killers from the nearest athletic trainer and let the medley of Ibuprofen and adrenaline carry him through the rest of a 47-44 triple-overtime victory. Pelluer was struggling, but you wouldn't have known as he mowed down the Broncos for 14 tackles and came up with the pick-six that cut the Cougars' deficit to seven points with under six minutes left in the fourth quarter.
He admits now, "We had no idea what was heading my way."
That interception return for a touchdown could've been the defining snapshot of Pelluer's senior season: the veteran linebacker lurking in pass coverage, lunging forward to intercept Montell Cozart's shovel pass and galloping 36 yards in the opposite direction – his long brown locks dancing on his shoulders every step of the way – to send Martin Stadium into late-night euphoria.
Instead, it was the prequel to another jolting Martin Stadium moment – one that yielded a much less positive result for Pelluer and the Cougars. Seven days later in the first quarter of the Pac-12 Conference opener against Oregon State, the linebacker hustled into the backfield to pressure Jake Luton, leaping at the Beavers quarterback, who threw short for a 1-yard loss to bring up fourth down.
A textbook play, had it not been the one that finally severed Pelluer's navicular bone, ending his season and, in that moment, potentially his remarkable college career.
That tingling foot pain he'd felt a week earlier? It was now throbbing at Pelluer, placing him in more agony each time he tried to stand up. Walking was out of question, so who knew how long it would be before Pelluer could get back to playing the aggressive, passion-driven brand of football that had made him one of the best linebackers in the Pac-12?
Maybe a more pertinent question at the time: Who knew if he'd get the chance to?
A day later, medical scans allowed Pelluer to view the graphic details of his broken foot. Doctors compared the fractured bone to a paper clip, explaining that the more it bent, the more likely it was to snap.
In other words, the break was inevitable.
"It looked like a solar system," he said. "There was bone spurs everywhere. There was literally one bone spur that was just loose in space in my ankle. Which is pretty gnarly."
From the fourth floor of the Cougar Football Complex, Pelluer is comfortable speaking openly and candidly about his injury – perhaps because he knows how much more debilitating it could've been.
The only reason Pelluer was eligible for a rare sixth season is because the injury was sustained just three weeks into his senior year. Plus, WSU's athletic training staff had been thorough in charting a foot injury he'd sustained during his redshirt season (2013), which allowed the Cougars to prove that Pelluer had two years of denied opportunity, rather than just one.
"At the end of the day, I knew it was the NCAA, and you really never know with them, but I had a clean track record, there was no reason for them not to give it to me," he said. "It was pretty cut-and-dried. so I'd say I was about 95 percent sure."
Pelluer credits WSU's athletic trainers and compliance staff for strengthening his case, which was presented to the NCAA in an extension-of-clock waiver and approved on Jan. 25.
"Really, my hat's off to them," he said. "I owe them a lot, for sure."
During the rehabilitation process, Pelluer watched muscle mass basically fall off his left leg – "it was so demoralizing," he said – but he and WSU's other walking wounded put in long hours at "Muscle Beach," a quadrant of the practice field where, according to Pelluer, "injured guys go and just get swole."
Eventually two other senior linebackers, Isaac Dotson, who missed four games with a concussion, and Nate DeRider, who was shelved for the rest of the year with a torn ACL, joined Pelluer for the body-sculpting sessions at "Muscle Beach."
"We were just going to town every day," Pelluer said, laughing. "It was just meathead sessions."
The rehabilitation period also served as Pelluer's early, unexpected foray into the coaching world. His father Scott, a former WSU linebacker who spent five years in the NFL, was a college assistant for 18 years at Boise State, Northern Arizona, Arizona and Washington. Pelluer is pursuing a master's degree in education this year, in part because he realizes how many parallels there are between teaching and coaching.
"It's just a different side of the same coin," he reasons.
While Pelluer was healing his bum foot, he got the equivalent of an unpaid coaching internship and an opportunity to shadow the Cougars' defensive coaches on game day from the press box. And when he wasn't chiseling his biceps and triceps on "Muscle Beach," Pelluer was observing his younger teammates, offering his wisdom and answering their questions.
He clearly established some credibility, because to this day, they're still asking.
"It was just fun being that guy that guys could come to," Pelluer said.
But the real fun came during home games. Pelluer listened through a headset as graduate assistants frantically relayed messages from the press box to defensive coaches on the sideline, communicating pre-snap adjustments, personnel changes, formational notes, etc.
"So if the offense was busting out a new play that we didn't see the week before in film, we had to come up with kind of quick adjustments and help out (defensive coordinator) (Alex) Grinch and the defensive staff on the field – kind of overcome that stuff," Pelluer said. "So it was just fun. It was just quick, thinking on your feet and all the coaches working together. It was a fun atmosphere."
Pelluer would be going into the right line of work if he eventually pursues a coaching career, Mike Leach believes.
"He loves football, he's dedicated and he's a big film guy," the WSU coach said. "Understands it, kind of gets everybody lined up. Also a real instinctual guy."
Added Leach: "Literally grew up in football with his fathers and uncles and all those guys having played. He's one of those guys that all the intangibles, he knows those. And I happen to believe if you've got a guy like that, that rubs off on the others."
But Pelluer, who's on track to finish his career with more than 300 tackles – it would place him in WSU's top 10 all-time – hopes the helmet-to-headset transition doesn't come too soon. He's a two-time All-Pac-12 honorable mention choice and was fourth in the conference with 93 tackles last season. While Pelluer doesn't have the top-end speed that NFL scouts seek, he's a strong, fundamental tackler who has a dogged work ethic that could become a major advantage if he's able to get his foot in the door of a pro camp.
For now, though, it's all about year No. 6 in Pullman – a special opportunity that almost didn't exist for WSU's (super) senior linebacker.
"I mean honestly, it was just a blessing that it happened when it did," Pelluer said, "because the next week, if it happened then, I wouldn't have gotten this next year."
---