News > Spokane
Love, revenge, politics and turkeys: A South Hill story
Aug. 30, 2018 Updated Thu., Aug. 30, 2018 at 8:19 a.m.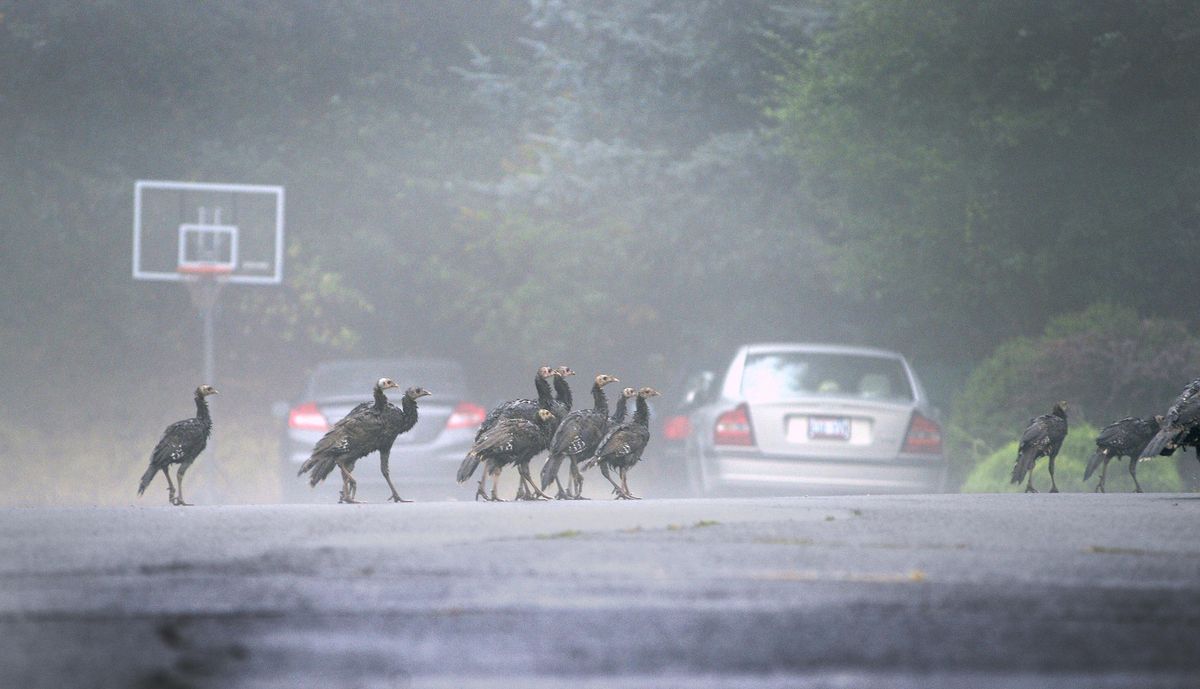 Soaked by the recent rain and fog, Monday Aug. 28, 2018, a turkey family strolls down Glennaire Ave. in Spokane. (Christopher Anderson / The Spokesman-Review)
Call it payback for hundreds of years of state-sanctioned massacres.
Or revenge for billions of sandwiches consumed by hungry kids, workers and hikers.
Or maybe the mother turkey was just having a bad day.
Whatever the reason, on July 16 she snapped.
That was the evening Dale Johnson and his wife Marilyn Johnson were returning to their South Hill home, near Cliff Park. Turkeys have always been a fixture in the neighborhood, Johnson said. But the couple noticed this particular hen had been hanging out in their yard with her brood.
And on that particular July evening, as the Johnsons approached their residence, the mother turkey didn't run off.
"For whatever reason, the hen attacked my wife," Dale Johnson said. "We don't know what it was that hit her, whether it was her claw or beak, but it knocked her down, and then she was having all this blood coming out."
It was a scary situation. Although the injury – a split lip – was minor, Marilyn Johnson is on blood thinners. Small cuts sometimes mean a hospital visit.
Luckily, she stopped bleeding. But Dale Johnson said the damage had been done.
"It was very traumatic," he said.
Marilyn declined to talk to The Spokesman-Review, but gave her husband permission to do so.
The attack, while an extreme, speaks to a larger problem.
There are too many turkeys on the South Hill.
Careful planning runs a-fowl
That's despite repeated efforts by the Washington Department of Fish and Wildlife to decrease the population. The most recent effort, in 2016, sent WDFW biologists and volunteers poking through bushes searching for turkey eggs. The goal? Addling the eggs by coating them with corn oil, thus preventing the embryos from developing.
"They were not successful," said Kile Westerman, a wildlife conflict specialist for the WDFW. "To be honest with you, I don't know that they oiled any of them."
Turkeys nest in deep brush. The only sure-fire way of finding a nest is by seeing the female go to it, Westerman said.
"A lot of people-hours were put into the effort," he said.
Before that, WDFW attempted to trap the birds in nets. That didn't work either.
Wary birds avoided the nets, hungry squirrels chewed through the nets and some neighbors, angry at the entire effort, sabotaged the nets.
And once a turkey was caught, it had to be transported 180 miles round-trip for release in the agency's Sherman Creek Wildlife Area west of Kettle Falls. WDFW proposed euthanizing the birds and donating the meat to local food banks, but a pro-turkey faction of the citizenry put the kibosh on that idea.
At this point, Westerman said, WDFW isn't trying to trap or suppress the turkey population. Instead, the agency is hoping to work with Spokane to create stronger policies and laws against feeding the wild animals.
"The way we're trying to deal with it now is try and get some more policy changes in place with the city," he said. "Like a no-feeding wildlife ordinance. Something with a little teeth."
City Hall talks turkey
That's not going to happen, said Councilwoman Lori Kinnear. Because – who knew? – turkeys are a political issue, one that could sink a career.
"There are people in two camps," Kinnear said. "There are the pro-turkey people and the anti-turkey people. At some level, it's pitting neighbor versus neighbor."
Kinnear said she floated the idea of a strict no-feeding wildlife ordinance to the rest of the council and was met with "looks of horror." Kinnear imagines grandmothers being slapped with fines for feeding the birds. Not, she admitted, a good look.
"It's more of a complicated issue than we first thought," she said. "And it's a serious one for people."
If an anti-feeding ordinance elicited horror, WDFW's other suggestions likely sent council members into shock.
WDFW asked the council if they would consider loosening strict anti-projectile ordinances within city limits. That would allow neighbors to take justice into their own hands and scare the turkeys off with paintball rounds.
"That was so outrageous to me, and to most of the council, we thought that he was kidding," Kinnear said.
So Kinnear and City Councilman Breean Beggs recommended that Westerman go to neighborhood council meetings and talk about the importance of not feeding wild animals.
"Both councilmember Beggs and I understand it's a very hot topic for a lot of people, and we want to be sensitive to the pro-(turkey) people and the anti-turkey people," Kinnear said.
Taking roost in Eastern Washington
Marit Fischer is pro-turkey.
"I like the turkeys," she said in an email. "I love this neighborhood for its towering ponderosas, hidden gardens, and basalt haystacks. We have lots of turkeys, and we also have bats, quail, deer, skunks, and the occasional raccoon. They live here. We live here. That makes this place special."
Fischer lives southeast of the Altamont Circle and considers her neighborhood to be "a nice example of an urban forest." Several flocks of turkeys live in her neighborhood.
"They've never done any harm at all, and as far as I'm concerned they're always welcome," she said. "They remind me that we live in the right place."
Wild turkeys are not native to Washington. Unsuccessful introduction efforts starting in the early 1900s got more serious in the 1960s, with releases of wild-trapped birds from Arizona, New Mexico and Wyoming to limited areas of Eastern Washington.
WDFW teamed with the the National Wild Turkey Federation for an aggressive introduction program in the mid-1980s. Turkeys and turkey hunting flourished.
But even in farm and ranch country where hunting is allowed, turkeys can become so numerous and concentrated that they're a burden, especially to operators who feed livestock during winter.
Westerman, the WDFW biologist, said he gets more calls about turkeys than any other animal. In most cases, though, there is little he can do.
"The reality is, even if we could go in there and trap a bunch of turkeys, if people are still attracting wildlife into the city by feeding them, the problem is going to continue," he said.
Dale Johnson understands that people love the turkeys. He understands that it's part of living in a neighborhood like the South Hill, one where wildlife have easy entry and exit points.
But he thinks it has gone too far.
"I'd just like to see something done," he said. "Because right now they're just taking over. Literally, I've seen as many as 35 turkeys in the street."
The offending mother turkey could not be reached for comment.
Local journalism is essential.
Give directly to The Spokesman-Review's Northwest Passages community forums series -- which helps to offset the costs of several reporter and editor positions at the newspaper -- by using the easy options below. Gifts processed in this system are not tax deductible, but are predominately used to help meet the local financial requirements needed to receive national matching-grant funds.
Subscribe now to get breaking news alerts in your email inbox
Get breaking news delivered to your inbox as it happens.
---