Sports > UW football
Role reprisal: With 0-12 season in the past, the Washington Huskies are once again national title contenders
Thu., Aug. 30, 2018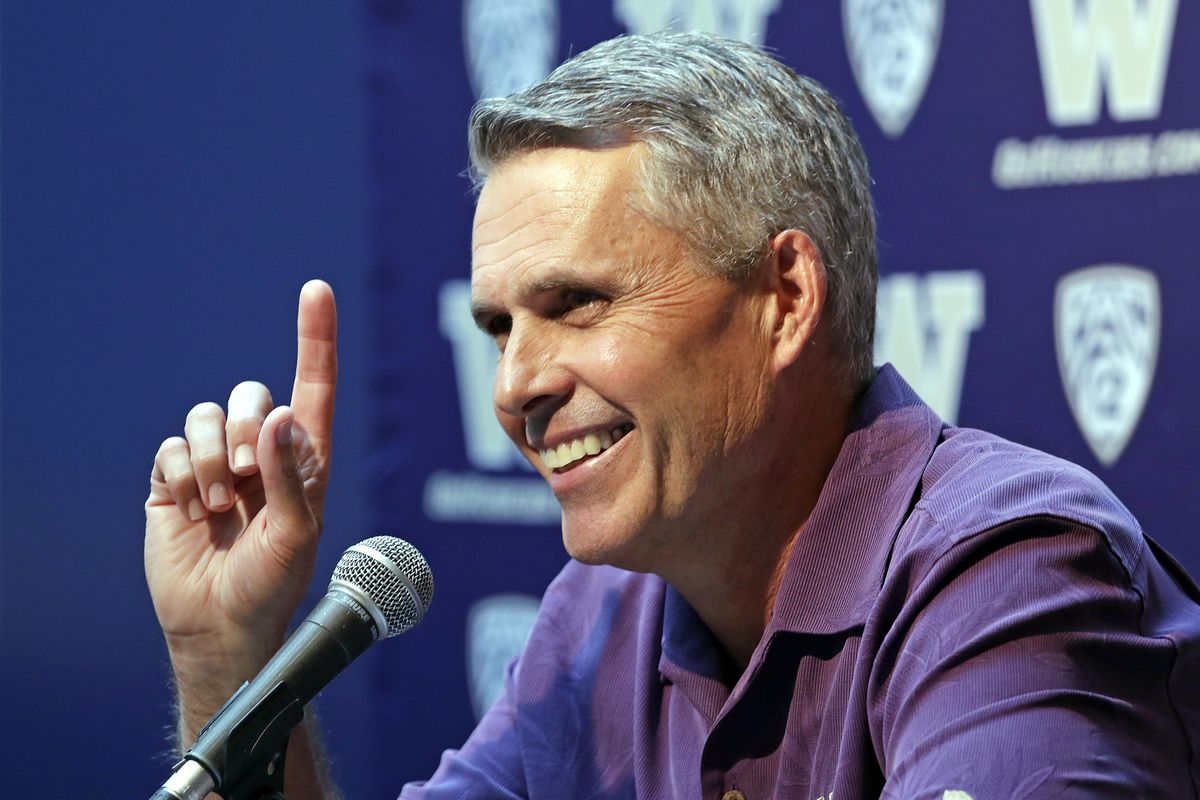 Washington NCAA college head football coach Chris Petersen points skyward in response to hearing Blue Angels jets soar nearby as he speaks at a news conference Thursday, Aug. 2, 2018, in Seattle. (Elaine Thompson / Associated Press)
Even back in the bad, bad days of 0-12 – just a decade ago, can you believe it? – the Washington Huskies did their best to pass themselves off as a college football blueblood.
OK, purpleblood.
Now they don't have to pretend. When the summer's first polls came out, there they were at No. 6 in both, back rubbing elbows with the Wisconsins, Oklahomas, Miamis and Auburns – their highest pre-season ranking in more than 20 years. You don't have to search far to find a pundit on TV or at happy hour who has them penciled in for one of the four College Football Playoff berths for the second time in three years.
So what would you call that?
The Best of Times.
No, not the Herm Edwards movie. Yes, the new Arizona State coach – sorry, CEO – did have a small role in the old Kurt Russell-Robin Williams flick about high school shame becoming mid-life glory. But Chris Petersen, at the moment, is living it.
The Huskies' head coach has a brand-name quarterback, though one not without critics. He has a home-run tailback. He has a defense that remains the stingy standard in the Pacific-12 Conference – in particular a secondary that seems immune to whatever blows can be inflicted by injury, graduation or NFL defection.
The only thing going against Petersen? He feels like he's on the wrong side.
"I like to be on a different team than you guys are on," he told reporters gathered at Pac-12 media day. "I'd rather prove you wrong than to prove you right. Now we're working to prove you right rather than prove you wrong."
CAST
Offense: Jake Browning is about to become the Huskies' first four-year starter at quarterback, and yet there's a slice of the fan base that's overeager to get a look at the talent – like Coeur d'Alene's Colson Yankoff – that's been stockpiled behind him. That'll happen when your touchdown-pass count plummets from 43 in 2016 – when Browning was the Pac-12's offensive player of the year – to just 19. It certainly didn't sour Petersen on his quarterback.
"You're not going to bait him into making bad decisions and bad plays," said Petersen, although that's exactly what seemed to happen in the loss at Stanford that kept UW out of the Pac-12 title game.
You might chalk up some of the stumbles to the injuries that shredded UW's receiving corps and Browning trying to assume a greater burden for making the offense go. He'll still have to get along without Dante Pettis, but a healthy Chico McClatcher returns and Ty Jones is a budding star – though losing tight end Hunter Bryant is a blow.
But what will help Browning most of all is a stellar senior year from Myles Gaskin – though can it get much more stellar than the three consecutive 1,300-yard seasons he's already put up? That'll depend on how the Huskies develop in the line between four-year starting tackles Trey Adams and Kaleb McGary.
Defense: No matter whom the Huskies lose from their secondary to the NFL – and before last season it was three second-round picks – they seem to just get better, and deeper. So well stocked are they that three gifted freshmen – Julius Irvin, Kyler Gordon and Dominique Hampton – could struggle to see the field.
Safeties JoJo McIntosh and Taylor Rapp begin their third season starting alongside each other, with corners Byron Murphy and Jordan Miller back after missing big hunks of 2017 with injuries. Myles Bryant is an important figure, too; UW's nickel package is a big reason the Huskies have led the conference in fewest yards per play allowed three years running.
Their biggest challenge is replacing Pac-12 defensive player of the year Vita Vea, but Greg Gaines has made 33 starts up front and linebackers Tevis Bartlett and Ben Burr-Kirven have all-conference pedigrees. On the wish list: a breakout year for Benning Potoa'e on the outside.
Special teams: Here's where it gets a little sketchy. The Huskies were the Pac-12's worst field=goal team last year and now they're turning the problem over to untested freshman Peyton Henry. Meanwhile, Pettis – who returned an NCAA-record nine punts for touchdowns in his career – has moved on to the NFL. Some new magician will have to be in charge of pulling rabbits out of hats.
CREW
Coaching: Chris Petersen doesn't just recruit "our kinda guys," as has been his motto. He apparently is one. In a recent – and anonymous – CBS survey of college football coaches, the Huskies' leader tied with Stanford's David Shaw for the most votes in the category of "Which of your peers do you believe is completely clean and by-the-book in running his team?"
He's done some shuffling among his assistant directors. This year, the Huskies have a new man calling the defensive plays in Jimmy Lake, who was elevated to co-coordinator with Pete Kwiatkowski in the off-season and given a salary boost to $1.1 million to keep him aboard after several schools – Alabama, Florida State and Texas A&M among them – showed interest. There's also a new play-caller on offense in Bush Hamdan, who returns after a year in the NFL to replace Jonathan Smith, now the head coach at Oregon State.
SPOILER ALERT
The Huskies' can't be accused again of a squishy out-of-conference schedule, but is it too much, too soon? Their Sept. 1 opener at Auburn is already being seen as a referendum – and not just on the Huskies' national title hopes, but on the entire Pac-12, which is still swabbing off the egg of a 1-8 bowl performance last winter.
"I know everybody wants to put it all about this one thing – the Pac-12 is either good or not on one game," Petersen said. "That's totally unrealistic."
And totally happening.
Local journalism is essential.
Give directly to The Spokesman-Review's Northwest Passages community forums series -- which helps to offset the costs of several reporter and editor positions at the newspaper -- by using the easy options below. Gifts processed in this system are not tax deductible, but are predominately used to help meet the local financial requirements needed to receive national matching-grant funds.
Subscribe to the sports newsletter
Get the day's top sports headlines and breaking news delivered to your inbox by subscribing here.
---