Sports > High school sports
Coeur d'Alene overcomes miscues, handles Gonzaga Prep, 28-14
UPDATED: Sat., Sept. 1, 2018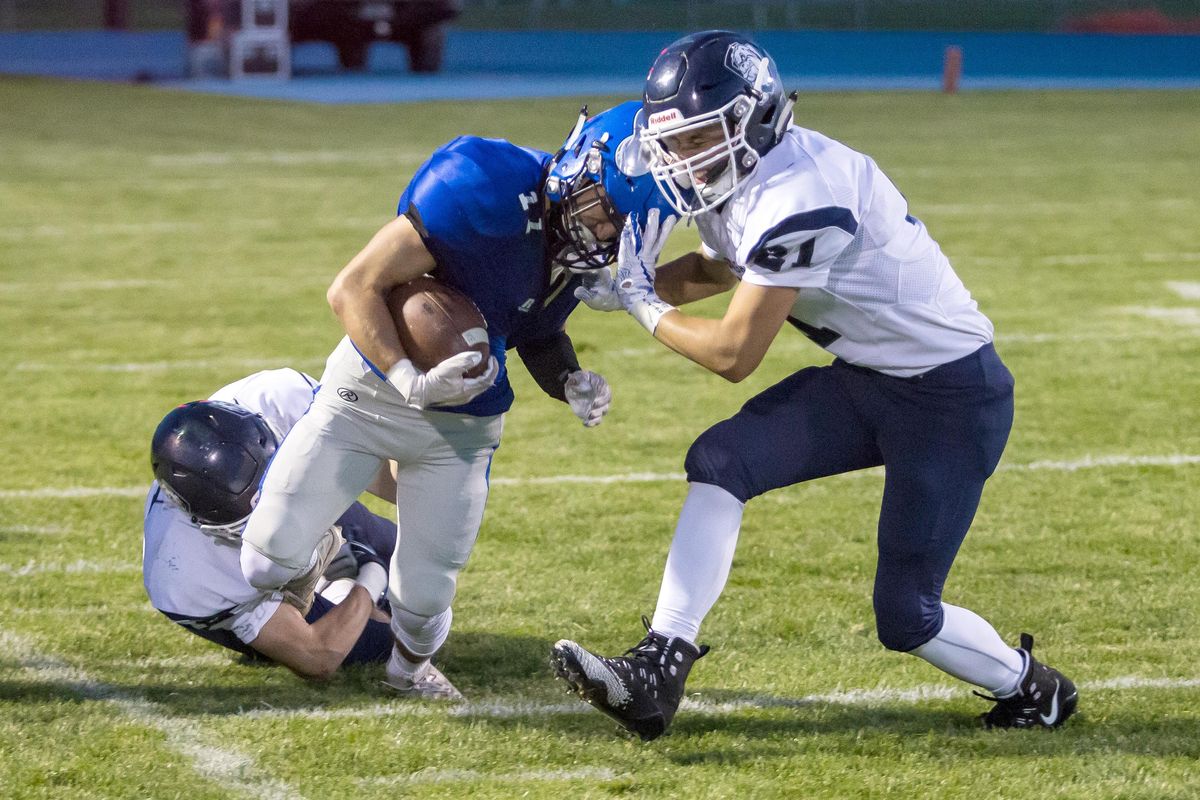 Coeur d'Alene's Ethan Garitone gets taken down by Gonzaga Prep's Daniel Siwinski, left, and Jacob Parola during the second quarter. (For The Spokesman-Review / Bruce Twitchell)
About the only thing that slowed down Coeur d'Alene's offense was Coeur d'Alene's offense.
The Vikings seemingly alternated between smooth touchdown drives and committing costly turnovers and untimely penalties. Add in a pair of special-teams gaffes and Coeur d'Alene found itself in a game against Greater Spokane League power Gonzaga Prep late in the third quarter despite dominating on the stat sheet.
None of it derailed the Vikings, who sealed a 28-14 victory Friday over the visiting Bullpups with an 83-yard, fourth-quarter scoring drive in the teams' first meeting since 1982. CdA won that one 23-17, and both teams went on to claim state titles in their respective states.
"We were so excited," said Vikings quarterback Kale Edwards, who rushed for two touchdowns and passed for two more. "We know a lot of kids from there from other sports, basketball, baseball. It was good to see those kids and beat them."
The Vikings' balanced offense and strong defense were too much for the Bullpups. CdA improved to 2-0 while the Bullpups lost in their season opener.
"It's two good football teams, one that's played a game and one that hadn't," Bullpups coach Dave McKenna said. "I'm proud of the kids. They faced some adversity and challenged them."
The Vikings' five first-half possessions ended with two touchdowns, two lost fumbles and an interception.
Coeur d'Alene marched 74 yards on its second series with Edwards zipping a 10-yard touchdown pass to Carter Friesz, son of former CdA, Idaho and NFL quarterback John Friesz.
The Vikings were back in business after defensive lineman Nate Burch, who spent a lot of the evening in Gonzaga Prep's backfield, recovered a fumble at the Bullpups' 29. CdA converted twice on fourth down, the second time with Edwards finding Shilo Morgan for a 9-yard touchdown for a 14-0 lead late in the first quarter.
The Vikings had two opportunities to extend their lead. The first ended when Braeden Young intercepted Edwards at Gonzaga Prep's 19-yard line. CdA marched right back down the field on its next possession, but Morgan fumbled near the goal line.
The Bullpups reached Coeur d'Alene's 27 before stalling. Connor Halonen, an All-GSL quarterback last season, was called for intentional grounding, moving the ball back to midfield and Gonzaga Prep out of field-goal range.
Gonzaga Prep relied heavily on the elusive Halonen, who finished with 121 yards rushing but connected on just 1 of 6 passes, the lone completion coming early in the fourth quarter.
Meanwhile, Edwards' first eight completions were to eight receivers. The 6-foot-5, 210-pound Edwards ran for 184 yards and passed for 166. He also had a couple of big hits while playing limited snaps at safety.
"I love hitting people," Edwards said. "I think that's best part of football."
Morgan rushed for 95 yards and nine Vikings had at least one reception.
"We have a lot of kids that we get on the field, which will pay dividends down the road. We'll find the guys that can play deep into November hopefully," said Vikings coach Shawn Amos, who will wear a boot on his right foot for most of the season after suffering a torn Achilles in July playing pickleball with his son, Gunnar, a quarterback at Idaho State.
Coeur d'Alene was up 20-0 in the third quarter when it botched two snaps on punt plays. Gonzaga Prep's Jacob Parola picked up a fumble and returned it 15 yards for a touchdown. A few minutes later, Zach Paukert deflected a Vikings punt and suddenly Gonzaga Prep was within 13 points with the ball in CdA territory.
Coeur d'Alene's defense stiffened inside the 10-yard line, stopping G-Prep on downs. Edwards scored the clinching touchdown on a 9-yard run to make it 28-7 with 4:19 remaining.
Local journalism is essential.
Give directly to The Spokesman-Review's Northwest Passages community forums series -- which helps to offset the costs of several reporter and editor positions at the newspaper -- by using the easy options below. Gifts processed in this system are not tax deductible, but are predominately used to help meet the local financial requirements needed to receive national matching-grant funds.
Subscribe to the sports newsletter
Get the day's top sports headlines and breaking news delivered to your inbox by subscribing here.
---