News > Crime/Public Safety
Most East Valley High School students stay home following shooting threat; suspects identified
Dec. 4, 2018 Updated Wed., Dec. 5, 2018 at 5:52 a.m.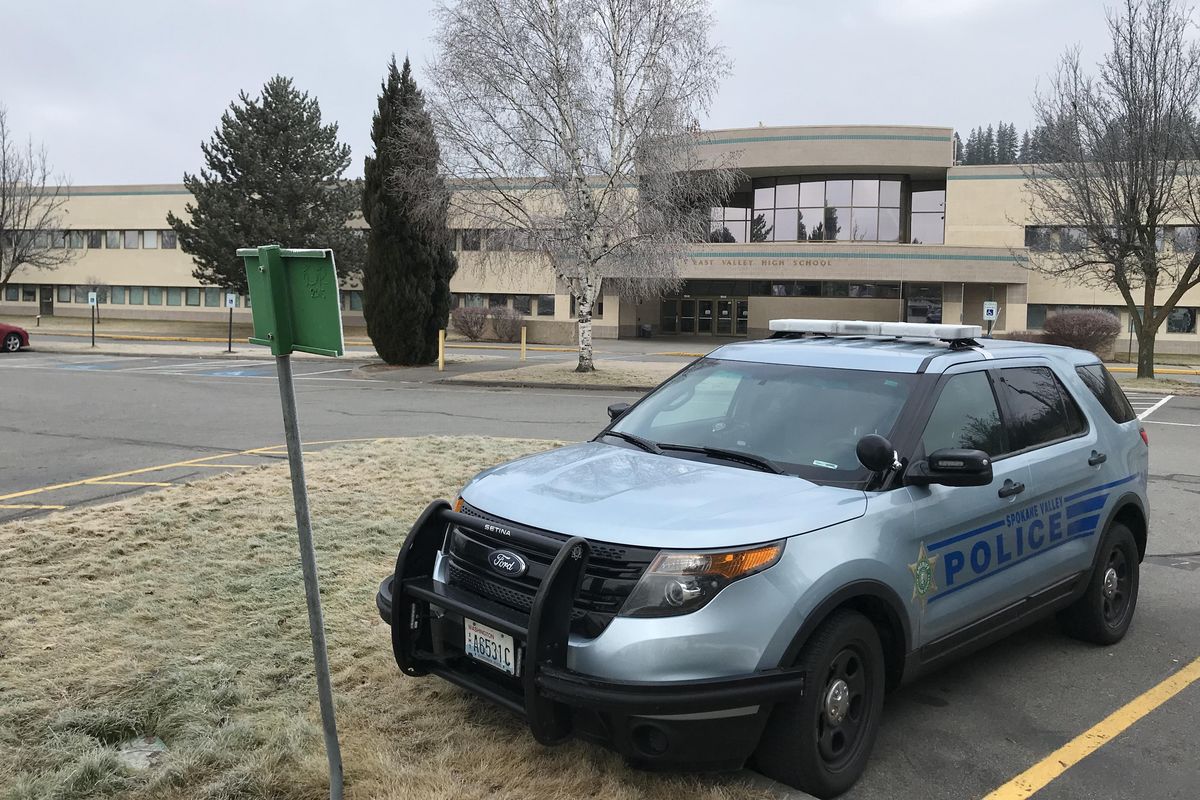 Extra Spokane County sheriff's deputies were posted at schools in the East Valley School District, including East Valley High School, on Tuesday, Dec. 4, 2018, after high school students reported receiving a shooting threat. (Jonathan Glover / The Spokesman-Review)
When East Valley High School student Lance Rice saw an anonymous post on social media Monday night that said there would be a school shooting and students would die, he was disturbed.
"It was a really big scare," the 15-year-old said. "I said, 'I think this needs to be reported.' " He called Crime Check and heard that a flood of reports had come in.
Rice was one of about 900 students who stayed home from school Tuesday following the shooting threat, which came from a fake account, officials said. The school district alerted parents and students Monday night and said absences would be excused, but the school didn't shut down.
Rice isn't new to the fear of school shooting threats. He formerly attended Trentwood Middle school, where a similar threat was made and led to one arrest. He said he isn't sure if he'll go to school Wednesday, but he is hoping for more security.
"It's happened to every other school around us," Rice said, "and it was inevitable that it would happen here."
West Valley High School and Mead High School students also received similar threats, according to Spokane County Sheriff's Office, which stated in a Facebook post late Tuesday night it had identified suspects in the threats aimed at the three schools.
In the post, the sheriff's office said several juveniles were involved in the threats at East Valley and West Valley, which it said were connected. Detectives don't believe a connection exists between the Valley threats and the one at Mead, according to the post, which stated another juvenile has been identified as a suspect in that threat.
The sheriff's office post said no arrests have been made and the investigation is ongoing.
The East Valley threat came from Snapchat, a social media platform, when an account began messaging the schools' students at about 7:30 p.m. Monday:
"Watch out if you go to EV. Some of you are going to die tomorrow," the threat says, according to screenshot of the message. At the end is an emoji of a water gun.
"At this time, the accounts used appear to be fake (or) fraudulent but detectives are working to identify the person(s) who seem to have a goal of spreading fear and concern in our community," said Deputy Mark Gregory, spokesman for the sheriff's department.
District wide, about 52 percent of the student body was absent, officials said. Absentee rates usually range from 8 percent to 15 percent, depending on the day.
At East Valley High School on Tuesday, about 18 percent of students showed up to class – or 209 out of 1,161. At the middle school about, 25 percent of the students came for classes. And elementary schools showed absenteeism for the day at about 50 percent.
The district's decision to keep the high school open was met by a flurry of parents who took to social media Monday night. Many said they wouldn't allow their children to go to school, even as the Spokane County Sheriff's Office dedicated extra deputies to patrol the schools Tuesday morning.
Superintendent Kelly Shea said the district is taking the threats seriously and he "respects and understands parents' decisions."
But he didn't believe students were in actual danger.
"If every time we received threats we closed school, then we would close school multiple times through the course of the year," he said. "If all it takes is for someone to post something on Facebook or Snapchat, we could be out of school more than we're in school."
Shea said Tuesday morning the sheriff's office was sending additional deputies for security as investigators continued to review the threats and identify a suspect. Deputies were posted at the high school, middle school and other schools in the district.
"This is an unnerving and uneasy time," Shea said. "But we also have a lot of kids who need to be at a school. And if I believed we are in imminent danger, we would cancel school. At this time, we don't believe that."
Gregory, urged anyone with information on the threat to contact the East Valley School District or call Crime Check at (509) 456-2233.
In May, Lewis and Clark High School experienced similar threats, leading to more than half of the students staying home for a day. A suspect was arrested in connection with those threats, though a pair of students reported receiving a similar intimidation in November.
As a result of the absences, Shea said, East Valley Middle School would cancel after-school sports games. The high school will play as normal.
Seth Lee, a student at East Valley High School, went to school Tuesday and said about six law enforcement officers were at the school.
He said he wasn't afraid and he thought the threat was a hoax.
"I knew it was not going to happen," he said. "It's a goof."
Local journalism is essential.
Give directly to The Spokesman-Review's Northwest Passages community forums series -- which helps to offset the costs of several reporter and editor positions at the newspaper -- by using the easy options below. Gifts processed in this system are not tax deductible, but are predominately used to help meet the local financial requirements needed to receive national matching-grant funds.
Subscribe now to get breaking news alerts in your email inbox
Get breaking news delivered to your inbox as it happens.
---