News > Spokane
Longtime Christmas Bureau volunteer specializes in giving lunch breaks
Tue., Dec. 4, 2018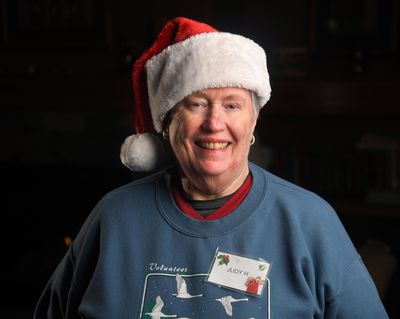 Judy Hudson's role as a Christmas Bureau volunteer has changed over the years. While she was still working as an accountant she worked a few shifts a year, then started working at the bureau every day after she retired. Now she's a specialist, arriving every day at 11 a.m. to fill in for other volunteers who need a lunch break.
Hudson has always worked on the computers, collecting information from recipients and printing out their food vouchers.
"I was really aware that for someone to take a lunch break, they had to shut down a computer, and that slows everything down," she said.
She's always preferred working on the computers because she gets to interact with recipients, though sometimes it can be emotionally difficult to hear their stories. "It's hard, sometimes it just about breaks your heart," she said.
Hudson said she likes her new role as a fill-in. "I just hop from computer to computer until everyone has had their lunch," she said. "I feel a lot more useful, I guess. Everyone is really happy to see me."
She can't remember when she started volunteering at the bureau, but said it's been at least 16 or 17 years. She has often encouraged others to join her. "I've always tried really hard to get people I know to come in and volunteer," she said. "I've gotten a couple."
She said she's always in awe of the recipients who often stand in line for hours for a food voucher and presents for their children, sometimes in bad weather. "There are days when it's bitter cold," she said. "Just look at the lives that we have and the lives that most of them have. You realize there's a great need for it."
This year Hudson was afraid she wouldn't be able to come back to her usual spot. She battled breast cancer for several months and underwent radiation treatment. But she now has a clean bill of health and is eager to get back to work.
"You just have to be grateful for what you've got," she said. "Get off your butt and volunteer."
Donations
New donations of $2,075 have pushed the fund a little closer to the goal of $525,000 and brought the year-to-date total to $77,950.04.
Bill and Mabel McInerney, of Priest River, Idaho, gave $1,000 "in memory of our moms and dads and brother Dick."
Wendy Perry, of Medical Lake, contributed $500. "May the spirit of Christmas fill you and yours with hope," she wrote.
Tim and Lindsay Bristow, of Spokane, donated $350.
B. Scott McLaughlin donated $50. Marjorie Graeber, of Spokane, gave $50, as did Lois and Chuck Havlicek, of Liberty Lake. The Northwest Treasure Hunters Club contributed $50.
Martha Hakala, of Spokane, donated $25.
Local journalism is essential.
Give directly to The Spokesman-Review's Northwest Passages community forums series -- which helps to offset the costs of several reporter and editor positions at the newspaper -- by using the easy options below. Gifts processed in this system are not tax deductible, but are predominately used to help meet the local financial requirements needed to receive national matching-grant funds.
Subscribe to the Coronavirus newsletter
Get the day's latest Coronavirus news delivered to your inbox by subscribing to our newsletter.
---