News > Education
Spokane schools serving up lunches made with local food
Tue., Dec. 4, 2018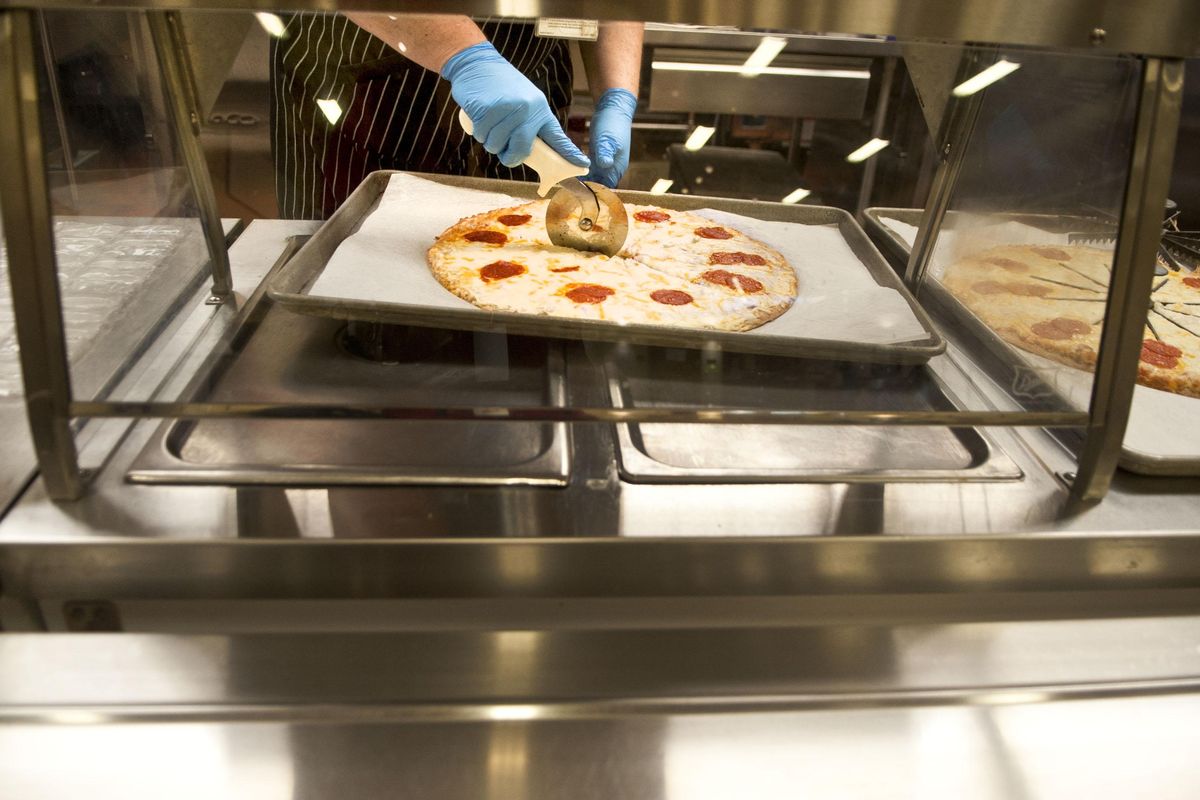 Fresh made pizza in sliced at Jefferson Elementary in Spokane on Thursday, Nov. 8, 2018. Jefferson is one of the area schools that are now batch cooking, in which all meals are prepared from scratch in the kitchen. (Kathy Plonka / The Spokesman-Review)
At Jefferson Elementary School, the lunch scene changed forever a few years ago when one child learned the hard way that chicken nuggets were no longer on the menu.
Munching on his entrée, the boy found a surprise and announced to everyone: "Hey, there's a bone in my chicken!"
School cafeterias across Spokane are serving more local food prepared in local school kitchens.
On a recent morning, Garrett Berdan, director of nutrition services for Spokane Public Schools, was looking natty in a chef's uniform as he described what's for lunch.
"We feature locally made cheese-and-pepperoni pizza," said Berdan, who stressed that the bread is made locally from flour milled in Spokane.
"The pizza is really popular," Berdan said.
It's easy to see why. The pizzas had just been made by Jefferson employees Teri Smith and Heather Weed, who stood in front of the school's state-of-the-art kitchen.
However, kids don't learn by bread alone.
On this day, pizza was paired with a chef's salad, complete with tomatoes and carrots. It's a reflection of the home page on the Nutrition Services website, which is dominated by green vegetables and a girl holding a bowl of healthy food.
It's about making healthy choices, even if what lands on the plate isn't a student's first choice.
By design, the salad cart comes first at Jefferson. Kids can't forgo the greens and pile on the pizza; in fact, that practice is forbidden for those receiving free and reduced-price lunches.
"That's not the way it works," Berdan said. "You can't have two pizzas and skip the salad."
For their own good, those who balk at that idea are "redirected" back to the salad cart.
At the same time, the district works hard to educate students about good nutrition. The message: Carrots are a reward, not a punishment.
So is the rest of the menu, which is as varied as it is nutritious. On Monday, elementary school students were served all-natural hot dogs – without nitrates – and ham-and-cheese munchables.
On Tuesday they'll get homemade chicken pot pie or a deli sandwich. Wednesday's offering is a soft beef taco and fruit-and-yogurt parfait.
Above all, the meat is top quality.
"We go with whole-muscle proteins, such as baked or roasted chicken," Berdan said. "We're cautious about selecting foods that are as minimally processed as possible."
All lunches come with a milk – fat-free, 1 percent fat, chocolate, soy or lactose-free – and a variety of fruits and vegetables.
Breakfasts usually include cold cereal, yogurt parfait and whole-grain muffins and breakfast bars.
With food this good, Berdan wonders why only 250 of the South Hill school's 550 students elect to have hot lunch.
Certainly, cost is a factor. At $2.85 per meal, that comes to $14.25 a week and $510 per year. However, Berdan also wonders why more parents haven't signed their kids up for free or reduced lunches.
Some parents simply aren't aware of the opportunity; others don't realize that they can apply in the middle of the year, especially if their financial situation has worsened.
"It's easy to apply," said Berdan, a Wenatchee native and dietitian who was educated at Washington State University.
As director of nutrition services, he coordinates menu design, makes sure that food is nutritionally compliant with the USDA and helps the food get from the farm to the school.
The logistics are staggering. The district serves 16,000 lunches a day, or almost 3 million per year; and about half that many breakfasts.
"It takes a huge team," Berdan said. "I'm planning the menu, but we have to work together to make sure what I'm planning is doable in school."
e
Contact the writer:
(509) 459-5437
jima@spokesman.com
Local journalism is essential.
Give directly to The Spokesman-Review's Northwest Passages community forums series -- which helps to offset the costs of several reporter and editor positions at the newspaper -- by using the easy options below. Gifts processed in this system are not tax deductible, but are predominately used to help meet the local financial requirements needed to receive national matching-grant funds.
Subscribe now to get breaking news alerts in your email inbox
Get breaking news delivered to your inbox as it happens.
---